The military jacket is one of my very favorite trends to wear. "But why, Sherri? Olive green is so not flattering on my skin tone."
Well.  I'm so glad you asked.
1.  I secretly feel hardcore when wearing one.  It basically makes me feel awesome and kick-butt, like the awesome and kick-butt women who are actually IN the military.  And you know, less like the girl who stubs her toe and cries, or spends a shameful amount of time on her hair.
2.  It is the easiest way to toughen up a girly/sweet outfit, yet it also pairs equally well with "tough" elements, like studs or distressed jeans.
3.  You can wear it 3 out of 4 seasons of the year.  Unless you live somewhere awesome like heaven San Diego, and have nothing but beautiful weather year round. In which case, I envy you, and you can wear yours year-round.
Last week, I styled my own military-inspired jacket two different ways:
First up, a "family date" to our local Chinese restaurant.  Yes, we know.  We're very fancy.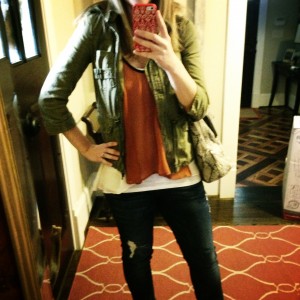 I paired my jacket with a loose, rust and ivory tank, distressed boyfriend jeans (cuffed at the ankle), and some wedge heels.  I added this faux-snakeskin bag to complete the look.
I like how this outfit is all, "yes, I AM tough.  Did you not notice my jacket and distressed jeans?  But I'm also not afraid to rock it with heels and snakeskin bag. Boo-ya."
Next up, church on Sunday.  I was inspired recently by this post on Kendi Everyday (go check out her fab blog!), in which she pairs olive and cobalt blue.  Immediately intrigued, I started plotting my outfit right then and there.  Did it take me two weeks to get around to wearing it? Why, yes. But still, I was plotting.  And that counts for something, right?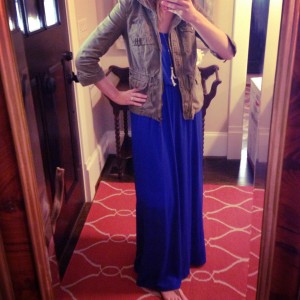 This time, I paired my jacket with a cobalt maxi dress from Nordstrom.  I added my Stella and Dot Cameron pendant necklace, and some tan leather sandals.
I love how this combo is all "I'm a girly girl, but I could totally kick your tail.  Just look at my jacket and fear me."
No? Just me?
Which outfit do you prefer? Tweet or Facebook us, and make sure you #editbylauren.  Bonus points for instagramming pics of your own kick-butt military combo.
(We know you're not afraid.)
Until next time,