Wow.  You guys are ridiculously stylish. We were completely blown away by all the fab looks you put together, and are now secretly fearing for our jobs.  Just kidding.
(Kind of.)
After poring over everyone's instagrams, texts, and emails, we've narrowed it down to four "winners" and several more "honorable mentions."  I truly wish we could post everyone's look, because they were ALL so fantastic!
And, drumroll please…..
Winner #1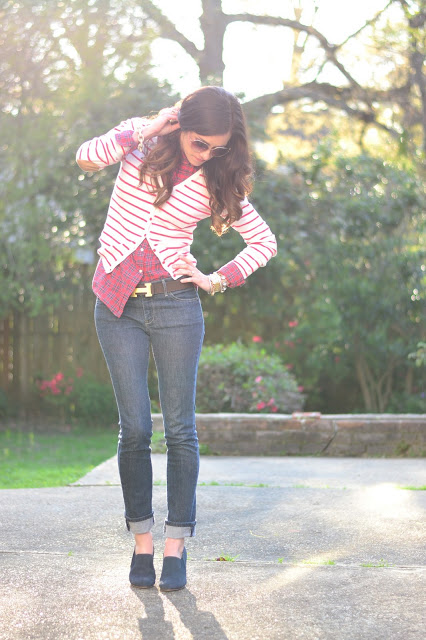 Meet Elizabeth Kimbrough.  I am in love with the way she paired her boyfriend jeans with plaid AND stripes.  Rockstar.  Plus, I'm more than a little obsessed with her shoes, and fab belt.  I'm also pretty sure I just spotted an elbow patch peeking out, and we all know how I feel about those.  I think we should probably be friends immediately.
(But you know.  In a completely non-creeperish and entirely normal kind of way.)
Check out her awesome blog, and/or follow her on Instagram: @elizabetheuna.
Winner #2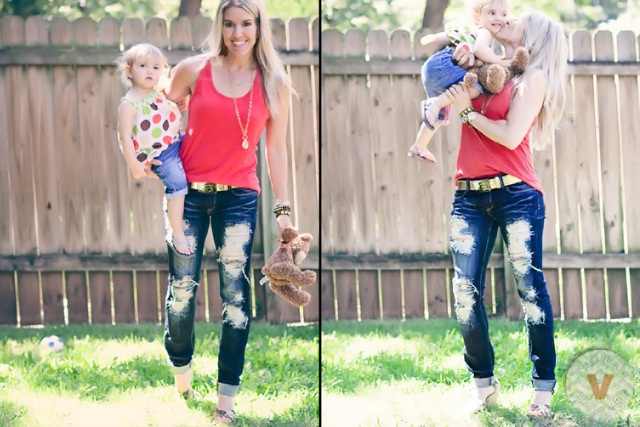 Meet Amanda Pulley.  She's a photographer, which immediately makes her awesome.  Also awesome?  Her super distressed boyfriend jeans.  I seriously love these, because nothing says
"I'm a rockstar mommy, and why yes, that IS a stuffed animal I'm holding.  What about it?" like a cool, ripped-up pair of jeans.
I love how she completed this look with a fab metallic belt (that she makes! Get one here.), and a simple red tank.  Her long pendant necklace perfectly pulls it all together, for a relaxed, "everyday casual" kind of look.
(Besides, let's be honest.  Her precious little girl, Indiana, is the cutest accessory ever.)
Go take a peek at Amanda's blog, and/or follow her on Instagram: @amandajpulley.
Winner #3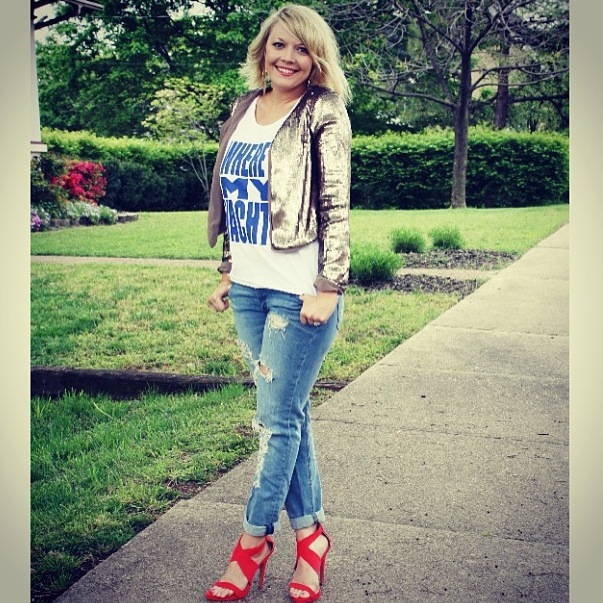 Meet Carrie Morgan.  She's a stylist (clearly), and lives in Nashville (awesome).  The pairing of her distressed boyfriend jeans, sassy red heels, and metallic gold jacket just makes my heart happy.  Plus, I am all about a fun graphic tee.  Adore this look.
(Besides, do you see how pretty she is? I may or may not need her to teach me how to pose.)
Check out Carrie's website, and follow her on Instagram: @stylemeperfect.
Winner #4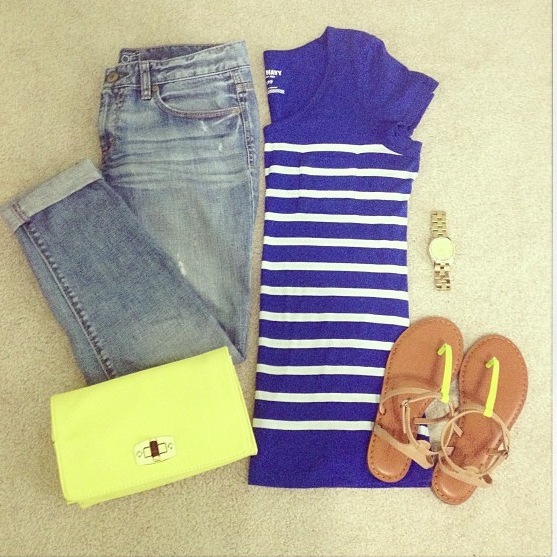 Meet Meghan Crane.  (Or at least, meet her outfit.)  Clearly, she is awesome, and has a sharp eye for style, because we were all completely enamored with her pairing of cobalt blue and neon yellow.  Her light-wash boyfriend denim is the perfect color for this outfit, and I love how she rounded it all out with the neon clutch.   A "daytime" clutch is one of my most favorite things, and here it says, "Yes, my outfit is relaxed, but I'm a little bit fancy at heart."
Btw, we checked out Meghan's blog, and it is fab.  You can also follow her on Instagram: @meghancrane.
And now for our "honorable mentions."  These girls are clearly all fabulously stylish and all-around fashion rockstars as well.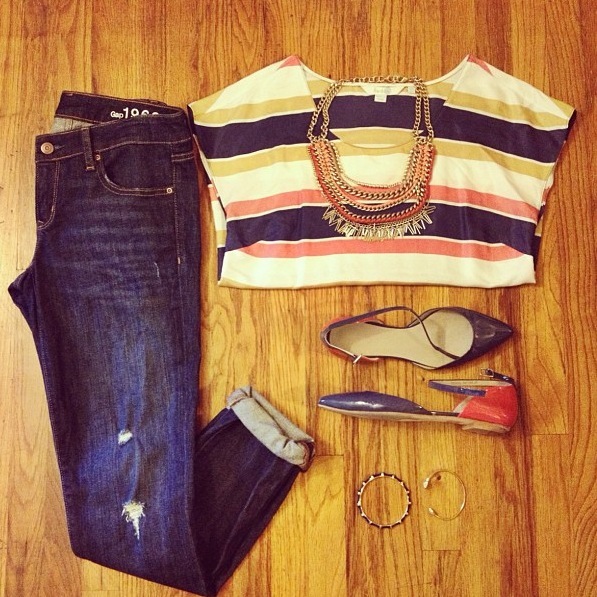 Ashley Jordan, @redjo8.  We loved Ashley's pairing of stripes, a funky statement necklace, and the pop of color on her flats!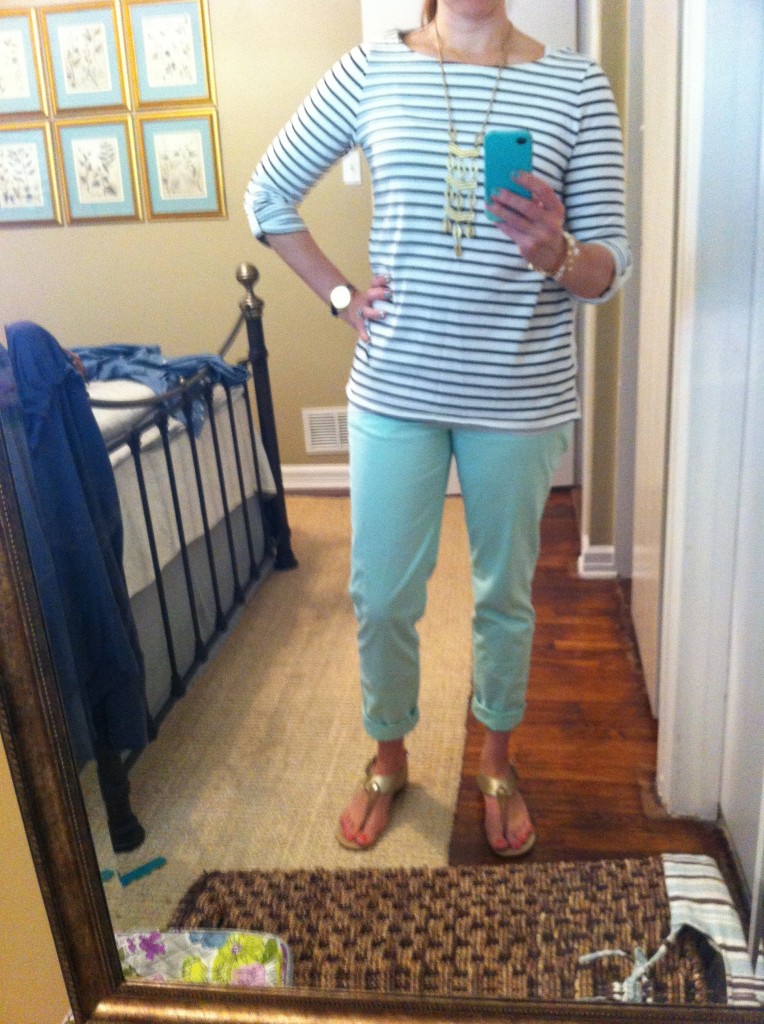 Kelly Denbow, @kedenbow.  We were obsessed with the nautical stripes, MINT boyfriends, and the metallic gold accents!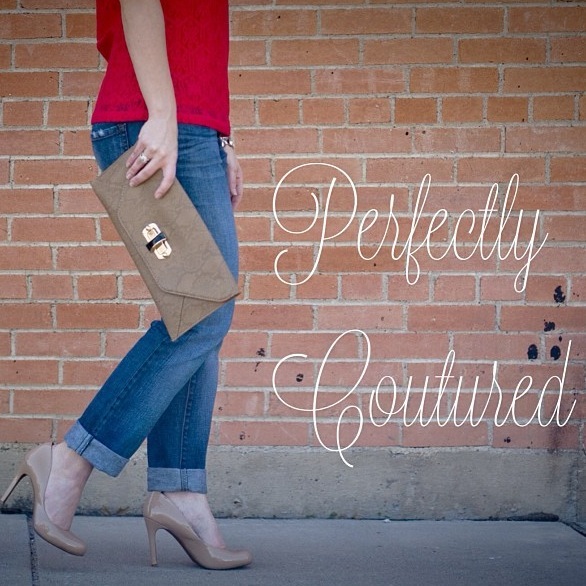 Bethany, @bma_21.  We are loving Bethany's worn-in jeans, paired with sophisticated nude accents.  Super classic!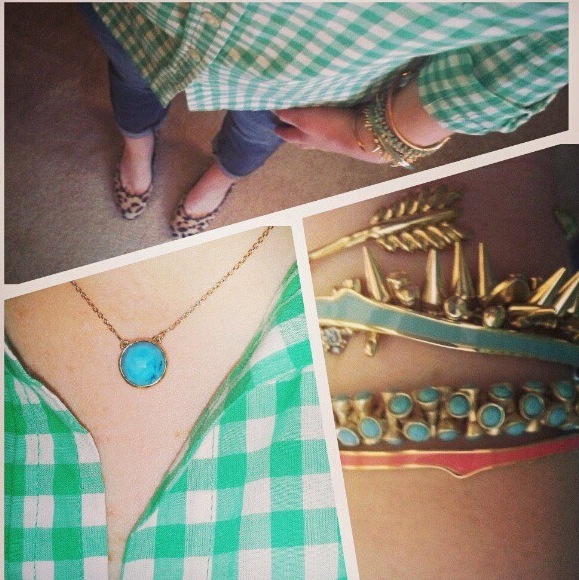 @nikkiu11.  We adored her pairing of animal print with green & white gingham, plus turquoise accents.  Such a fun combo!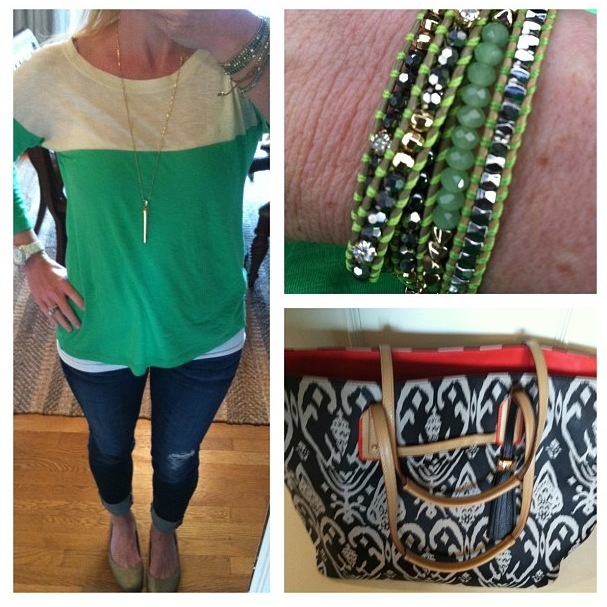 Erinn Mosher, @erinnmosher.  We are loving Erinn's green and navy look, with gold accents!  Plus, she wore this on a field trip, which pretty much gets her the "stylish mom" award!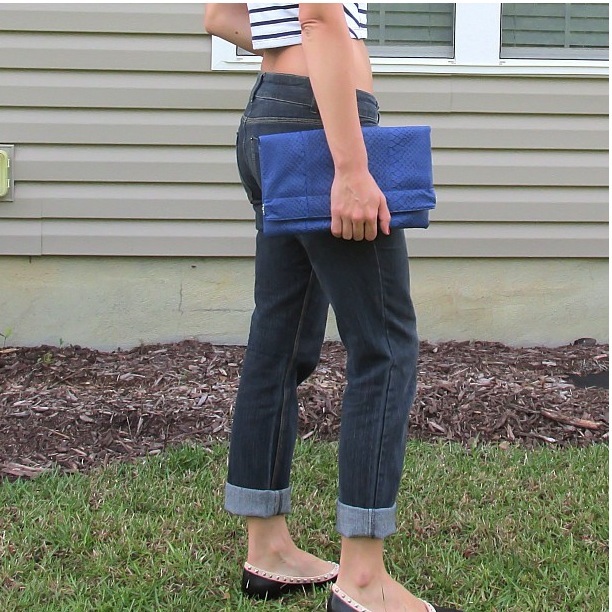 Maggie Frost, @mbfrost.  First of all, dang.  Anyone with abs that worthy of a cropped top gets our vote!  Plus, the cobalt clutch and black patent flats are super cute. Love!
Finally, thank you guys for being SO MUCH FUN!  We loved seeing your looks, and found ourselves so inspired by your creativity.  We may just have to do this again, so let us know what looks or trends you would most like to see.
Now if you'll excuse me, I need to go pin all of these outfits on Pinterest. Immediately.
Happy Friday!