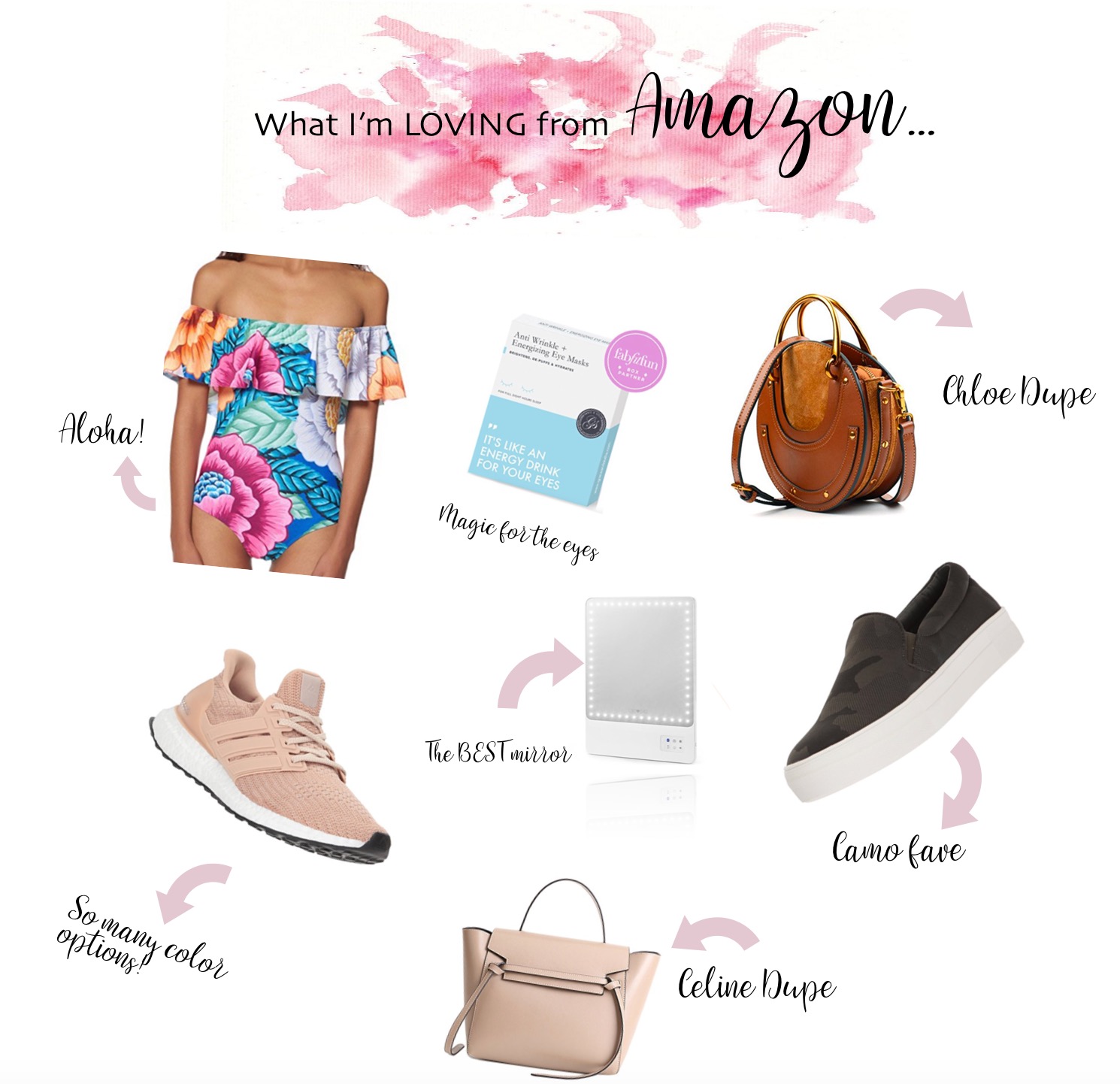 1, Swimsuits, Who knew Amazon has an amazing selection of super cute and SUPER affordable swimsuits?! I sure didn't until recently! Can you believe the one pictured is $17.98?! It comes in several colors/patterns, too.
Here are some other under-$20 Amazon swimsuits I am loving ::
2, Grace & Stella Anti-Wrinkle and Energizing Collagen Eye Masks. My beauty-blogger friend, Jenny Sue Makeup, introduced me to these little miracle workers. They are a miracle for tired, puffy eyes, and have become my go-to secret weapon to disguise a poor night's sleep. I use them before events, photo shoots and any time I am just feeling/looking tired!
3. This Chloe dupe. I own several real Chloe bags and I have to say, this dube is pretty good! I own it in black , and also love the cognac. I love that this little bag can be carried as a cross body or as a clutch, and can be worn day or night.
4. Adidas UltraBoost Running Shoes. These are hands-down the MOST COMFORTABLE running/workout shoes I have ever owned. These stylish sneaks come in twenty color options and are worth every penny. I wear mine for Orange Theory, running, walking and weight lifting and they feel like wearing pillows on my feet!
5. The Glamcor Riki Skinny Mirror. This mirror is a bit of a splurge, but is BY FAR the best Amazon purchase I have made this year! It's the coolest mirror I have ever used because the lighting is amazing and it can hold your phone to take well-lit selfies or videos. It's also super lightweight and thin, which makes it perfect for travel. It also looks stylish so I leave mine sitting on my vanity daily.
6. Steve Madden Camo Kicks. I included these in last week's Friday Five, because you just cannot go wrong with a camo sneaker. These are super comfy and go with everything! I love that they can also be worn now. I am wearing with jeans now and can't wait to sport them with shorts and dresses as soon as the weather warms up!
7. This Celine Dupe. How gorgeous is this blush bag?! I just ordered it for myself and can't wait to carry it for Spring! It also comes in a classic black, and is a fraction of the cost of it's look-alike designer bag.
Happy Monday!
Stylishly yours,