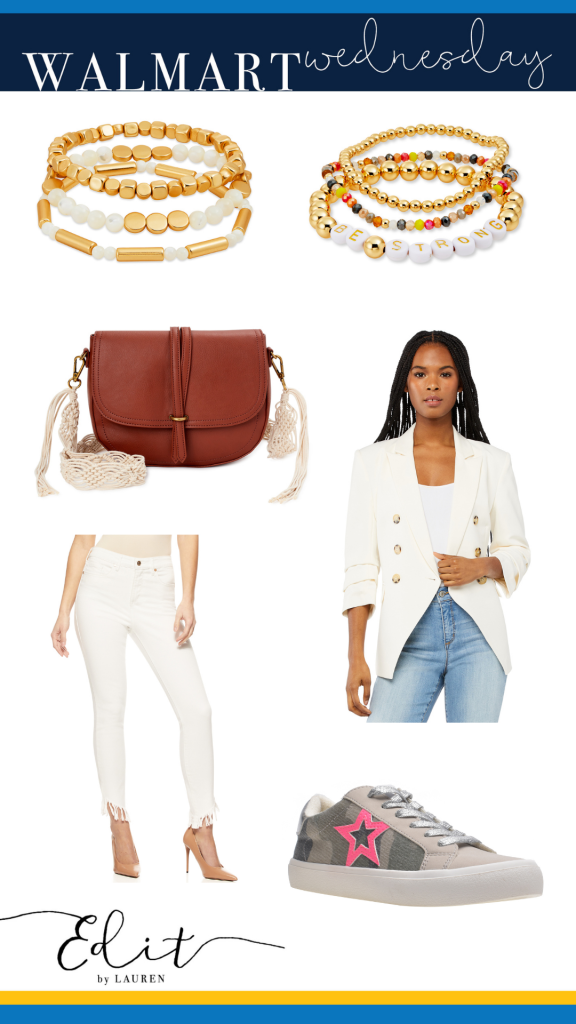 14K Gold Plated Stone Bead Bracelets, $16. Y'all know I am ALLLLL about stacking bracelets. This set is too cute, and goes with everything. You cannot beat this price!
14K Gold Plated Multi-Color "Be Strong" Bracelets, $16. This set comes in four different color schemes and messages.
Saddle Crossbody Handbag, $30. I'm a sucker for a neutral crossbody and this one is the perfect size and style to wear with almost anything! I love the unique strap for Spring!
Double Breasted Button Blazer, $50. I've been on the hunt for a white blazer the past few season and I love this one! Just ordered it in a size small.
High Rise Ankle Fringe Hem Jeans, $26. These were my favorite white jeans last year and I am so happy they are back after being sold out for months. I HIGHLY recommend these! I wore them more than my $200+ designer pairs! They run TTS and I wear a size 4.
Camo Star Sneaker, $24. A cute, less expensive take on Steve Madden's or Golden Gooses! I love the bright pink star!

Stylishly yours,
Lauren