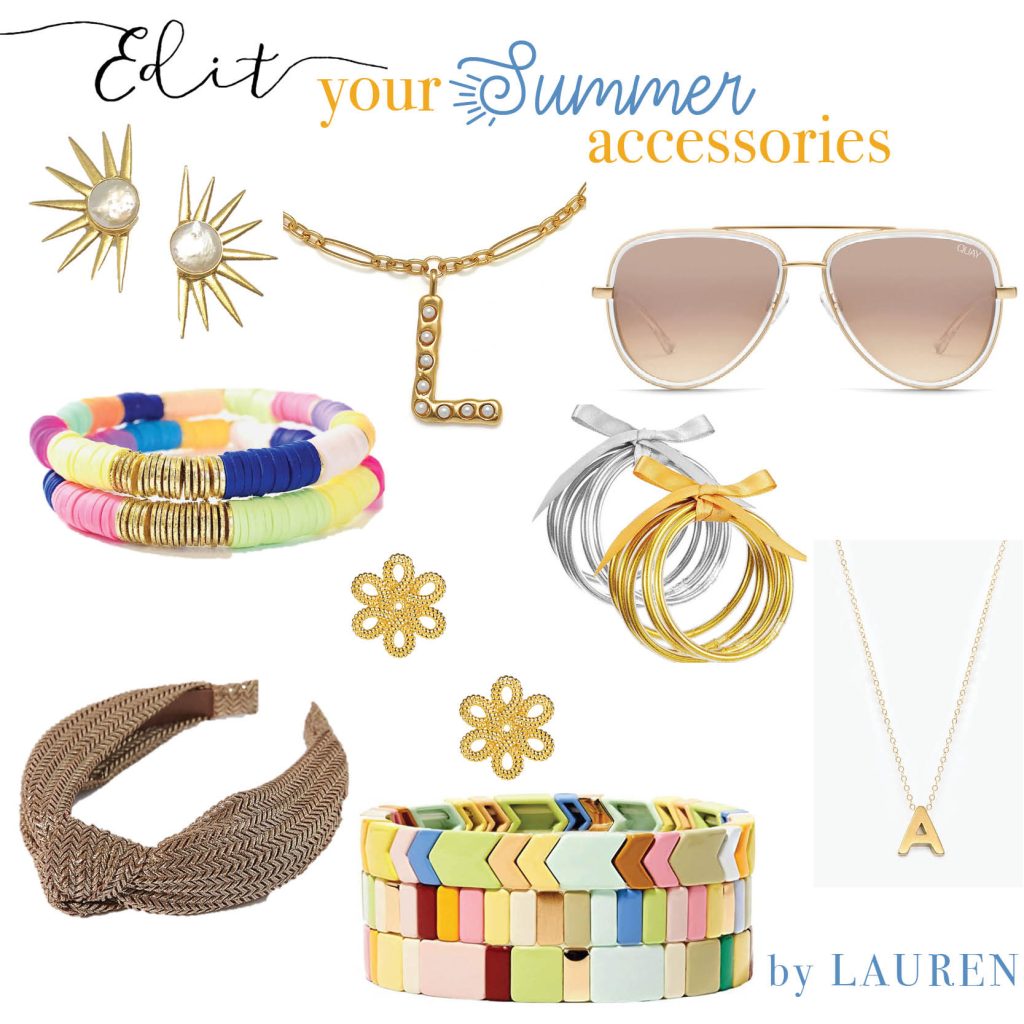 Happy Friday, friends! I thought it would be fun to round-up the accessories I am wearing almost-daily this summer. Summertime accessories always include lots of gold and color in my book, and these are my most-worn, most inquired-about jewelry, sunglasses and hair accessories of the season.
Mary Kendig Starburst Earrings :: The perfect statement earring that transition from day to night, casual to dressy. 15% off with code EDITBYLAUREN.
Sequin Jewelry Pearl Initial Necklace :: My favorite jewelry purchase of the summer! I wear this necklace almost everyday, and love it alone or layered. 20% off with code LAUREN20. I love it layered with this shell necklace by the same brand!
Quay Sunglasses :: Favorite, most-worn sunglasses of the season! I have both the clear and the "milky camo" color and love them both!
Bowood Lane Stackable Bracelets :: I love all the colorful bracelets on this Etsy site owned by a sweet follower! I also have these golden letter bracelets with each of my kids names on them. Save 10% on any purchase with code EDITBYLAUREN.
Lisi Lerch Stud Earrings :: My every-day studs. Love these for "simple" jewelry days, as well as for the pool, lake and gym! This pair, also by Lisi Lerch, is my favorite gold statement earring.
Amazon Water-Proof Bangles :: You will want more than one set of these fun "quiet" and water-proof bangles. I love wearing to the pool, as well as for everyday wear. I recommend ordering at least two sets to really make a statement!
Able Letter Necklace :: My current favorite delicate necklace. Perfect worn alone or layered. I added a "J" and "L" for my kiddos initials.
Anthropologie Metallic Headband :: Anthro headbands are my go-to and this one is the perfect Summer metallic. I just ordered it in Pearl White, too.
Amazon Tile Bracelets :: This set of three stretchy rainbow bracelets are a fraction of the price of some designer look-alikes. I also like adding this $14 Amazon "LOVE" bracelet to my mix.

We are headed to the beach tomorrow for one last family vacation before school starts. Be sure to follow along over on Instagram @laurenlefevre.
Have a fantastic weekend!
Lauren