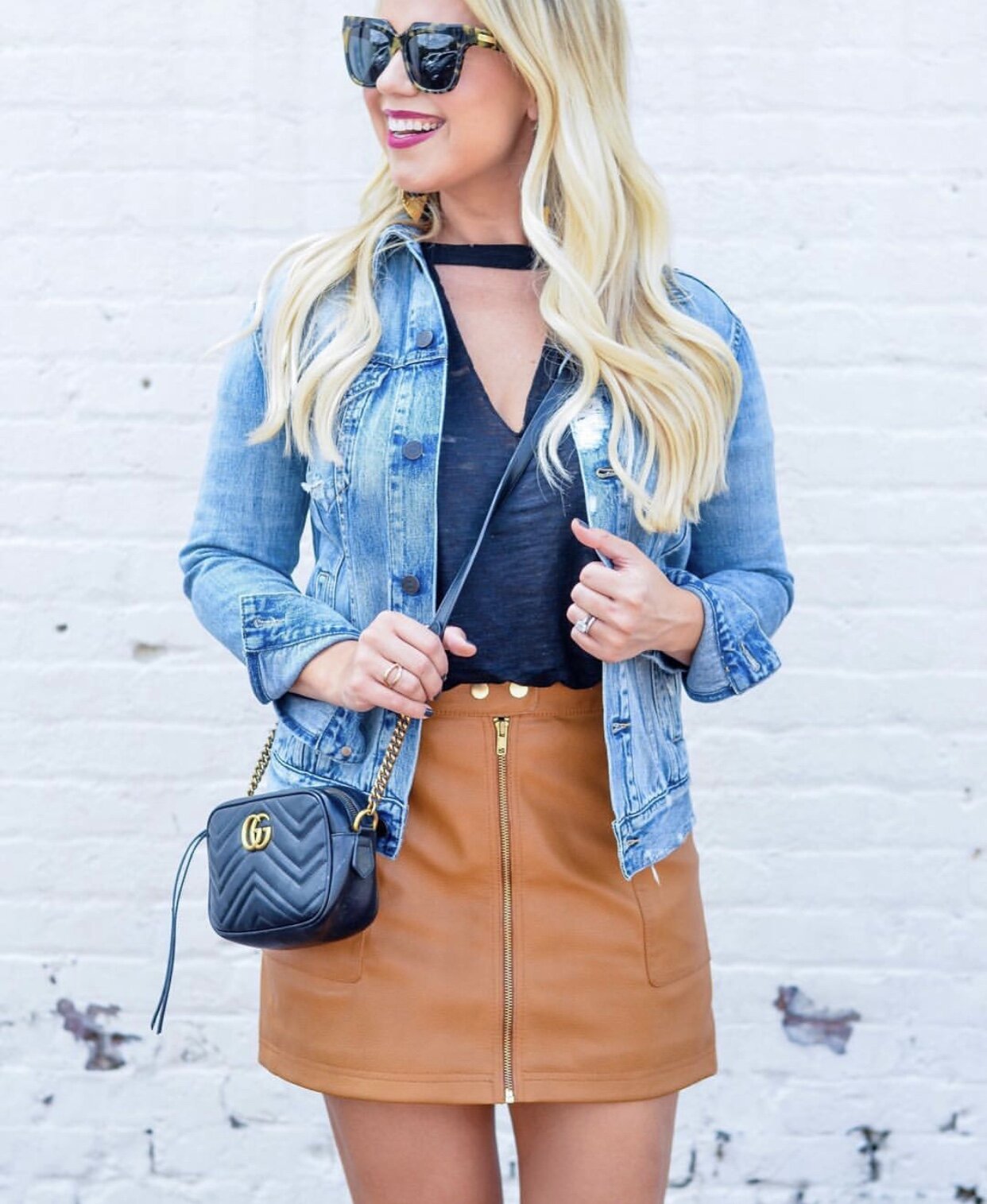 A denim jacket is the ideal way to carry an outfit through into the fall when the temps dip and there is a chill in the air. It ties an outfit together and makes you look "finished." Read on as I sing the praises of the denim jacket for quite a few reasons and show you several examples of how to wear it!
Has there ever been a more versatile and essential piece of clothing in a woman's wardrobe than a trusty denim jacket?! It is as dependable as the day is long. You can literally wear it with anything; it always looks stylish with little to no effort. A denim jacket is the perfect weight for the not-too-hot/not-too-cold transition days between seasons.
As fall chilly mornings give way to warm afternoons and again to cooler evenings, "Denim Jacket Season" is definitely upon us!!! Every woman should have a denim jacket in her wardrobe. It's a staple that no closet is complete without; I use mine year-round to throw over my shoulders in chilly restaurants, etc., but this is the time of year when you want to make sure that you have one that you love on hand.
My very favorite denim jacket of all time is this one pictured above by Able brand, but I am going to link several other great options here in a range of price points, including an Old Navy one that I own and love and a Pilcro one in which I have styled many happy clients.
A denim jacket is a great way to carry a spring look through to the fall; it is the ideal layering piece for travel; its proportions are great with a dress or skirt of any length (dressy or casual); it pairs beautifully with black pants or black jeans for a day-to-night look; and, lastly, it is the perfect compliment to… you guessed it…DENIM!!! (Yes, blue jeans/skirt with a denim jacket is a "thing"! More details below 🙂 )
---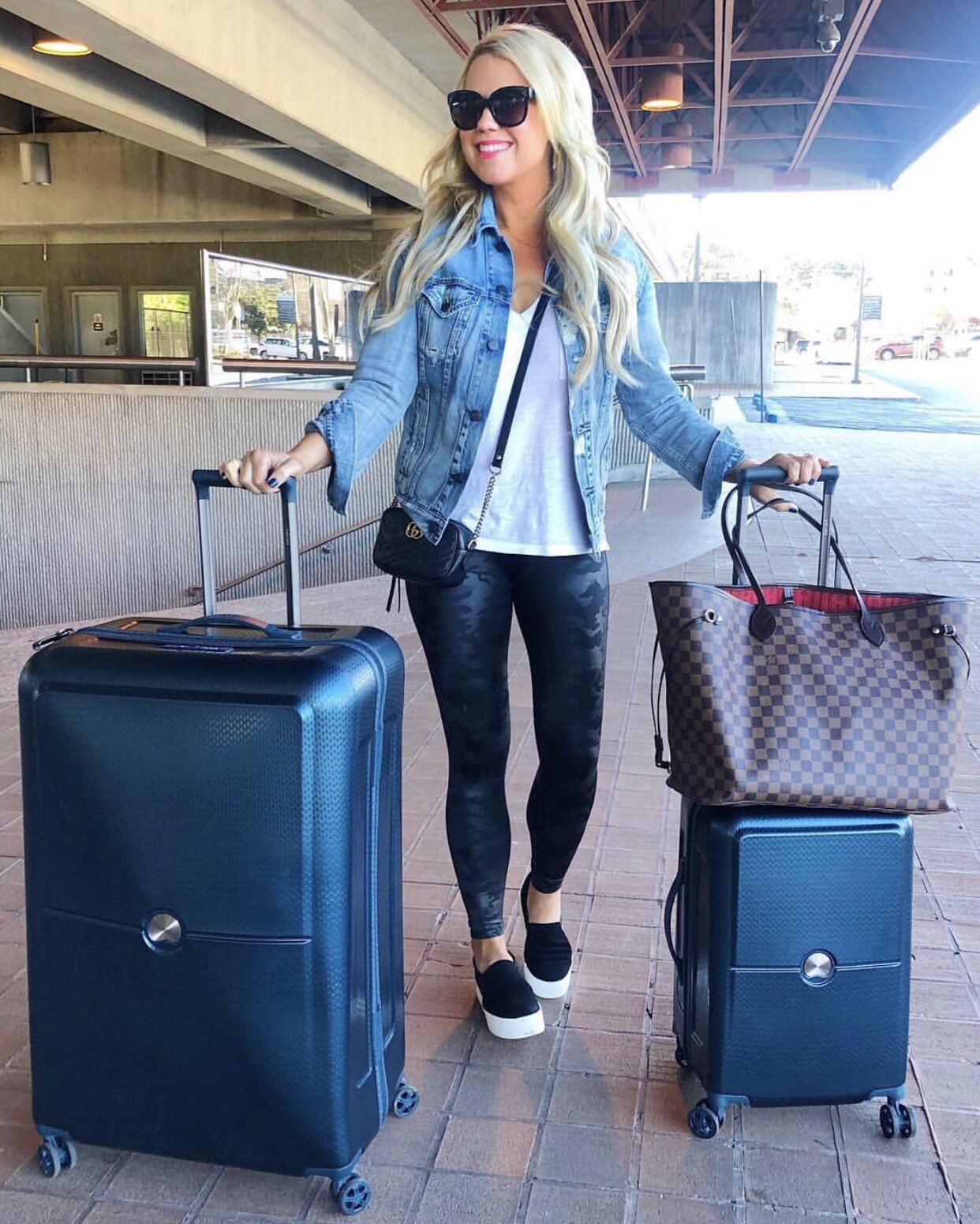 Here you find me pictured in my "travel uniform"—leggings, a t-shirt, slip-on sneakers, and my denim jacket! The temperature on planes fluctuates, so this layering piece is ideal to slip on and off as needed. It's also great if you are traveling from a cooler climate to a warmer one or visa versa. Because a denim jacket pairs well with so many different outfits, it's a "one stop shop" for what to pack for outerwear and therefore saves a ton of room in your suitcase.
---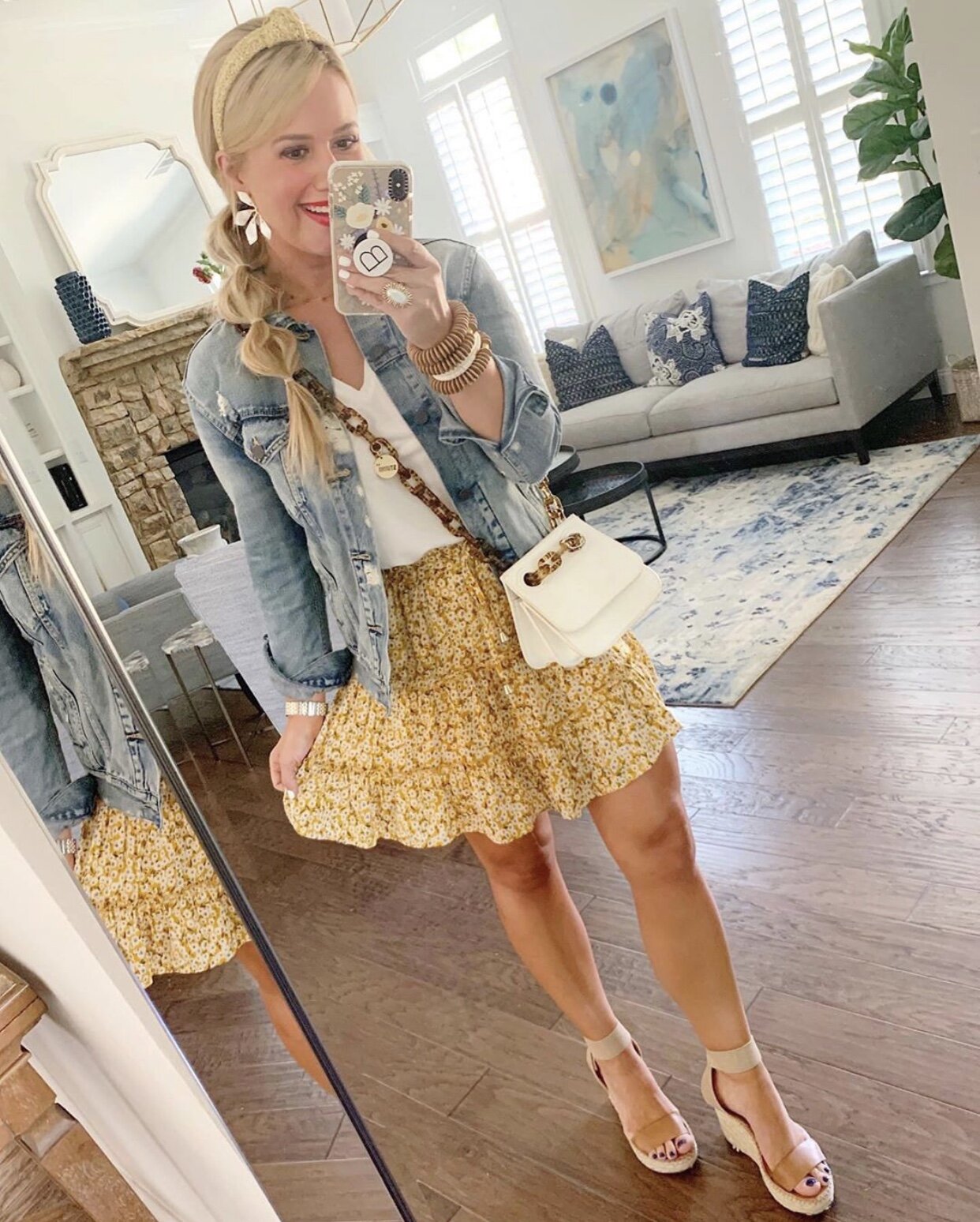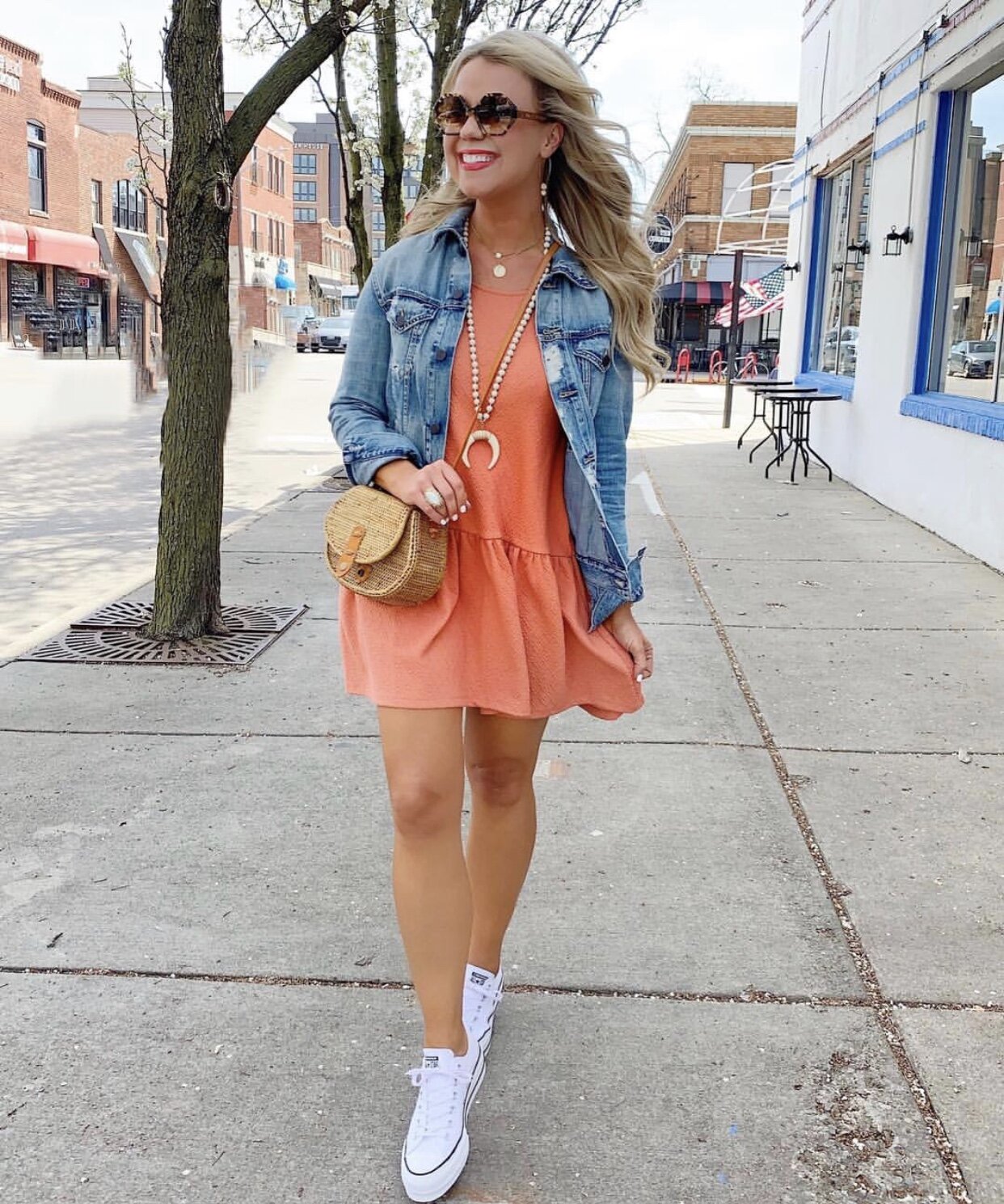 Denim jackets are chameleons in the sense that they can work with a more stylized, slightly dressier look—like that pictured on the left with a skirt, heel, and headband—as well as with a casual, weekend look—like that pictured on the right with a cotton dress and sneakers. I don't have a picture of myself in a midi/maxi dress or skirt because that isn't a length that I tend to wear a lot, but… if you do love maxis and midis, then the denim jacket is excellent for those and really helps bridge the gap between spring and fall so that you can get more wear out of them in multiple seasons!
---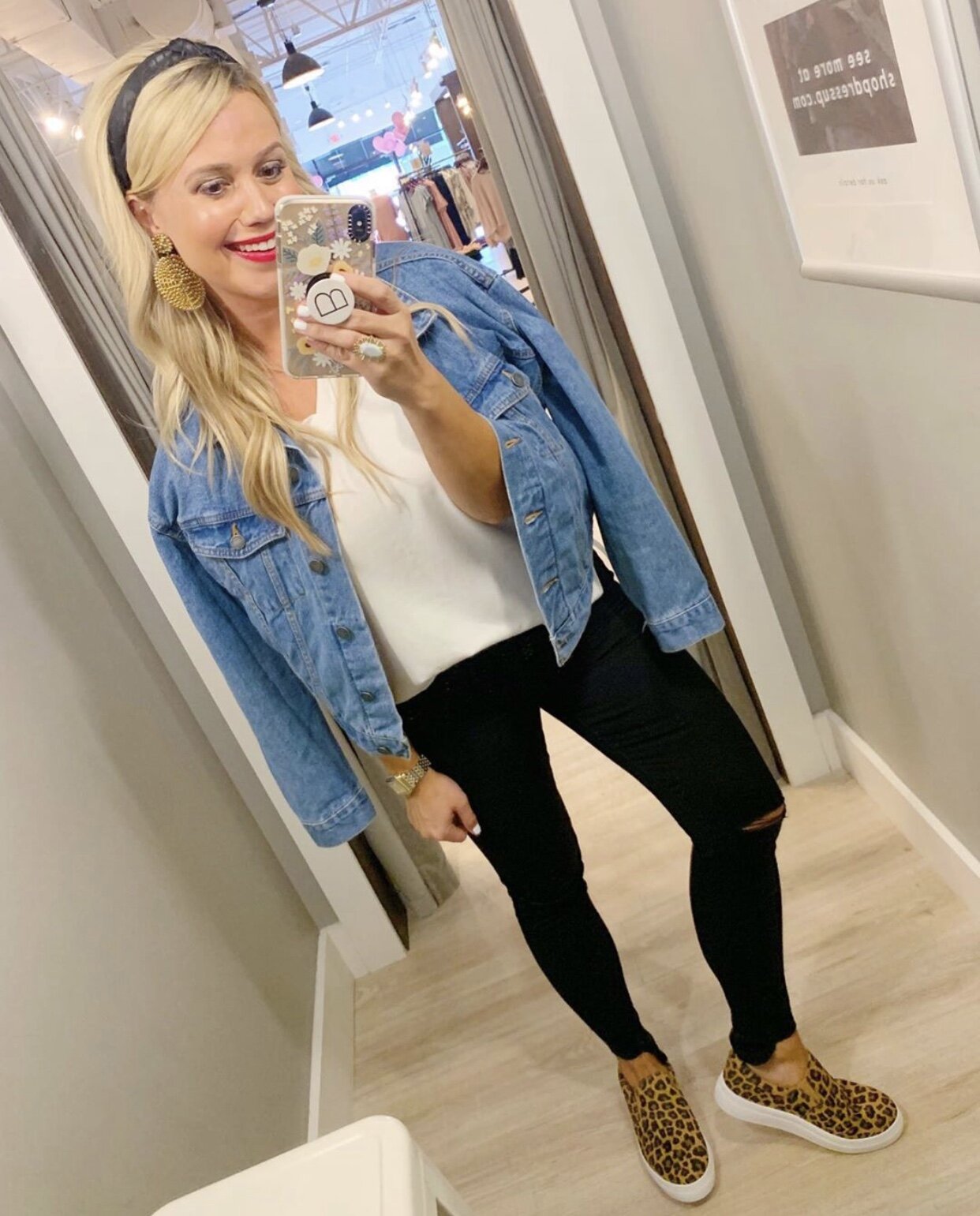 Another perk of a denim jacket is that it transitions swiftly from day to night. Pair it with some black pants or jeans, a slip-on sneaker, and a t-shirt in the daytime, then just fancy up your top and shoe for evening… Don't forget to grab your denim jacket again on your way out the door!
---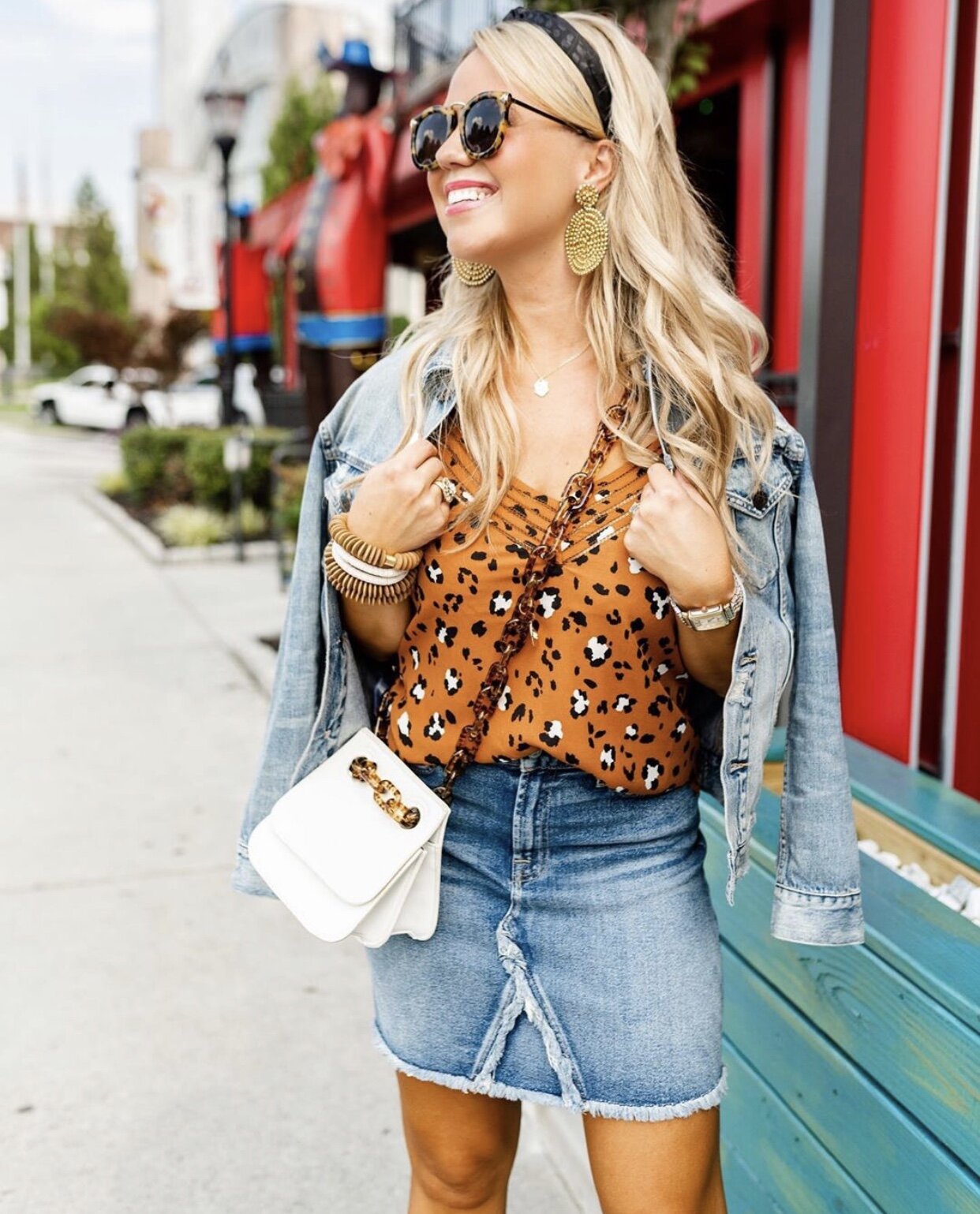 I get so many questions about whether it is permissible to pair denim with denim. The answer is a resounding YES!!! However, fair warning: it can be a little bit tricky. A couple of guidelines to keep this denim-on-denim look fool-proof are 1) keep your denim in the same general color-scheme, and 2) break up the denim pieces with a bright solid or fun print, as I've done here with this leopard cami.
---
Great Denim Jacket Options

Stylishly yours,