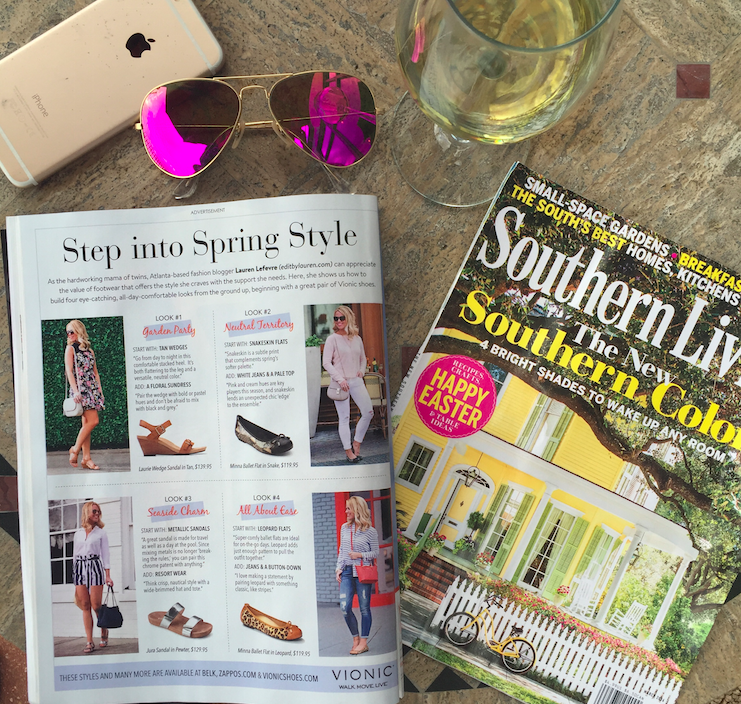 It's certainly a 'pinch me' moment to see myself in one of my all-time favorite magazines, Southern Living! Be sure to check out the March issue…it's a fab double issue including a Spring Style Guide.
I am styling some stylish and super comfortable Spring shoes from Vionic in this issue. Check back tomorrow for a run-down of my Spring looks featured on this advertorial.
A heart-felt shout-out to my amazing friend and very talented photographer, Amanda Pulley, for getting me in front of the camera three years ago, beleiving in me and helping me grow this blog and my business dreams through her hard work and dedication.
Thank you to ALL of you who follow and read this blog reguarly, for your constant encouragement here and over on Instagram. I am so blessed with amazing friends and supporters, and am grateful for you all!
With appreciation,

P.S. Thank you to Sasson Salon Atlanta for styling my hair for this shoot. Shop the fun pink mirrored aviator sunnies pictured above, here.