Y'all.  If you haven't met the wonder that is the perfect pair of jeans, then allow me to introduce you:
Reader, meet Skinny Boyfriend Jeans.  Jeans, meet your new closet.
This particular style of denim has been among my MOST recommended wardrobe staples since I joined the Edit team.  As one of my clients famously said during a shopping trip:  "Sherri!  It's like I'm wearing sweatpants!"
They are slightly loose through the hip and thigh (seriously, can I get a hallelujah and an amen?!) and then taper through the leg.  They can be dressed up or down, and are soooooo flattering. On every body type.  Case in point, yesterday I had the following conversation with my husband:
John:  Babe, those jeans you're wearing look SO good on you.  What are they called again?  
Me:  Skinny boyfriend jeans. 
John:  Well, you should wear them all the time.  
Me:  Aw, thanks babe, that's so sweet!
John:  Your green pants on the other hand……..
Ahem.
But seriously, when the husband tells you that something looks good on you, you LISTEN.  And perhaps purchase in bulk.
Since I've been on the "skinny boyfriend jeans" hunt for all of my clients, I feel pretty well-versed in what's out there….here are a few of my favorites:
The All-Around Favorite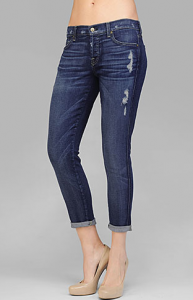 These are soft, stretchy, flattering, and well, basically magical.  If you can afford to invest in these, do it.  In a hurry.
The Skinny Distressed Option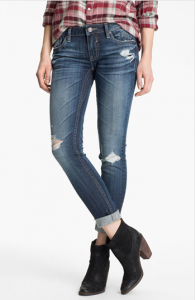 I have it on good authority (aka Lauren), that these jeans are amazing.  They are technically "skinny distressed," and not "skinny boyfriend."  But, here's a little trick for ya: just order one size up, and boo-ya: skinny boyfriend fit.
*Disclaimer: These ARE in the juniors section. Don't panic. We'll allow it, because these are special.  Just pay attention to the size chart and you will be fine.
And we'll never tell.
The "They're How Much?" Pair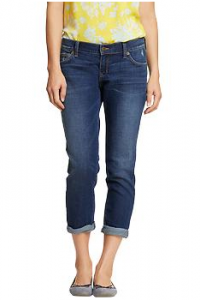 Yep.  That definitely says $19.  These are hands down my winner for value.  Plus, look how cute they are?  Love how Old Navy makes great style so affordable!
Next week, we'll be posting on how to style your boyfriend jeans, and we want to feature YOU!  If you're already rocking this look (and we know you are, you stylish things), then tweet, share, or Instagram a pic of how you wore your boyfriend denim.  Make sure you remember to #editbylauren.  If you'd prefer, you can also email sherri@editbylauren.com with your pictures, by Wednesday, May 22nd.  We'll be selecting our favorite looks to post on the blog, and we can't wait to see what you guys come up with!
Until next time,

P.S. We have drawn a winner for the TSJG tee shirt giveaway! Julie Colclasure is the lucky winner! Julie entered the contest three ways, for a total of three entries, commenting that her favorite tee is… "It's a tie for me between the Karina in off-white and the Amanda!" Thank you to all who entered and congratulations, Julie! You will LOVE your new tee. For those of you who are really wanting one of these FAB tees, the good news for you is that TSJG Brand is offering Edit clients and fans a 20% discount with promo code "edit." Yay!