It's edition 3 of Ask Edit, and, as per usual, you guys did NOT disappoint with your questions this week!
I'm going to lead off with a question that my friend, Kimberly, sent me via text:
Question 1: "Hey Sherri! I didn't get a chance to post my question on the blog, but here it is: are turtleneck sweaters out now?"
I love this question so much, I might marry it.  But, here's the thing:  I have two answers.  One is the "Sherri's Gut Reaction" answer, and the other is the "Let's Not Be Rash" option.  Sherri's Gut Reaction (wildly) shrieks, "GAH!  Get those turtlenecks out of your closet and into a donation bag, STAT, girl!!"
The "Let's Not Be Rash" option (calmly) states, "The minute I tell you turtlenecks are out, is the very moment that Vogue or InStyle will say TURTLENECKS ARE SO FETCH!! GET ONE IMMEDIATELY!"
So.  I will just leave you with this truth: turtlenecks are nearly universally unflattering. And if they are of the "mock turtleneck" variety, they may or may not need to be burned.  It's also quite difficult to make a turtleneck look stylish, so unless you are Rachel Bilson (who can legit pull off absolutely anything), I would suggest a fun, printed scarf as a more stylish and flattering option for your neck.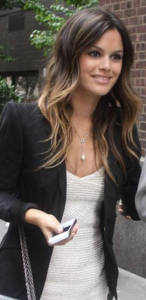 Question 2: At what point in the year am I allowed to wear white jeans?- Whitney, GA 
Another fab question! The Edit Think Tank came up with this: It's more about temperature than it is time of year.  If it's cold enough to snow outside, don't rock your white skinnies.  If you live in a part of the world where fall and winter can be freakishly warm (hi, Atlanta!), pair your white denim with a darker color or neutral tone (it IS still winter, after all).  Once you're into the later spring and summer months, any color goes!
Here are two examples of how to do white denim during the cooler months of the year: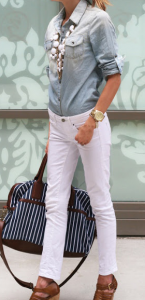 What do y'all think about turtlenecks?  White denim?  Sound off in the comments; we'd love to hear your thoughts!  And keep the questions coming!  You can send us a question by commenting on this post, tweeting us (@editbylauren), or via the Edit By Lauren Facebook page.
(You can even send us a smoke signal, you know, while burning your mock turtlenecks. Just an idea.)
We'll keep answering as long as you keep asking!
Until next time,