If you follow me on Instagram, you probably know that I just returned from a dreamy five days in Palm Beach. I won an incentive trip to the Breakers with Beautycounter, and the trip was 100% amazing! I came home refreshed and wanting to live in the South Florida sunshine the rest of Winter. I also came home incredibly impressed with Beautycounter as a company. I already was, but spending a few days with 200 other women who earned this trip + the Beautycounter leadership had me amazed by the caliber of people working and leading this mission-focused business. Head to the end of the post to hear more.
Here's what I wore in Palm Beach.
If you have a vacation coming up, I highly recommend all of these pieces! I loved each and every one!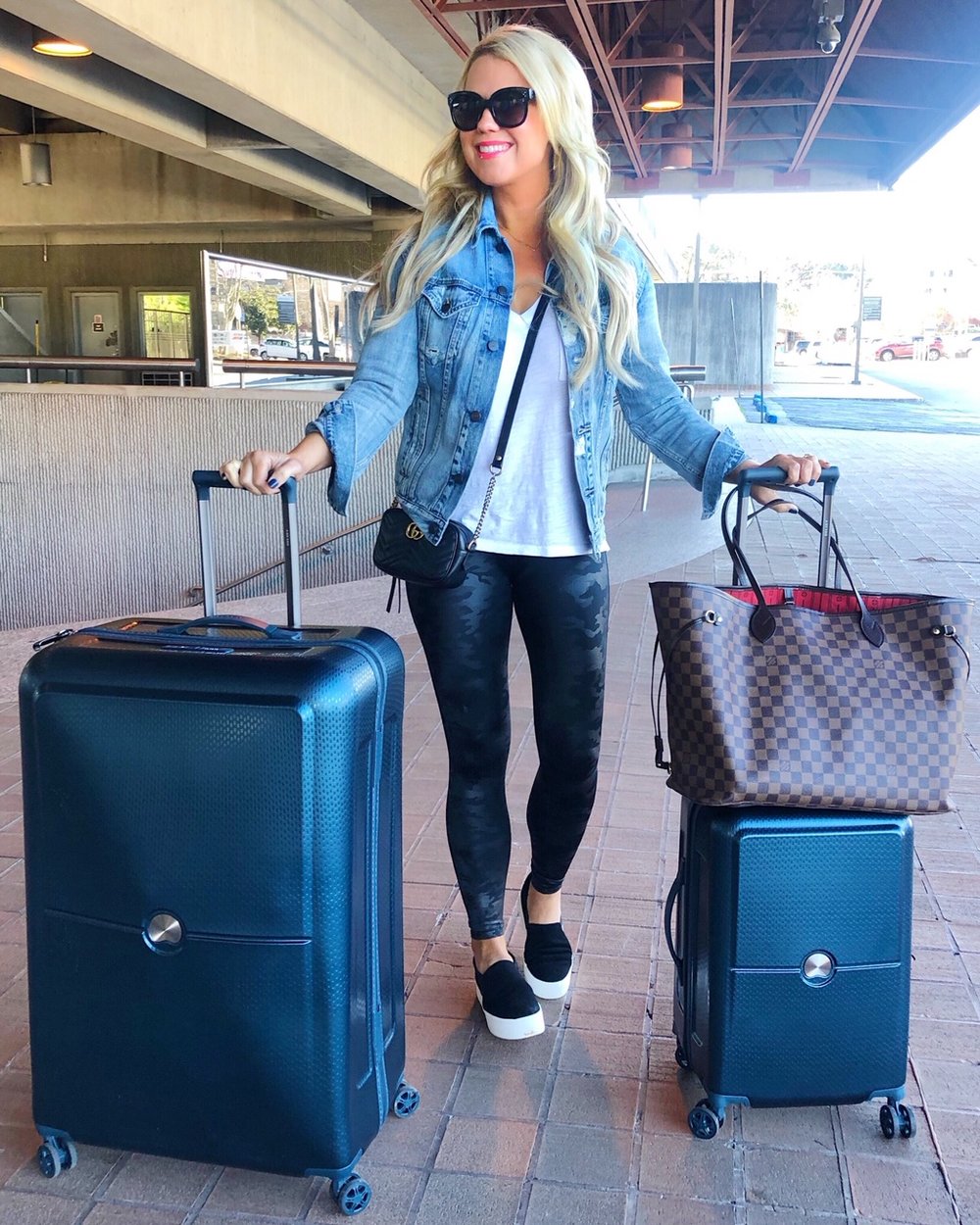 leggings | tee | jacket | sneakers , here's a similar less-expensive version | luggage
Travel outfit. Spanx + Platform Sneaks + the perfect denim jacket make for a super comfy travel look. I love that all these pieces can be remixed for wear during any trip!
Also, I took my new Delsey luggage on it's first trip and I am so impressed! These suitcases are incredibly light, easy to pack and turn on a dime! Best luggage I have ever carried, hands-down.
If you are looking for a perfect under-$20 tee, I am loving this v-neck by Madewell! I sized up to a medium, and glad I did!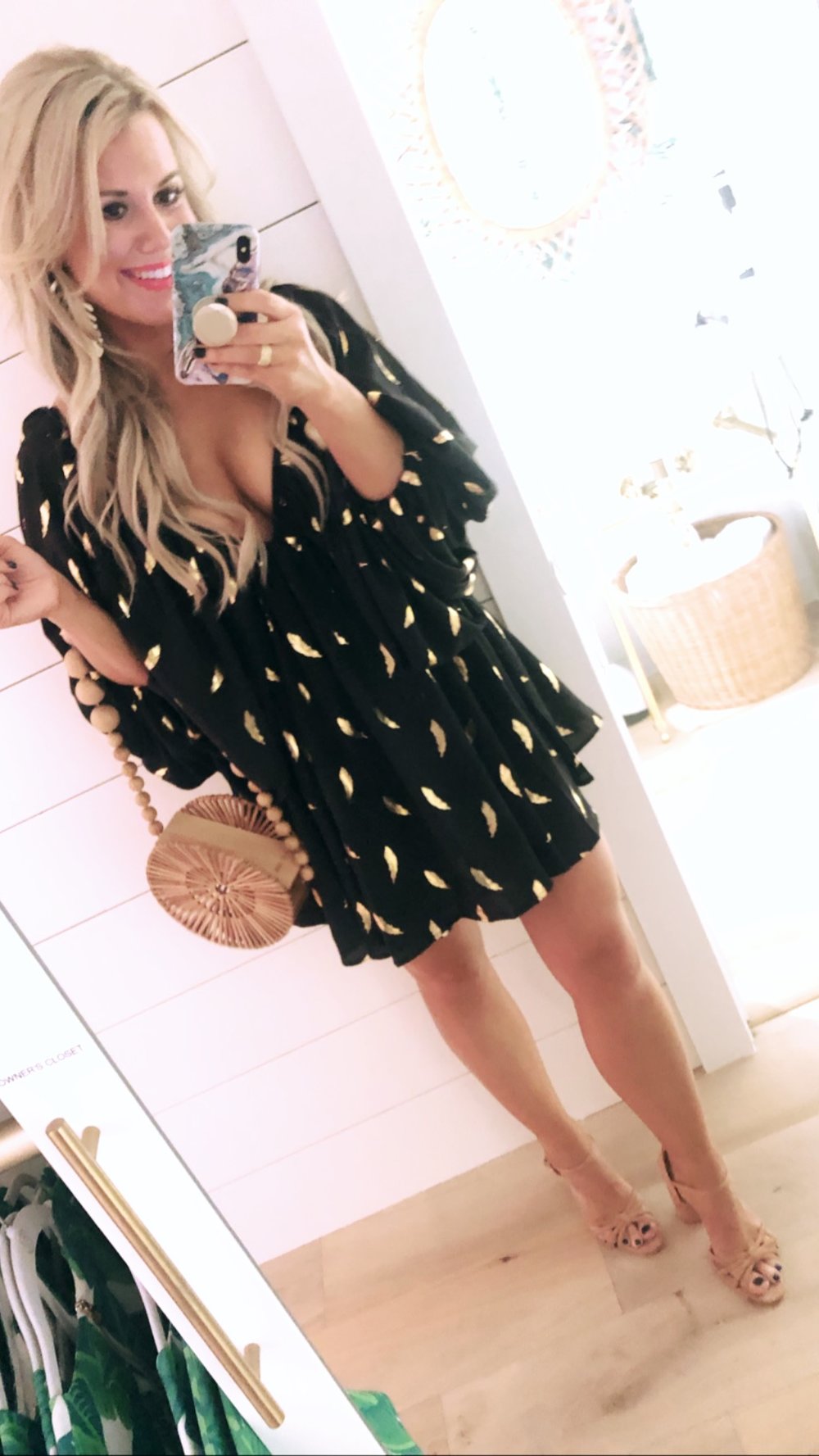 Dinner outfit, Night One. I am absolutely obsessed with this black and gold flowy mini-dress. This is the perfect dress for any date night or girl's night, and a few of you wrote me on Instagram saying you were buying for a trip to Vegas! I am wearing an XS.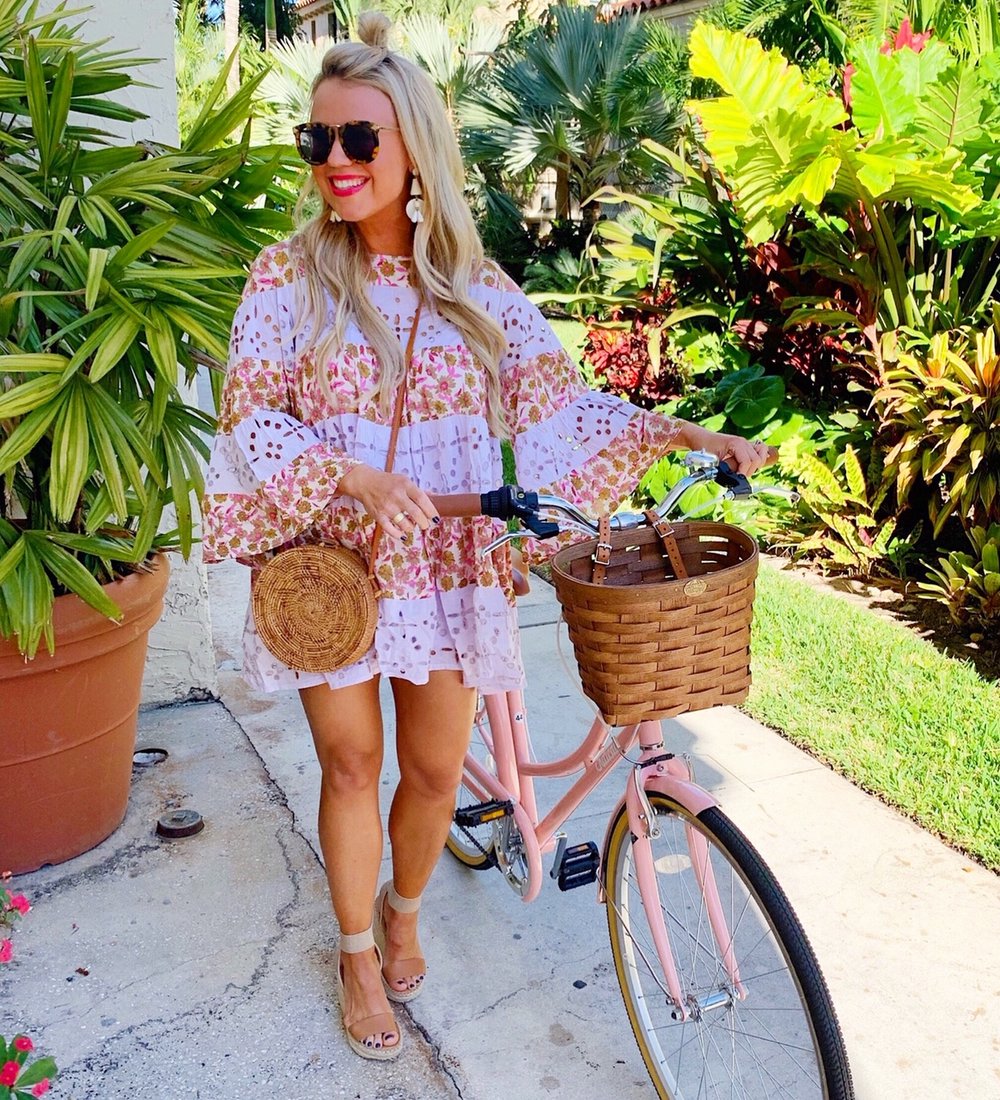 romper-dress | similar earrings | bag | shoes
Day Two. Wore this adorable Free People romper/dress for checking into the Breakers and a poolside welcome reception with the Beautycounter team. You may remember me styling this same romper-dress in orange in the Fall. I love it so much I had to have it in another color-way! It's as comfy as it is cute, and I will be living in it come Spring in Atlanta! I am wearing a size 4.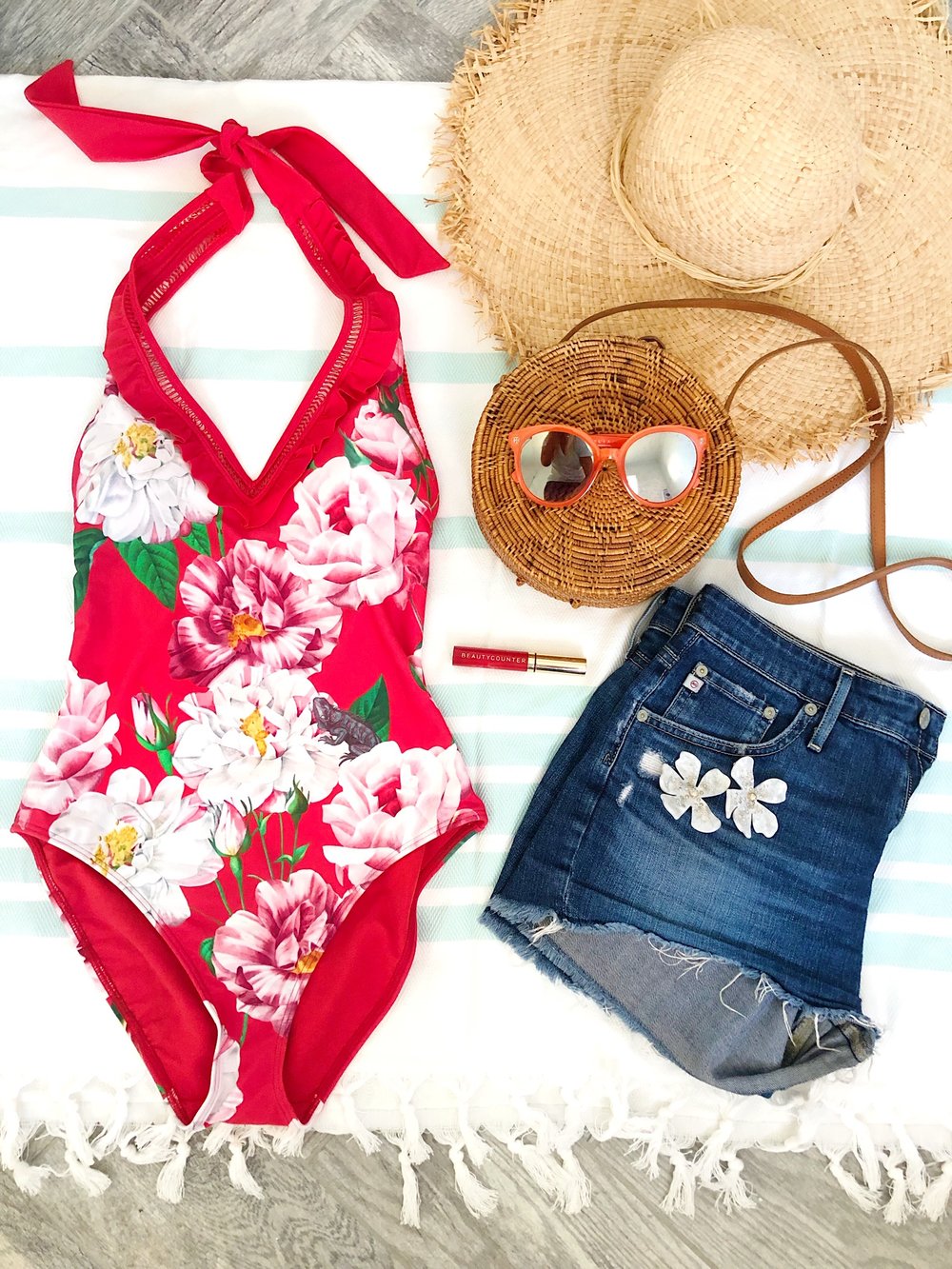 swimsuit | shorts | hat | earrings | lip gloss | bag
Swim style. This is one of the cutest suits I have seen in a while, and it's currently 40% off! It's super flattering and supportive of larger chests, too!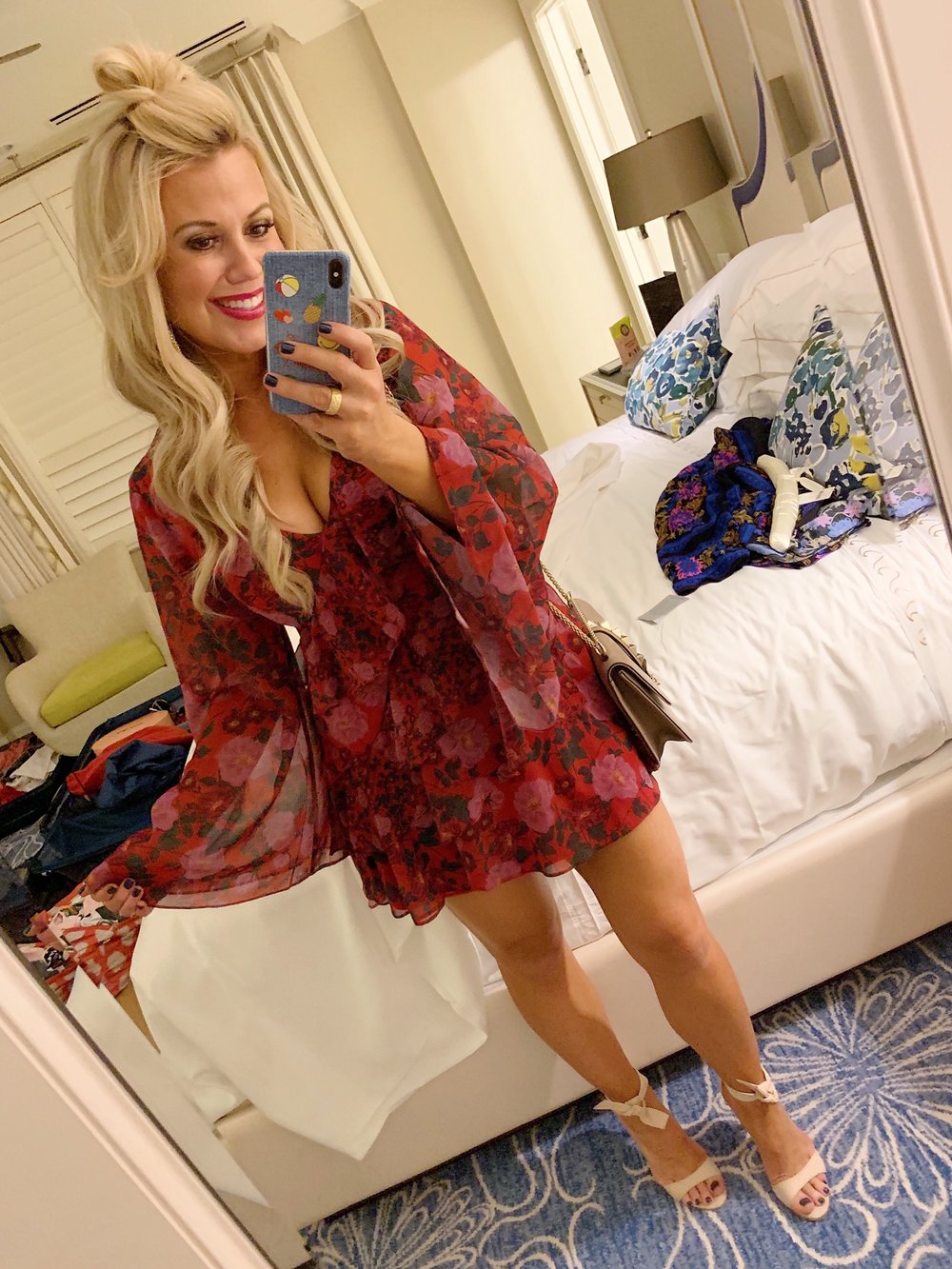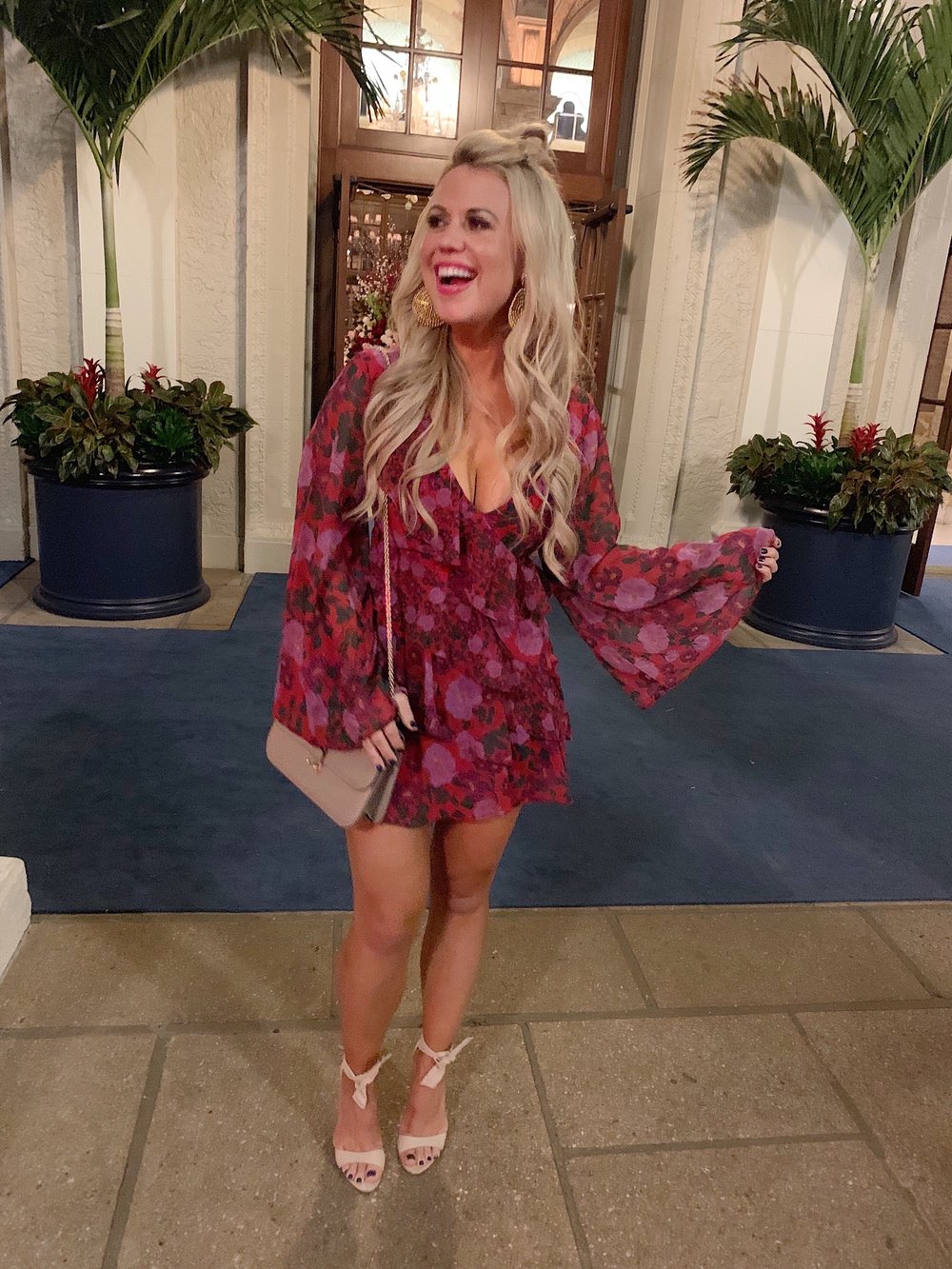 dress | earrings | similar shoes
Dinner Outfit, Night Two. Wore this flirty floral number to dinner at Echo with my Beautycounter team. I absolutely love the colors and fit of this dress…I will wear it this Spring and Summer, too. I am wearing a Small.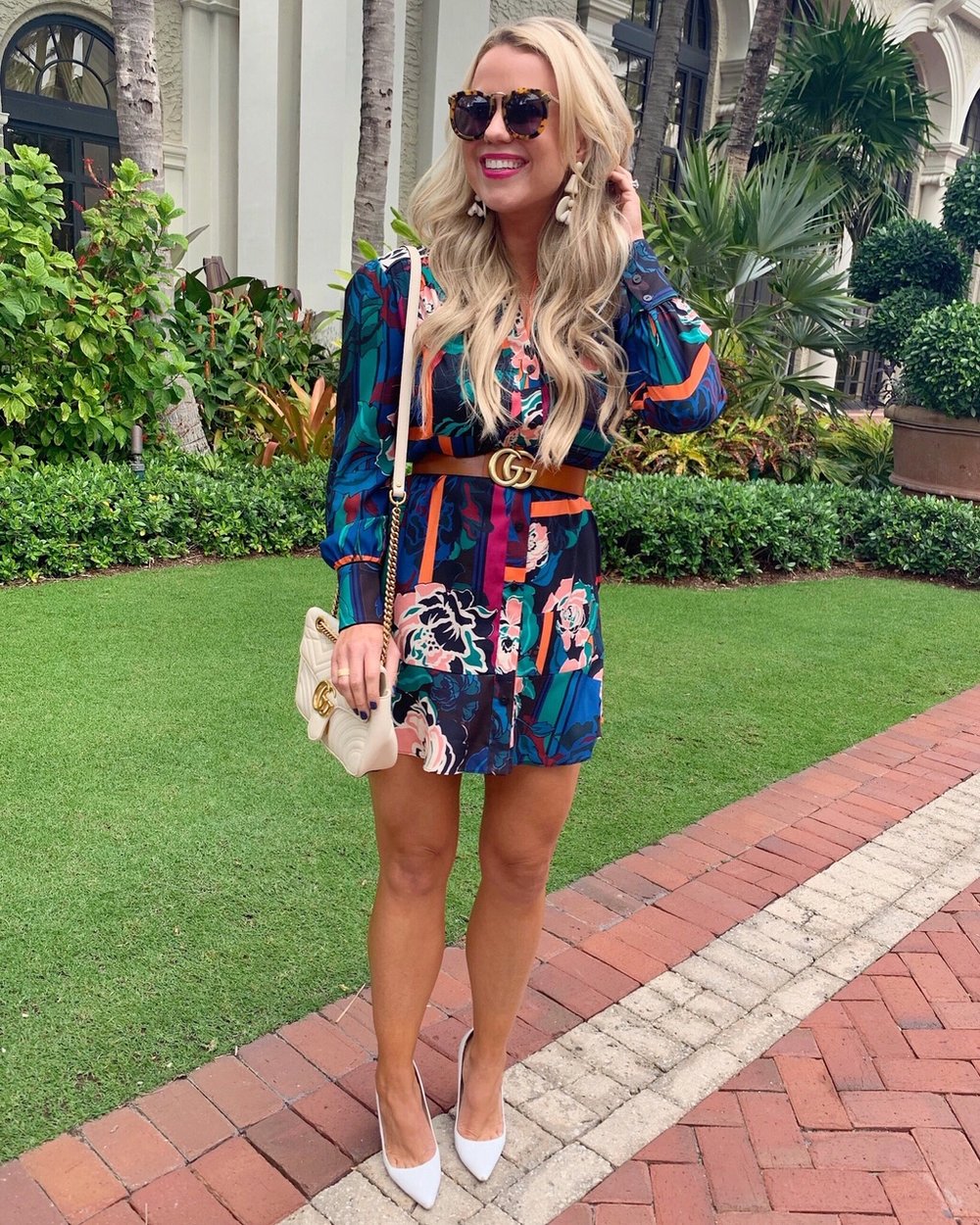 dress | belt | shoes | bag | sunglasses | similar earrings
Day 3, Beautycounter meetings and an outdoor lunch at the Breakers. I simply love this dress! The fit and colors are amazing, and I love that it looks equally cute and flattering worn with or without a belt. It's perfect for so many occasions and can be worn day or evening. I am wearing a size Small.
If you don't yet own a pair of white pumps, I highly recommend investing in a pair going into Spring. I have worn this pair into the ground the past few seasons…they elevate every look from jeans to skirts to dresses. I just found this similar pair that I plan to order since mine are on their last leg! I have found that while pumps tend to sell out in the Spring, so I would encourage you to snag a pair now!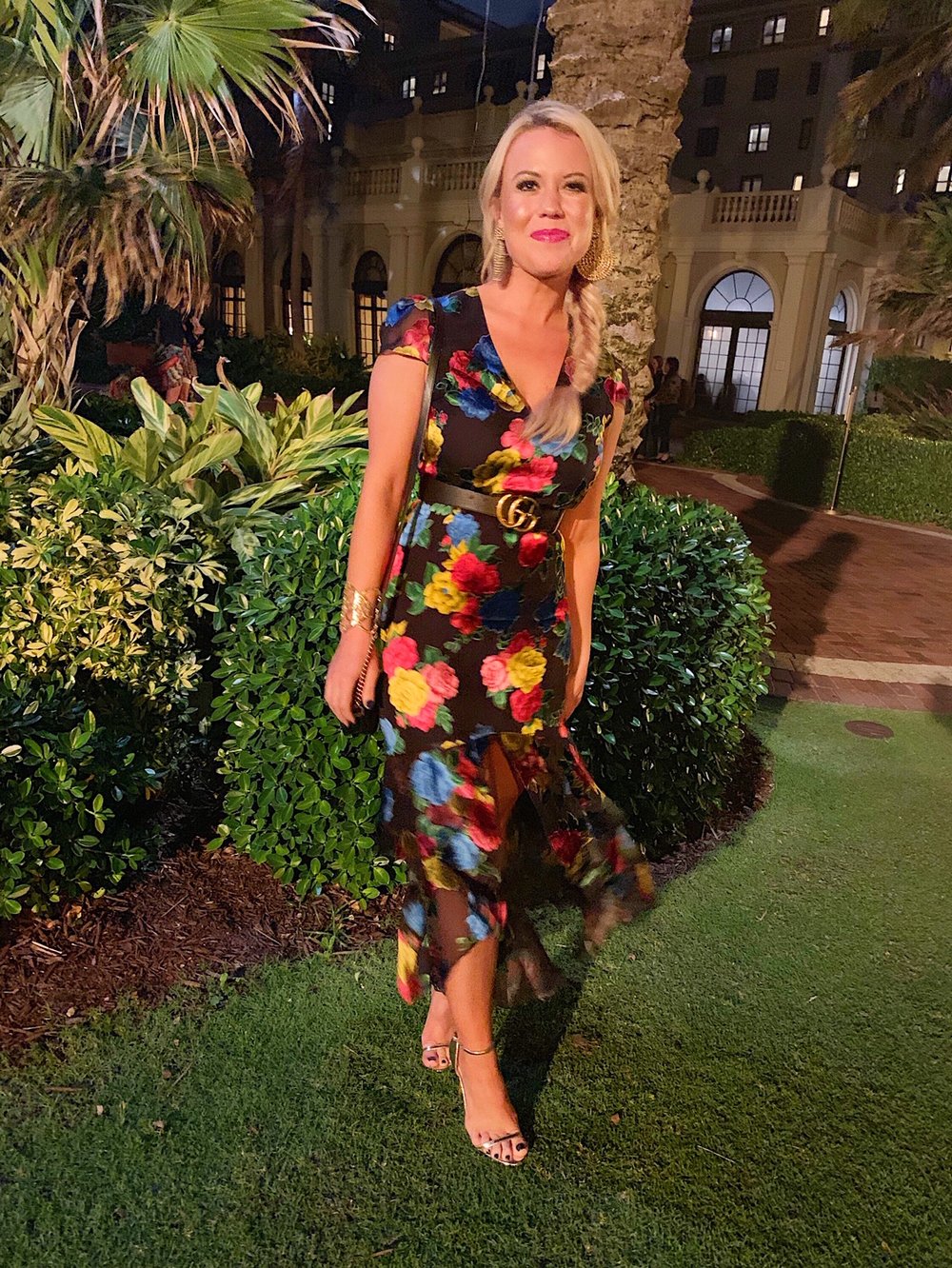 dress | similar shoes | earrings
Dinner and Dancing, Night Three. I am telling you, I literally lucked out finding so many dresses I love this trip! I normally don't love longer dresses on me, but this high-low dress is amazing! It comes with a sash but I belted it instead, to give more of a cinched look around the waist.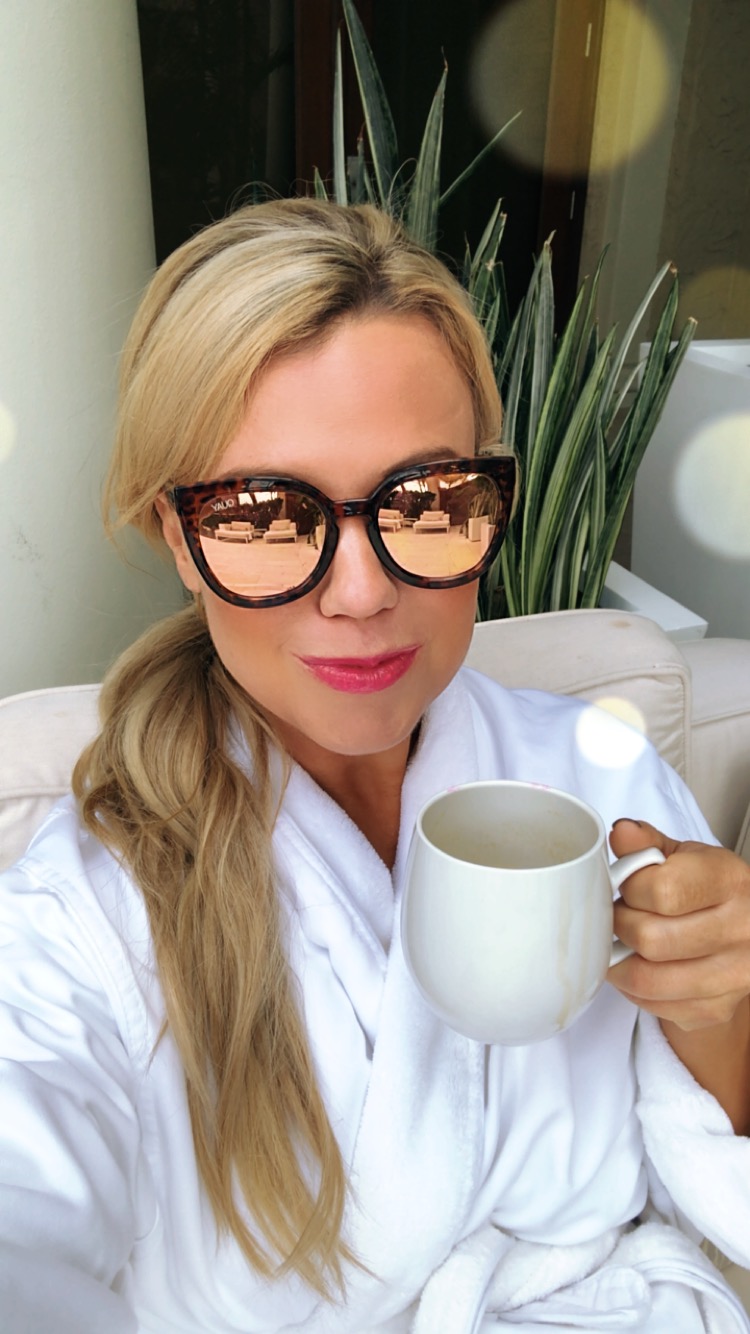 Spa Day! I literally spent almost ALL DAY Saturday in my robe at the utterly luxurious Breakers Spa. It was glorious! I got so many questions about these $55 sunnies on Instagram and they actually sold out that day! Thankfully, I found them at another retailer in stock. They are so fun!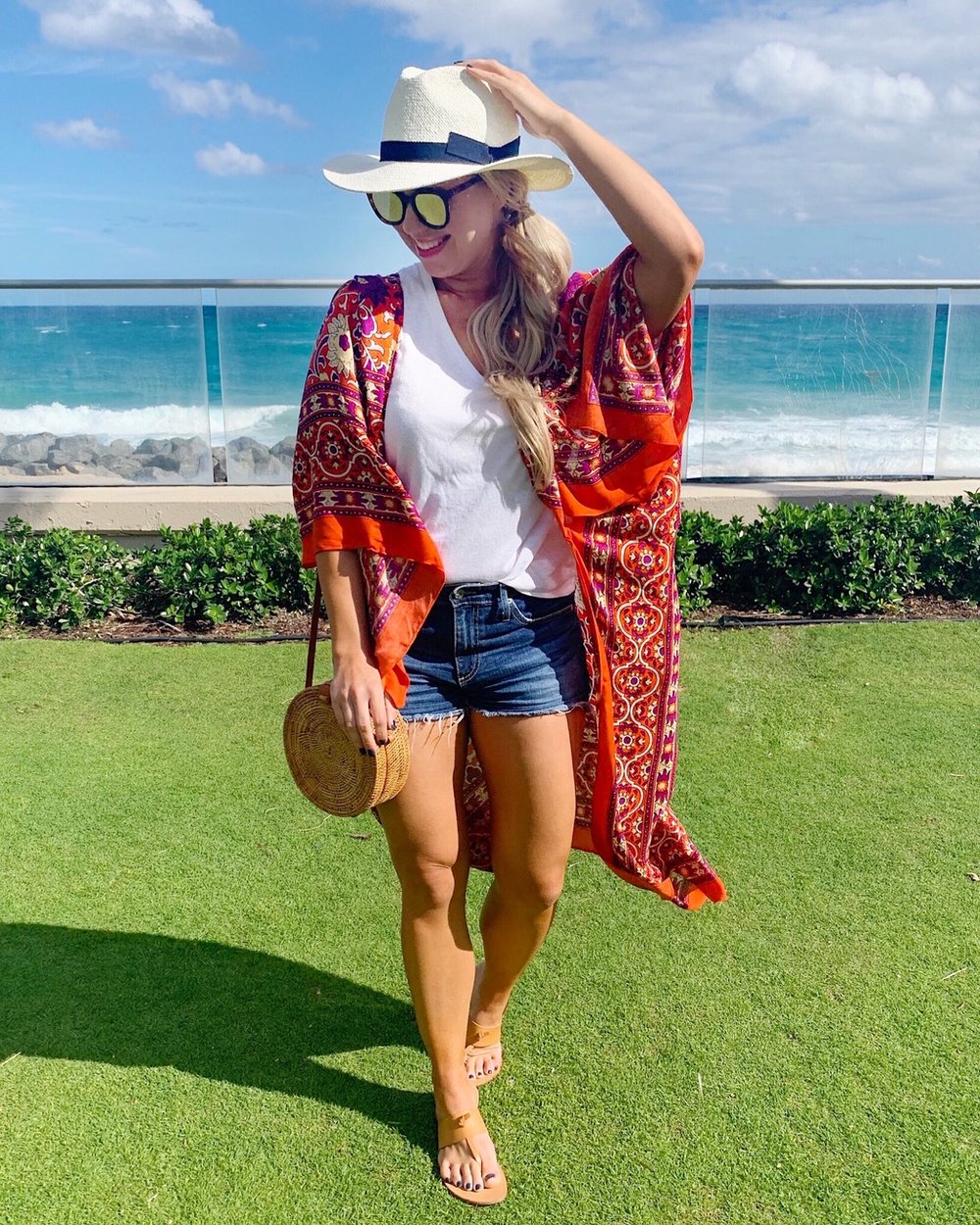 kimono | tee | similar shorts | bag | sandals | hat | sunnies
Pool Side Lunch Outfit. I changed into this casual ensemble for a pool side lunch with friends mid-way through my spa-day! I always pack a kimono on beach trips since they can double as a outfit over shorts or jeans as well as a swim coverup! This one is affordable and comes in three colors. It has short sleeves, so it stays put!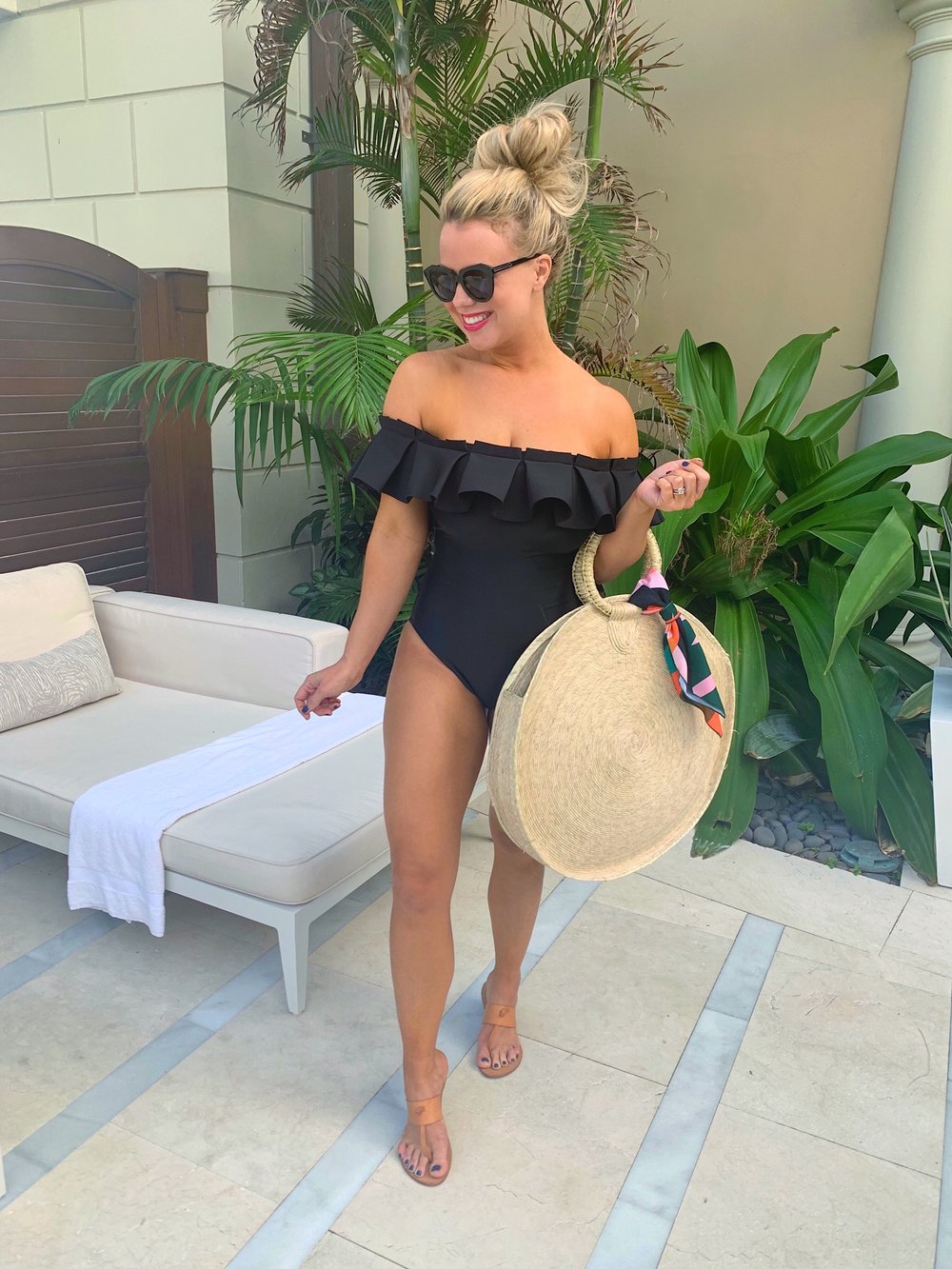 swimsuit | similar bag | sunglasses
Another Swim Look. There is nothing better than a classic black one-peice swimsuit! Sadly this one sold out, but I found a similar one with great reviews on Amazon for $16.99!!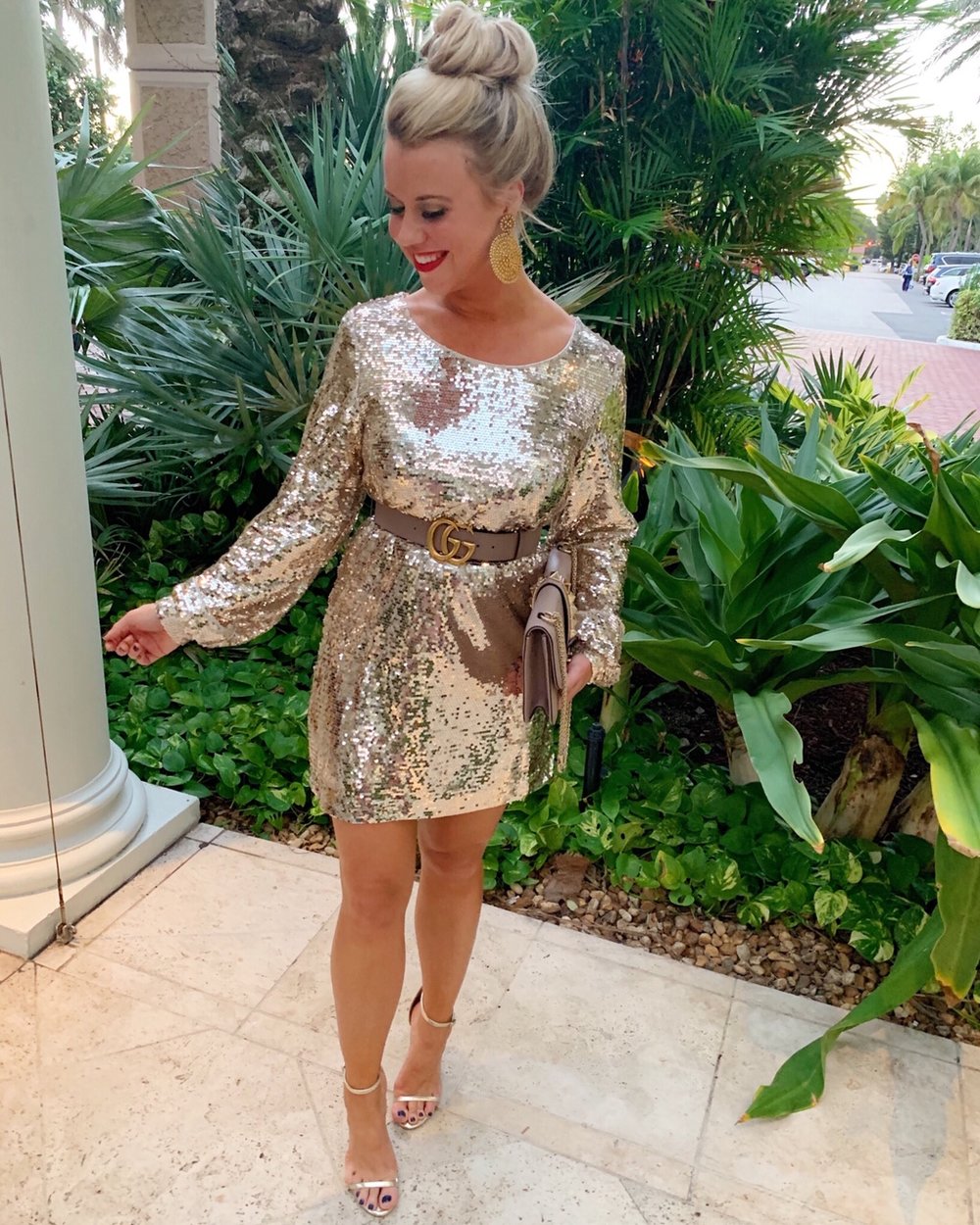 dress | similar shoes | earrings | bag | belt
Yacht Cruise Dinner, Night Four. I wore this sparkly number for dinner on a yacht the last night of the trip! It was an amazing evening and I loved how comfortable this dress is! I am wearing a size small.

Hope these outfits give you sunny outfit inspiration for either Spring or upcoming trips!
And like I mentioned above, I cannot say enough great things about all things Beautycounter. I learned this week that "Beautycounter" was the most searched for beauty company on Google in 2018! This company and it's mission are doing big things to disrupt the beauty industry and create safer, better products for the entire family. So many new product launches are coming in 2019, too. If you are interested in joining my team and this movement, I would love to chat! Shoot me an email at lauren@editbylauren.com.
Last but not least, I got a ton of questions on Instagram while on the trip about my makeup. 90% of what I wore was Beautycounter makeup. Stay tuned for a post breaking down exactly what I wear daily, coming soon. In the mean time, feel free to shoot me an email with any specific questions. And this Flawless in Five set is a great place to start overhauling your makeup routine to safer.
Stylishly yours,