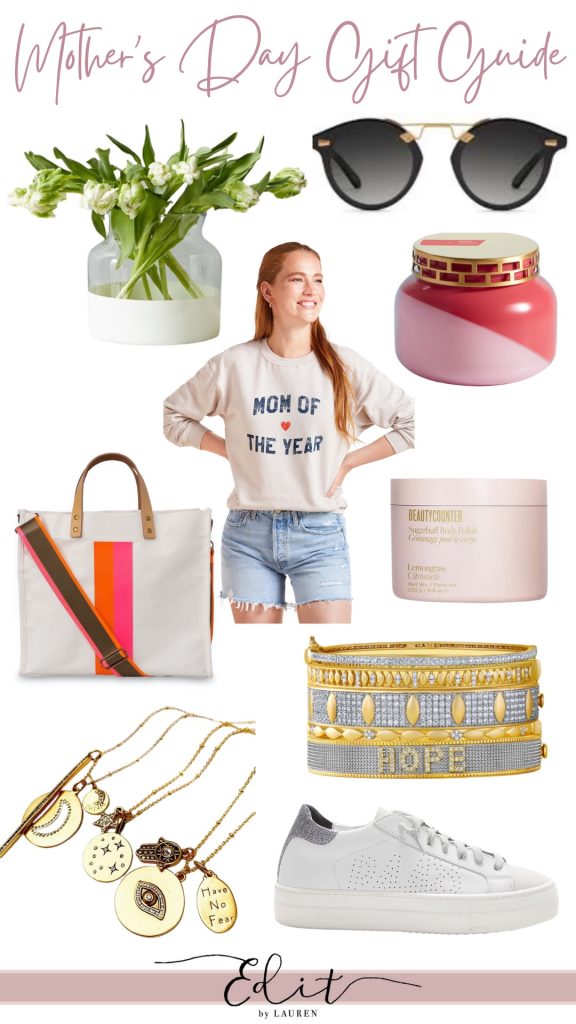 Mother's Day is right around the corner! Here are some of my current favorite things, that each make a unique and memorable gift for deserving mom's of every age!

Stevie Collective Vase. One of my favorite vases…I keep it on my kitchen island all the time and fill with both faux and real flowers! Comes in several colors and makes a great gift for any decor style.
Krewe St. Louis Sunglasses. My new sunnies that have become a fast favorite! These are incredibly chic and come in a variety of colors. I extra love that Krewe replaces broken frames.
Evereve "Mom of the Year" Pullover. New super-soft and comfy sweatshirt that I am wearing on repeat! See pics of me wearing this pullover below!
Capri Blue Pineapple Flower Candle. Hands-down favorite summer scent! I keep these stocked in my home. The jar is vibrant and fun, and a perfect gift!
Bagging Rights Tote. The best tote I have ever owned! I love this new white colorway! Code EDITBYLAUREN for 10% off.
Beautycounter Sugarbuff Body Polish. An extra-luxe body polish that is extra-amazing for Summer months.
Sequin Design-Your-Own Necklace. I wear Sequin necklaces both single or layered every single day. This new design-your-own charm collection is so fun, and makes an amazing gift! 25% off site-wide with code SPRING25.
Freida Rothman Bangles. My mom gifted me three of these gorgeous bracelets for my 40th birthday, and I cannot wait to add more to my stack in the coming months/years. The most beautiful and unique bracelets for an attainable price-point. They are even more stunning in person. Enjoy a free stacking ring with a $295 purchase with code FRLAUREN295 and a free layering necklace with a $495 purchase with code FRLAUREN495.
P448 Thea Sneakers. The newest addition to my sneaker collection. These are perfect for Summer as they are perfectly neutral and add extra flattery to the leg with the platform sole. Super comfy, too! Wearing them in pic below!

Stylishly yours,
Lauren