If you're at all like me, you turn to Pinterest for almost everything.  You know, like when you need dinner ideas, when you're procrastinating, or when you need to look up how to clean dog vomit out of your rug.
You know, hypothetically.
Pregnancy can cause even the most dedicated fashionista to crawl straight into her comfy sweatpants and hibernate.  Not that I know from experience or anything.  Pinterest is always one of my go-to resources when I'm searching for outfit inspiration, but never more so than when I find myself saying things like, SURE, there's a trendy way to style yoga pants.
(NO.  There's not.)
Anyway, I came across this outfit over the weekend, and was instantly obsessed: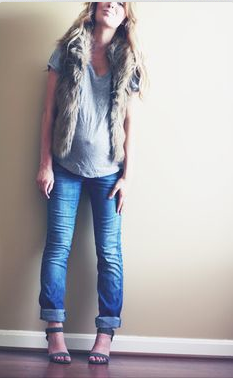 To me this outfit says, "That's right.  I'm a sassy mama.  I mean, did you not see my fur vest? And so what if my belly button has popped out? I'm rocking that belly button in this outfit."
Or something like that.
If you think I'm not gonna straight copy every single detail of this outfit, then you clearly don't know me at all.  I thought y'all might like to see how I plan to do it. You know, in case you wanna rock your own popped belly button or something.
Boyfriend Jeans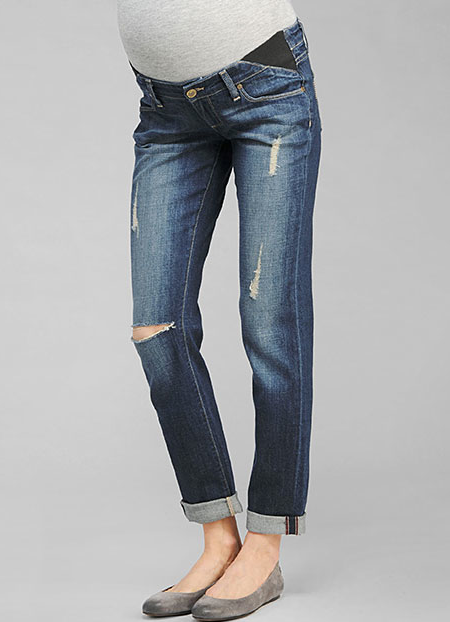 Y'all.  I know these are very pricey.  Like, pricey to the point where if I tried to buy them, my husband would be all, say WHAT?!?!?!  And then I would be all, but honey, if I break it down into cost per wear, it would probably end up around 99 cents.  Also, have you been working out? 
But, here's a little tip for you gals that don't want to spend two arms and two legs on something you will wear for less than a year:  buy a regular pair of maternity skinny denim like THESE and just roll up.  For a more authentic boyfriend feel, try going up one size.
Slouchy Tee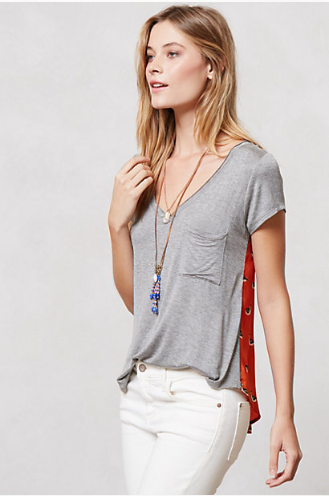 This tee is MAGIC.  It's the perfect slouchy fit, plus TONS of fun colors (and prints) to chose from. I own it in gray AND navy, and will probably order another color for my rotation soon.
Unless you're my husband, in which case, have you been working out? 
Ahem.
(By the way, I'm 21 weeks and the medium fits perfectly with LOTS of room to grow.  If you want a less slouchy fit, try sizing down.)
And finally…..
The Perfect Fur Vest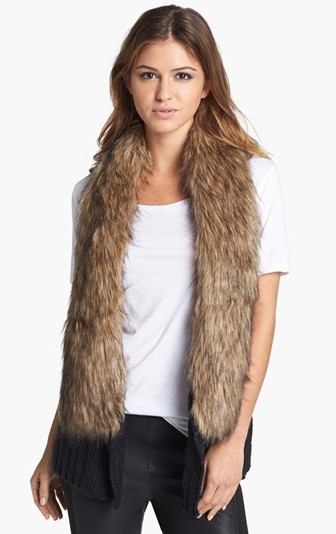 This vest is so fab, I almost have no words.  Almost.  Last year, I was on the hunt for a cute fur vest.  This resulted in hours of searching online, and miles and miles walked through the mall, until I finally found the perfect one.
And now I like this one even more.  Oops.
Word of advice:  do not procrastinate! If you are in the market for a cute vest for fall and winter, allow me to introduce you to the ONE.  It will sell out.  I can guarantee it. Are you stressed out yet?  I am.  I may or may not be heading over to the Nordstrom page right now.
Unless you're my husband. In which case, hey, have you been working out?!
So there you have it: maternity Pinspiration that will work through any stage of pregnancy and beyond.  Would you wear this outfit?  Hit us up on Instagram, FB, or Twitter to show us your take on this look. Remember to #editbylauren!
Until next time,