It's hard to believe the holiday season is HERE! If you have a holiday party coming up, this is the time to snag a dress or two that you feel absolutely fabulous wearing!
If you have been following me for a while, you may recall that I do a annual holiday dress roundup/try-on session each holiday season from the Nordstrom fitting room. This year I asked my beauty-blogger friend, Jennifer Duvall of Jenny Sue Makeup, to join me!
I will admit that I was pretty disappointed in the in-store selection this season. There are usually more dress options than I have time to try on, and this go-round it was difficult to find many options that either Jennifer or myself loved.
That said, here's a round up of our favorite dresses. Be sure to follow along to the end of this post where I am rounding up LOTS of fabulous online options. In light of most stores not carrying a ton of inventory, my recommendation is to order 3-4 options, try them on in the comfort of your own home and then return whatever you don't want. Dresses can be hard to fit, so there is safety in ordering several options!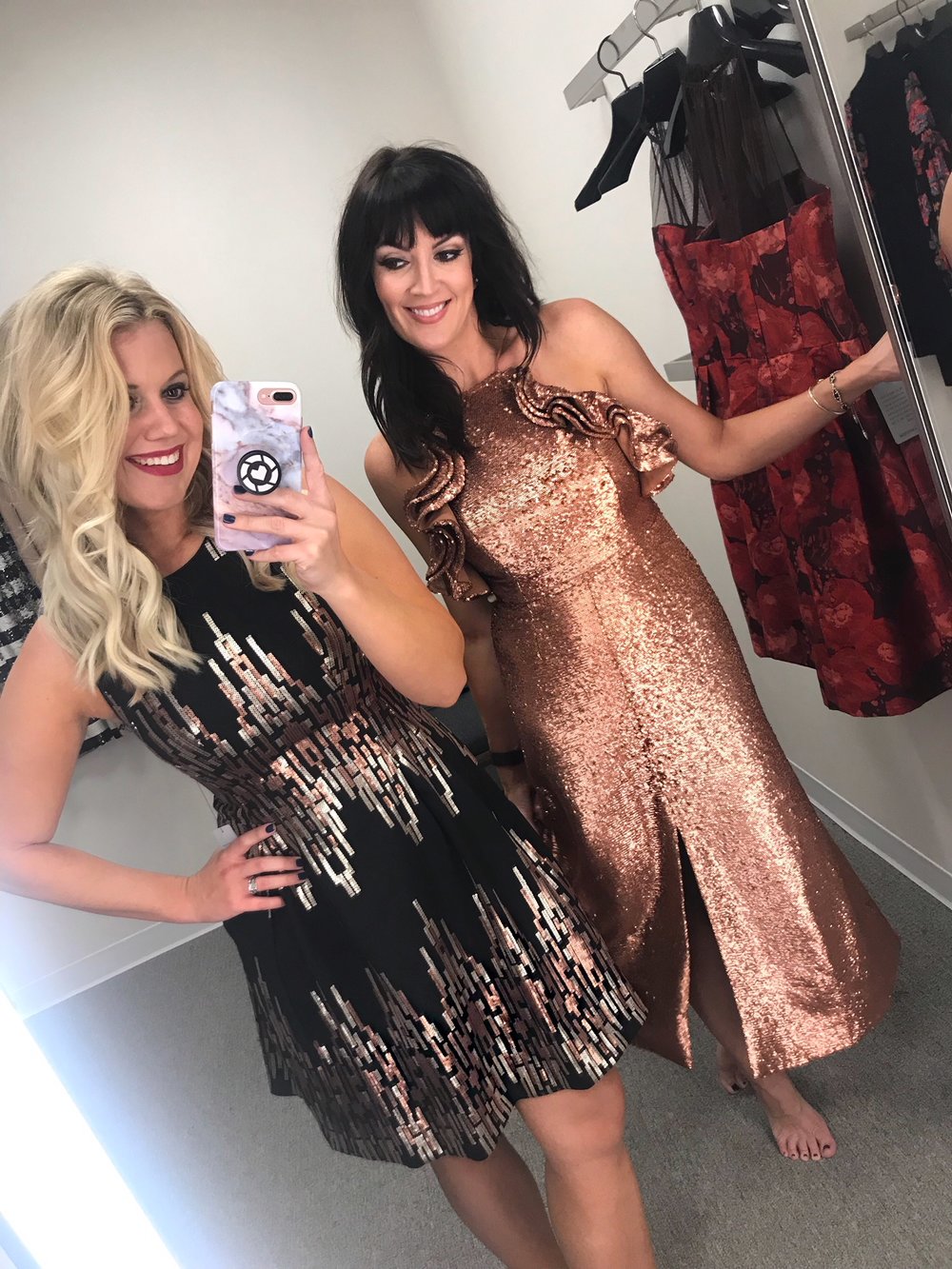 Sequins for the win! You can never go wrong with a little holiday shine. I love that both of these dresses are a unique-take on wearing sequins. My Vince Camuto dress is super flattering… the sequin patterns tapers the waist. Jennifer's rose gold C/MEO Collective dress is simply stunning!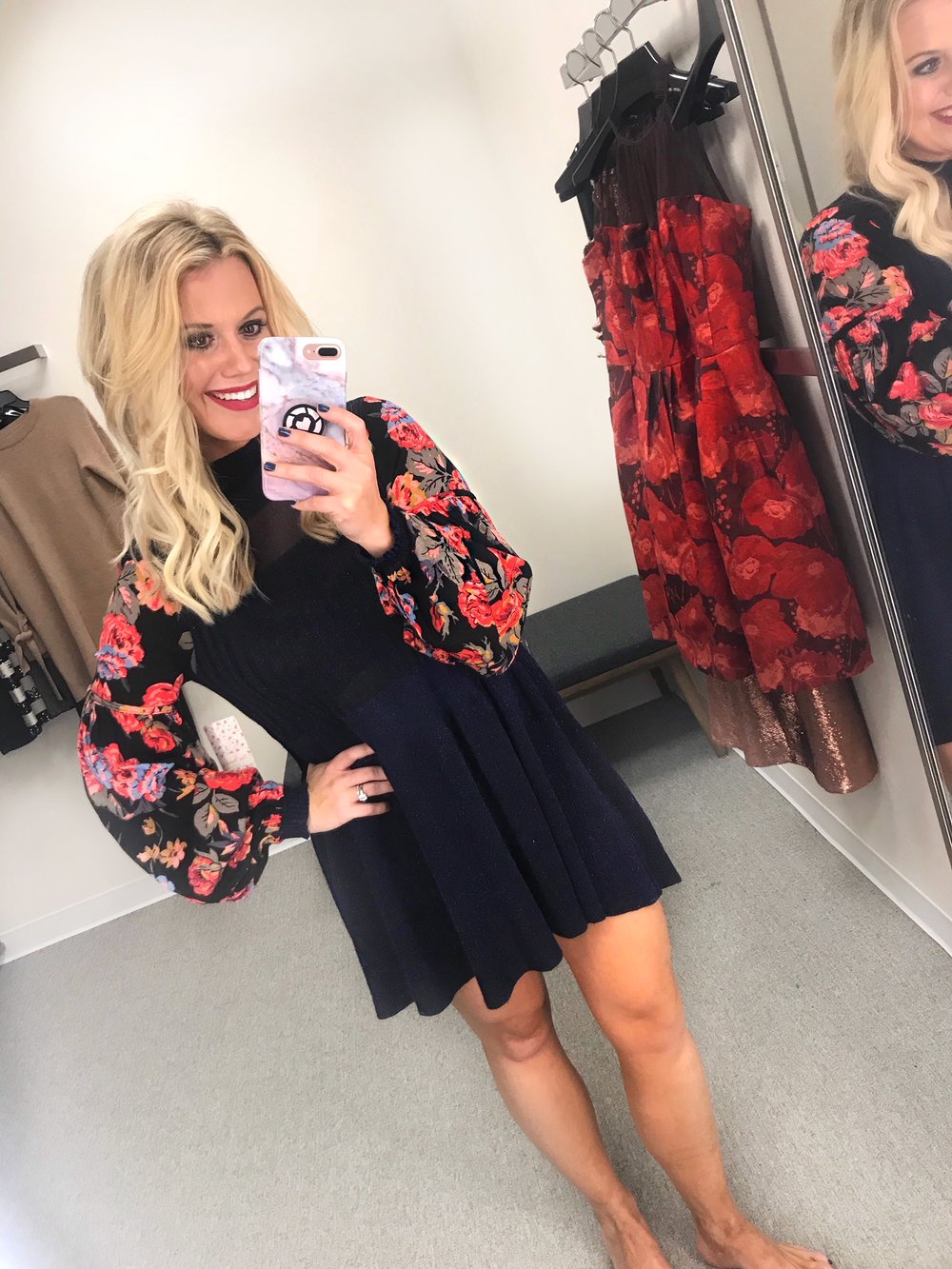 This Free People Dress was my favorite from the try-on session. The floral sleeves are beyond gorgeous, and I love that the navy dress has a little sparkle. It's the perfect dress to wear day or night to a more casual holiday event and can be worn with a chunky heel, high-heeled bootie or over the knee boot. It also looks fabulous layered with a faux-fur vest!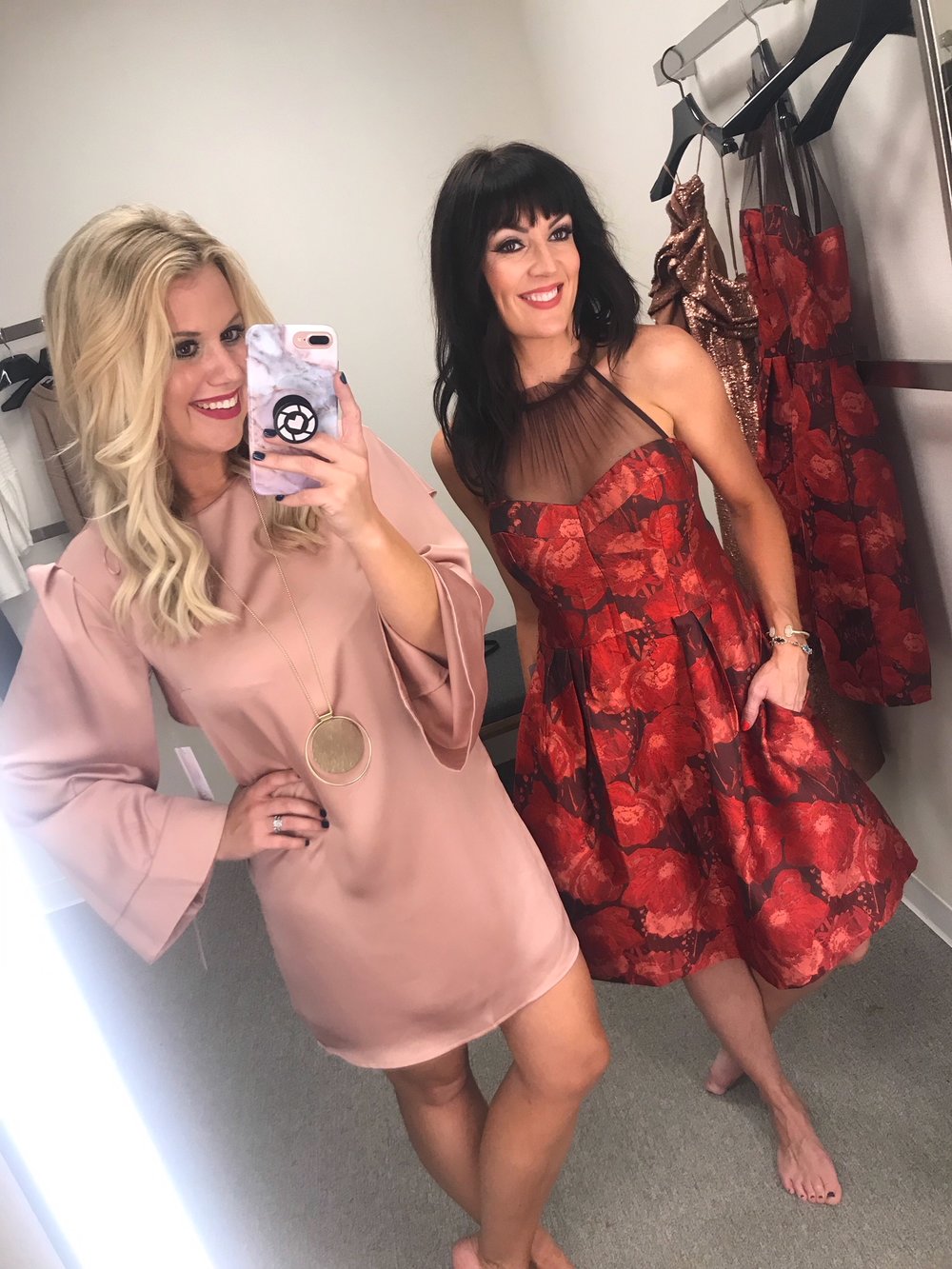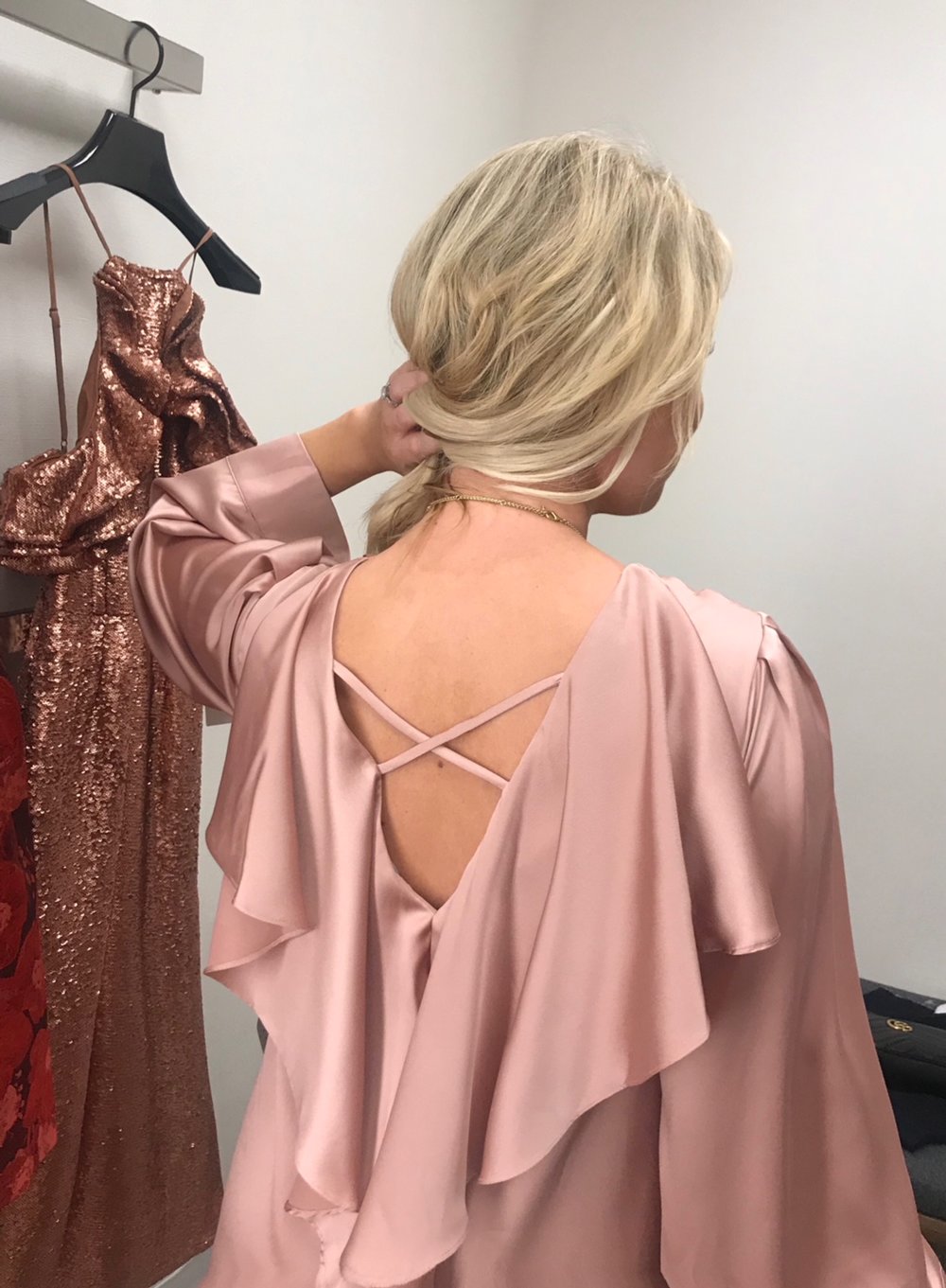 I love the idea of blush pink for the holiday season, and the Chelsea 28 shift dress I am wearing here has the prettiest ruffle back! It also comes in a gorgeous emerald green, and is a dress you can wear long after Christmas! And can we discuss that Jennifer's pretty red floral dress by Maggy London has pockets?! So perfect!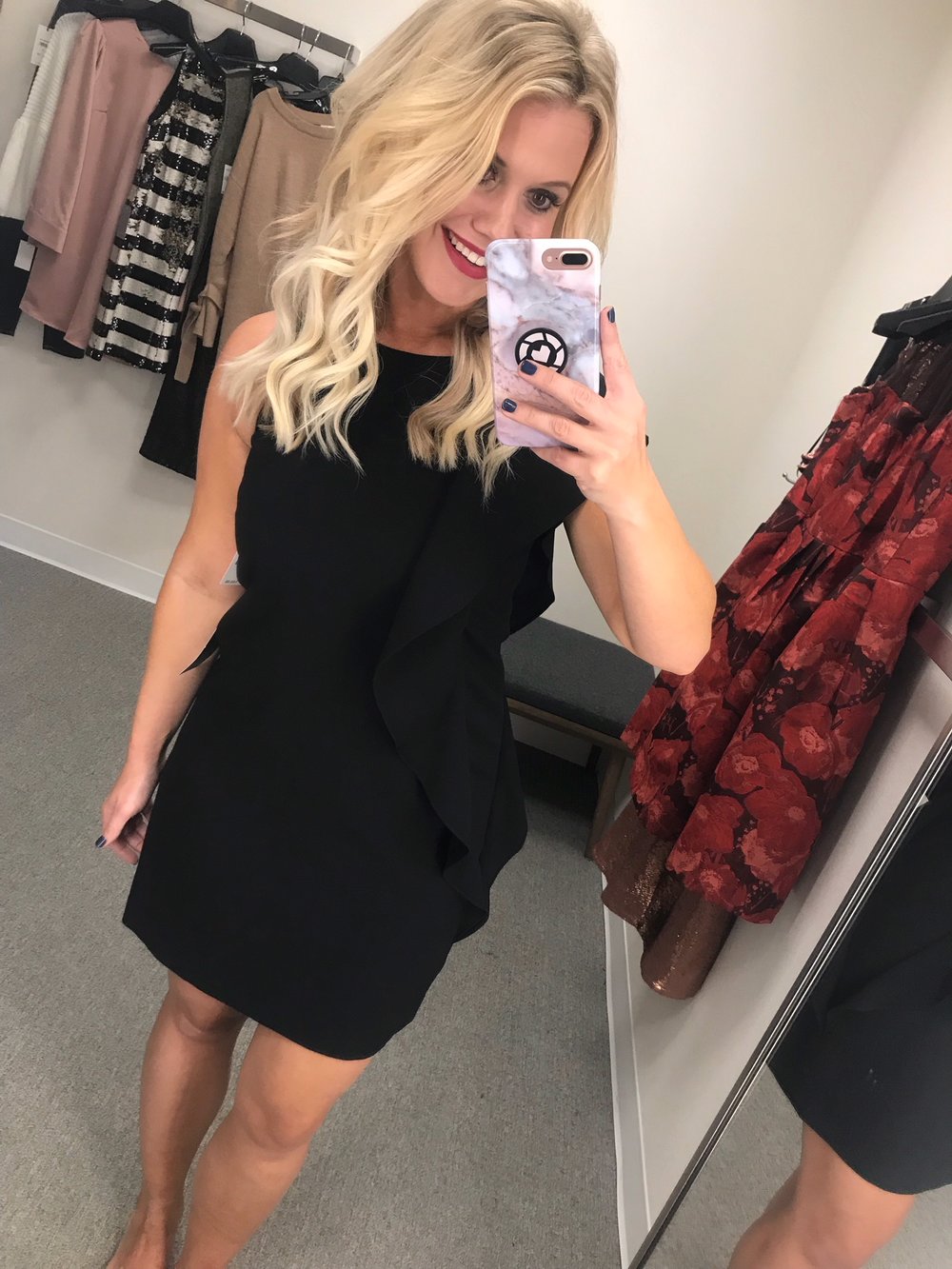 You cannot go wrong with a classic LBD and this Chelsea 28 ruffled number is just that! This is a comfortable dress and the ruffle detail flatters the arms and waist.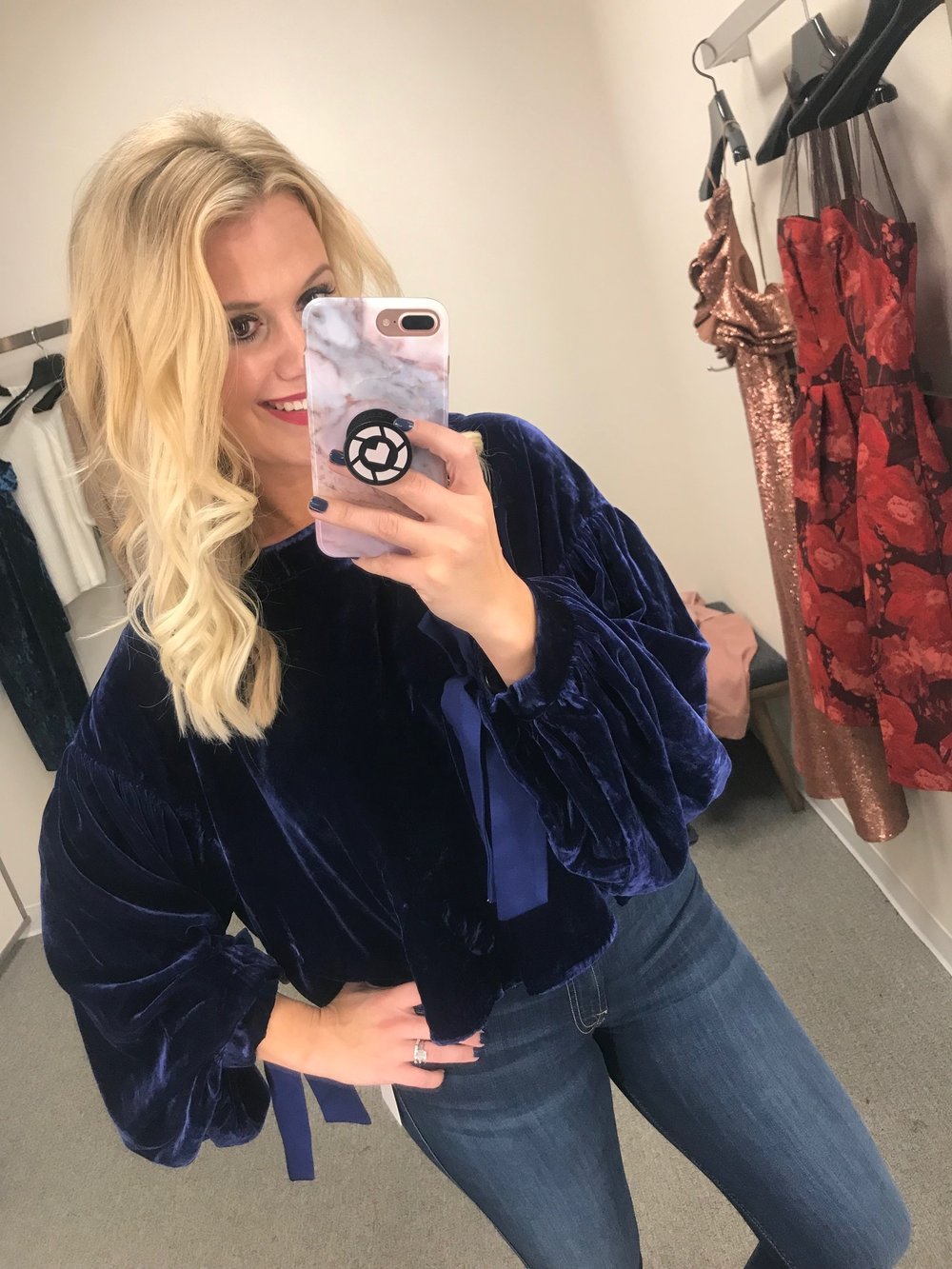 Last but not least, I had to share this fun Free People velvet top that I tried on! It's clearly not a dress but it is a great option for a casual holiday event! It also comes in a stunning hot pink! The back is gorgeous, and can be layered with a lace bralet like this one.
Here are other gorgeous holiday dress options to shop ::
Stylishly yours,