Today I'm talking about one of my absolute favorite things :: Scarves that can carry you from season to season. I have an abundant amount of scarves in my wardrobe (my husband would call it excessive; I call it absolutely necessary) for many reasons. 1- Their versatility :: scarves can go from day into night, and amp up any otherwise plain outfit. They can also be worn many different ways, such as loosely falling around your neck, in a circle, or even as a "shawl" on a chilly night. 2- Their effortlessness :: scarves are so EASY ladies! Throw it on with a maxi dress, a tee shirt, or a sweater and you're ready to walk out the door. 3- Their affordability :: scarves are an affordable staple piece that you can really use to build on your current wardrobe without breaking the bank.
I particularly love the scarf because it transitions so well between seasons. As we near the end of summer and start to transition our wardrobes into fall weather, a light-weight scarf is the perfect piece. I'm not talking about the wool scarf that you wear in a snowstorm. This is more of a fashion piece, rather than a warmth piece. I love to pair a lightweight, breezy colorful scarf with a maxi dress or tank in the summer, and carry it into the fall with a button-down shirt, a jean jacket, or a light sweater. Here are some of my favorite scarves that go from spring, to summer, into fall (and here in Atlanta, maybe even year-round!) ::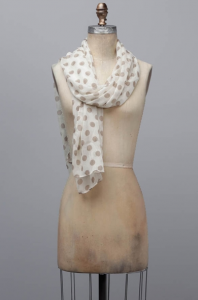 This polka dot scarf is lightweight, neutral, and fun. You can pair it with almost anything, and the colors will compliment what you have on. The polka dot adds an element of youth, while staying ever so timeless and chic! It also comes in two other colors.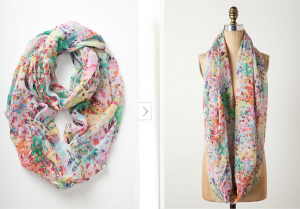 I am loving the infinity scarf because it is so easy to wear (wrap it once or twice!), and it stays on with no fuss or fixing. This one from Anthropologie has light floral pastel colors, which is perfect for keeping a summer feel into the fall months, and brightening up your look.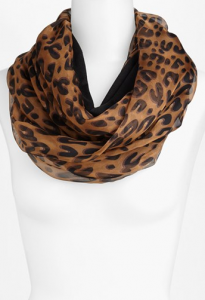 And of course, one of my all-time favorites and most worn scarves, the leopard! This one is reversible, with one side being solid and the other leopard. Pair with an all black outfit and riding boots in the fall, or coral/peach, turquoise, or yellow in the summer! A steal on sale for $24.90.
So get ready to incorporate scarves into your everyday life, from spring, to summer, into fall. They are the perfect accessory to almost any outfit! Show us your favorite scarves that take you from season to season. We'd love to hear from you!
Stylishly Yours,