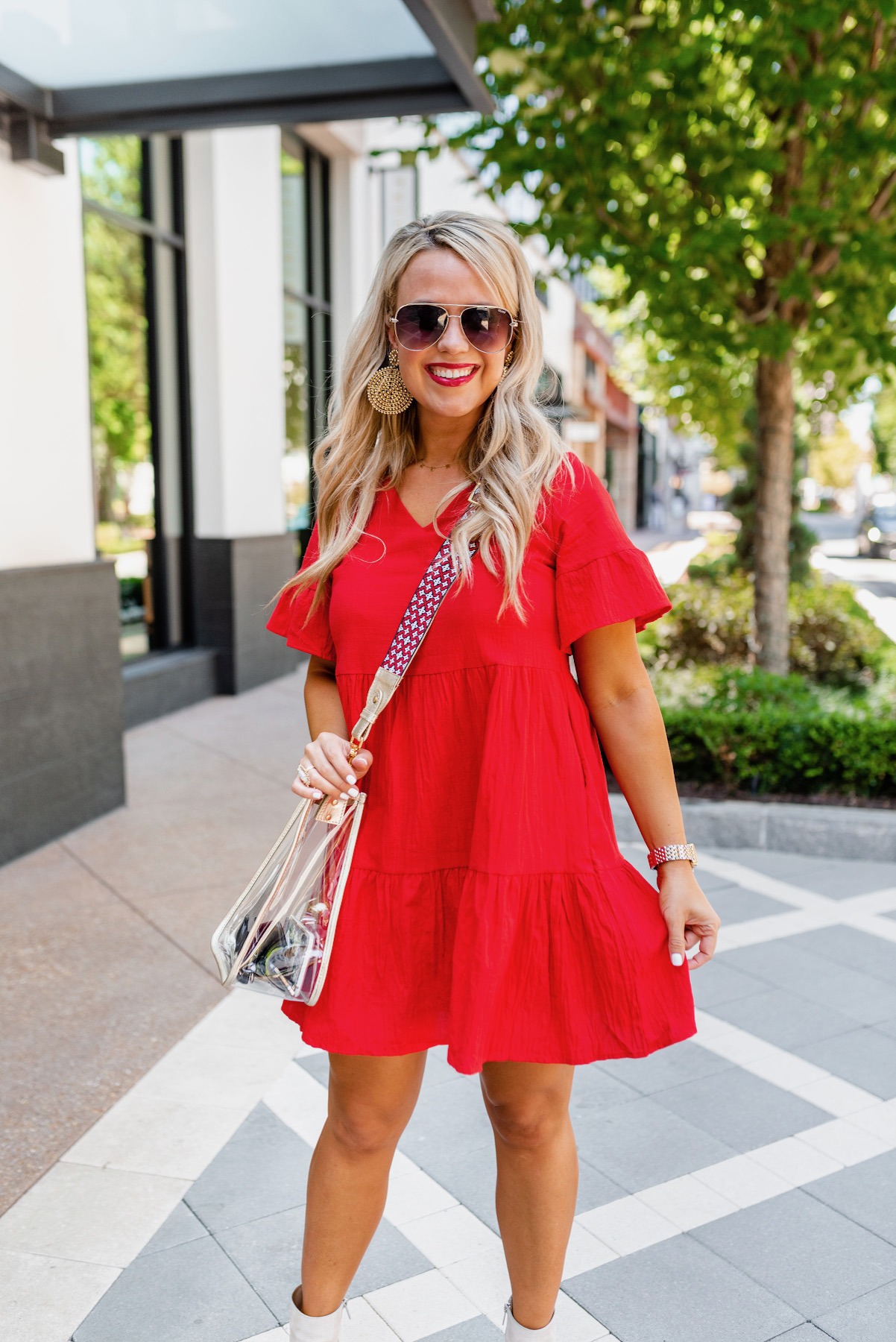 dress | bag | booties | sunglasses | earrings
Gooooooooooooooooooo, Dawgs! Sic 'em! Woof woof woof woof!
I'm a big fan of the University of Georgia Bulldogs. This means I bleed red and black, which also means that my game-day go-to colors are red and black! But no matter what team you root for, you can assemble the perfect game day outfit based on my suggestions below because most are offered in a variety of colors.
Easy Game Day Style
Here is how I like to dress for game days: flowy, breezy, throw-on-and-go dresses with cute sneakers or low-heeled booties. I also make sure to bring a clear cross-body or easy-to-carry stadium bag, lightweight earrings, my trusty Able denim jacket, a cute Corkcicle for tailgating, and my sunglasses!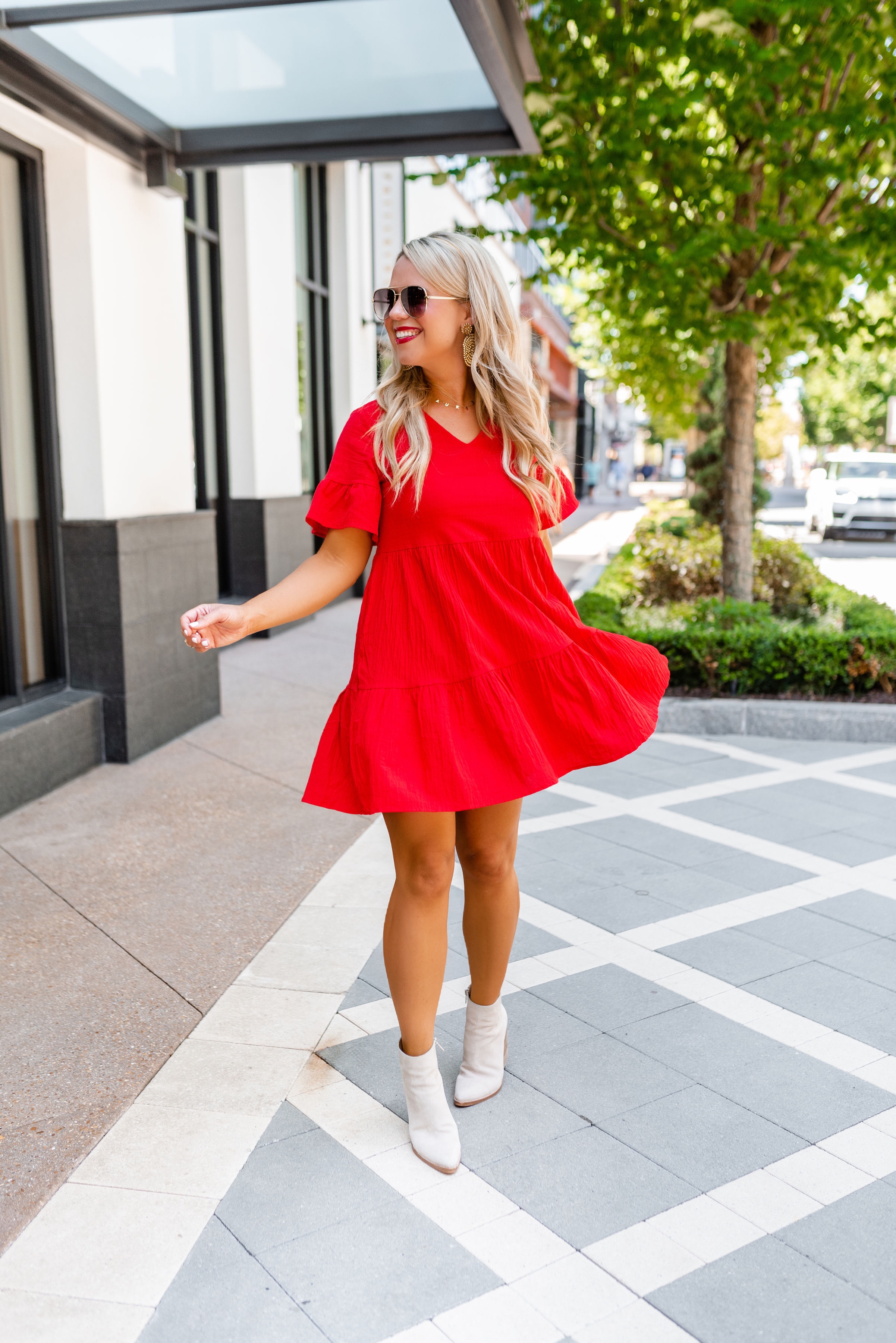 dress | bag | booties | sunglasses | earrings
Dresses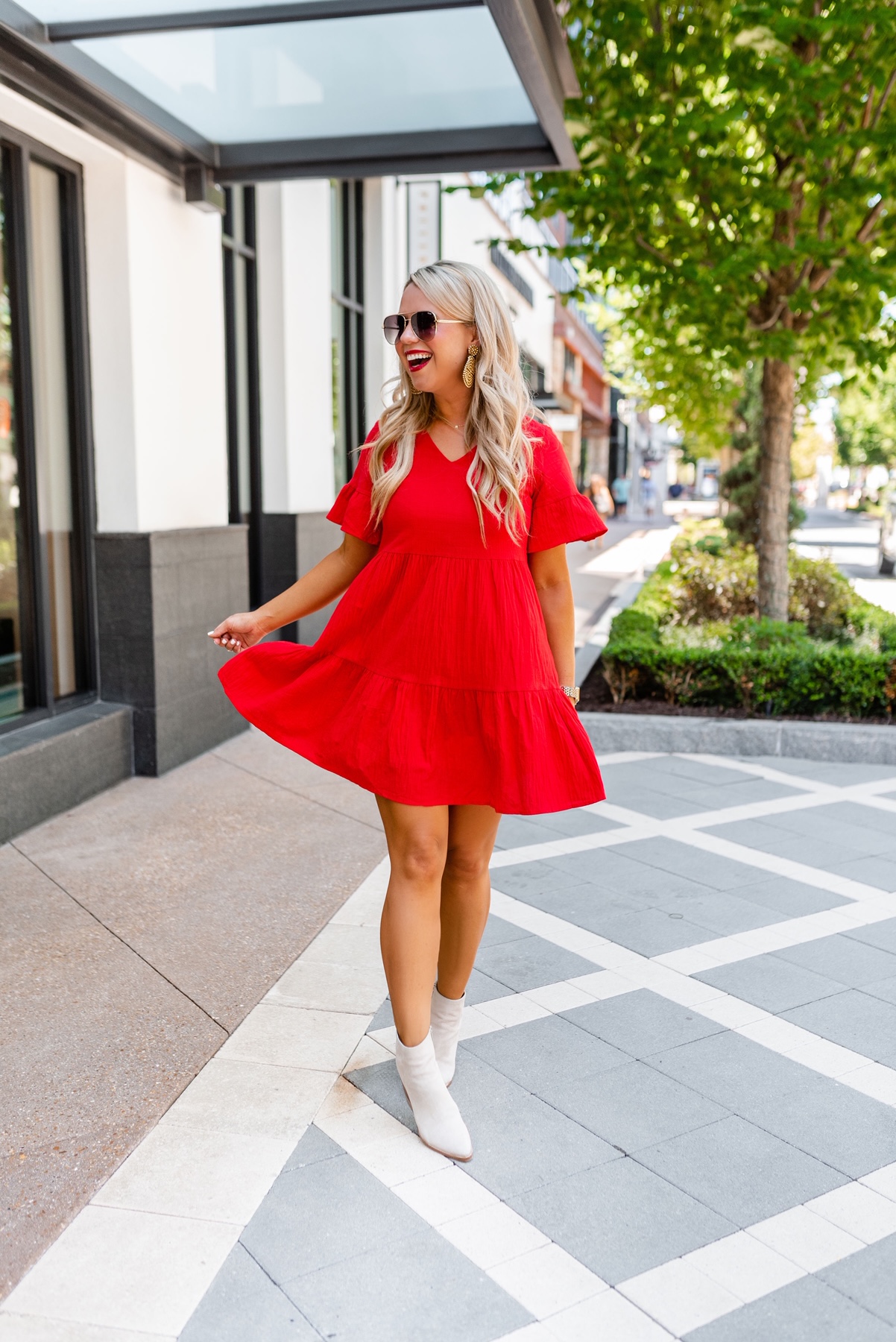 In the south, it is usually hot through early fall, so I find a dress to be much cooler and more comfortable than separates. The dress I am wearing here is just $27 and from Amazon. Here is another similar option from Amazon as well! Below you will also find some adorable choices. Like I mentioned above, most of these come in a variety of colors, so hopefully you can find the perfect one to represent the school you cheer for.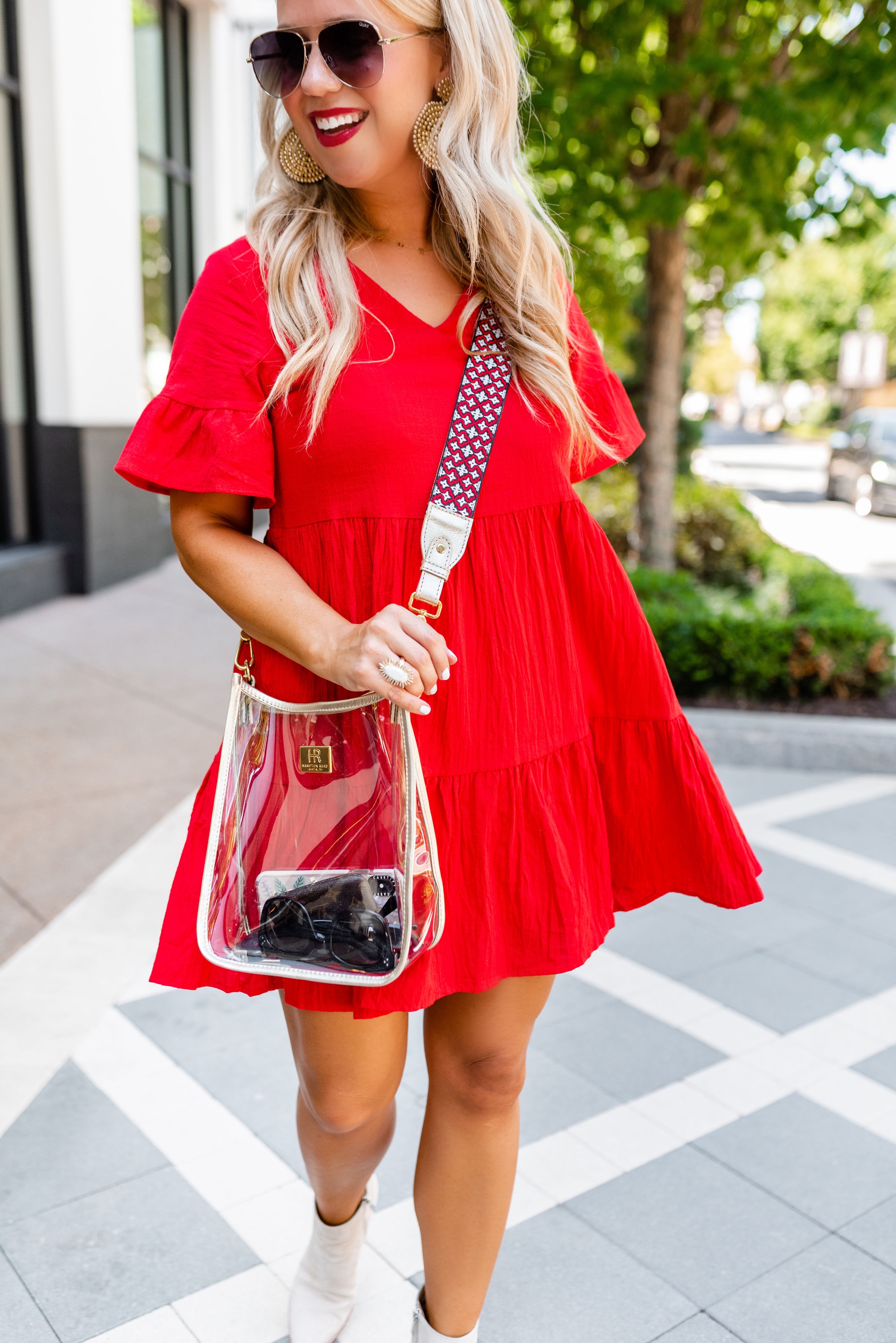 Shoes
Comfy shoes are a must if you are going to be on the go while tailgating, walking around a stadium, and standing up to cheer on your team. When selecting my game day outfits, I opt for a walkable sneaker like the Converse I linked below OR a low-heeled bootie like the ones pictured above (the exact color that I am wearing is from a previous season and is out of stock, but I can assure you that these Marc Fisher booties are comfortable for all-day wear).

Don't forget these Accessories!
I always grab my Able jean jacket (it's my favorite one!) because you never know when you might get chilly, especially if you pop into a heavily air-conditioned sports pub or restaurant to catch some of the game on TV or get some good eats. I am also never without my Corkcicle during a tailgate; they are adorable and keep my drink cool for hours. Lastly, I always bring a clear stadium bag. The one pictured below is from Hampton Road Designs. They are currently offering my followers 20% off site wide with code "gameday." Their bags are a small investment, but so incredibly stylish and completely customizable; you can change the straps and pick your size! If you are looking for a less expensive option, I've linked a few other cute ones below.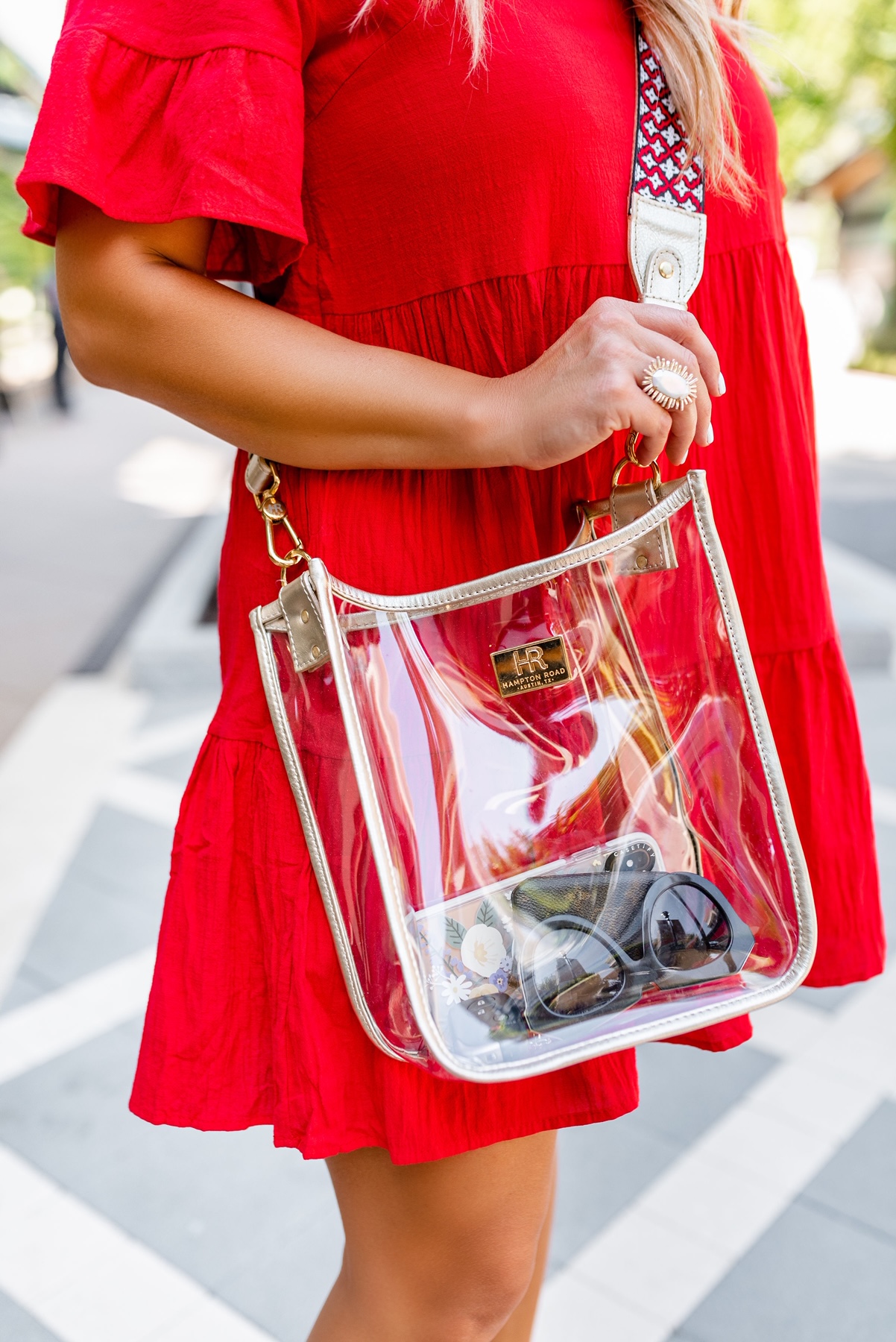 Jewelry
Minimal jewelry is key if you are going to be out in the heat with the crowds. I avoid anything heavy or bulky so that nothing is pulling on my ears or making me hot around my neck/arms. If I'm wearing red, I opt for a pair of light-weight gold statement earrings, but if I'm wearing black then I love to add a pop of red. Below I've linked some great options from one of my favorite jewelry companies, Lisi Lerch. She has an amazing jewelry selection in all colors, so no matter what team you root for, you are bound to find a great pair!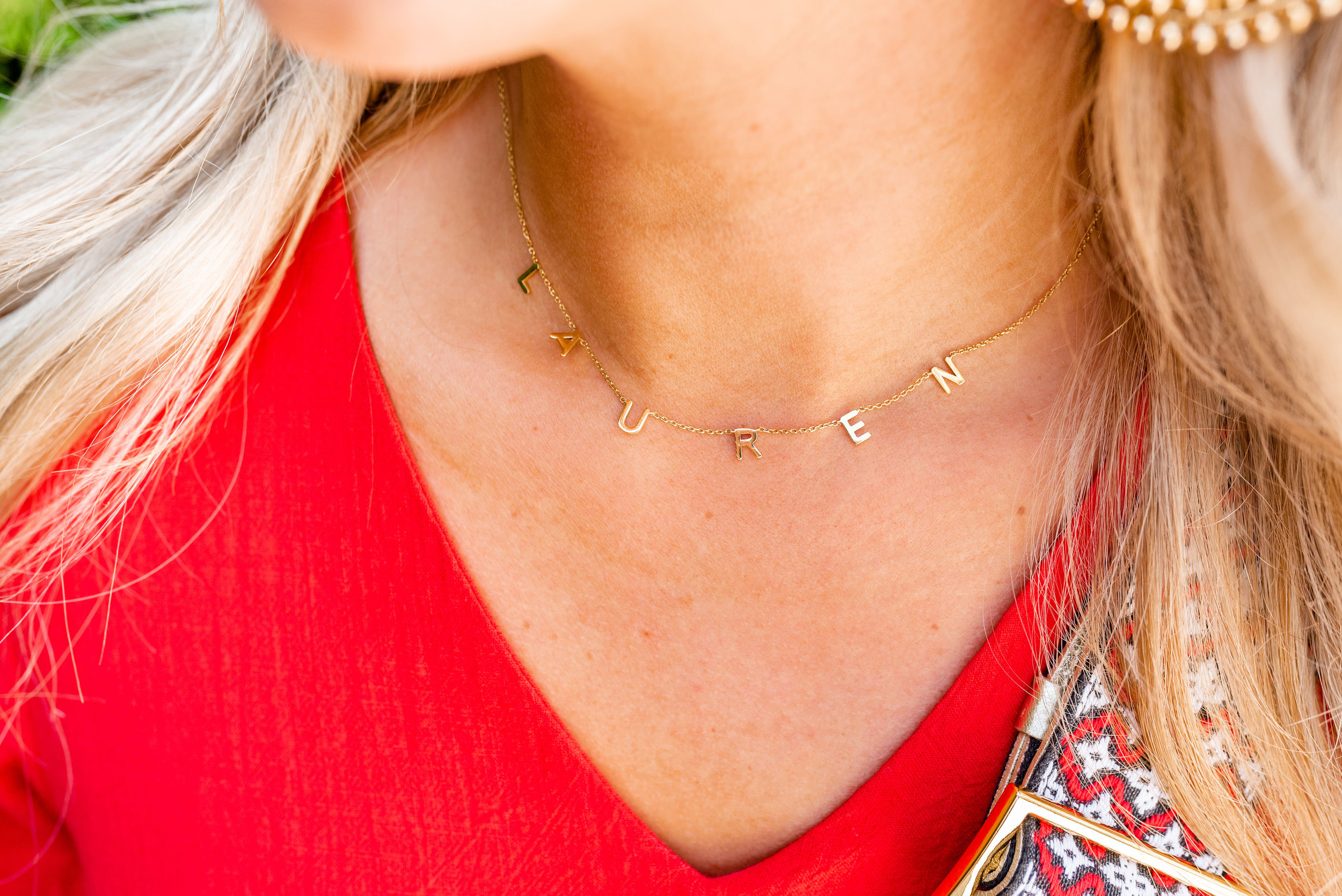 Speaking of minimal jewelry, I have been wearing this delicate name necklace non-stop. It's the perfect compliment to a pair of statement earrings. These necklaces are affordable on this Etsy Shop and make a great gift.
Happy September!
Stylishly yours,

P.S. I am teaming up with some fab blogger friends to giveaway a $500 Nordstrom Gift Card.
Enter here ::

Time to treat yourself to some pre-Fall shopping at Nordstrom!
I've teamed up with a group of bloggers to give one lucky winner
a chance to win a $500 Nordstrom Gift Card!
To enter: complete the steps in the rafflecopter below. The more steps you complete,
the more entries you receive, and the better your chance at winning!
This giveaway runs until Tuesday, September 17th at 12am PST
Winner will be announced here. Good Luck!
*this giveaway is in no way sponsored by Nordstrom.