Thank you to Shoe Carnival for sponsoring this post. All opinions are my own.
When it comes to Fall wardrobe essentials, the ankle bootie is hands-down one of top shoe-styles every lady needs in her closet. In my opinion, ankle booties are the most versatile of all varieties of Fall boots. Why?! They have the ability to dress up or down, they pair effortlessly with jeans, cords, and leggings, as well as skirts and dresses, and can be worn bare-legged or with tights. For those of us in warmer climates, a bootie provides great Fall style while keeping the legs much cooler than they would be in tall boots!
Shoe Carnival has an amazing selection of Fall boots and booties in all styles and colors. I love that Shoe Carnival offers amazing Fall shoes at affordable prices, which allows you to stock up on the styles you love!
Today I am styling two pairs of booties from Shoe Carnival, one with a casual jeans look and the other pair with a dress, to show how booties can be styled both ways, and how easy it is to "reboot" your look by adding a great pair of boots to any Fall outfit.
The first pair is by Nicole and are under $60. This is an incredibly versatile style bootie. I love that the neutral color can pair with any color scheme, including brown-tones, grays and black. These are super-comfortable and a great all-around boot for casual jeans and dress looks. As a mom, these are booties I can wear everyday with my kids!
I styled these Nicole booties here with my favorite jeans and plaid flannel, since this look is one is my go-to Fall casual outfit!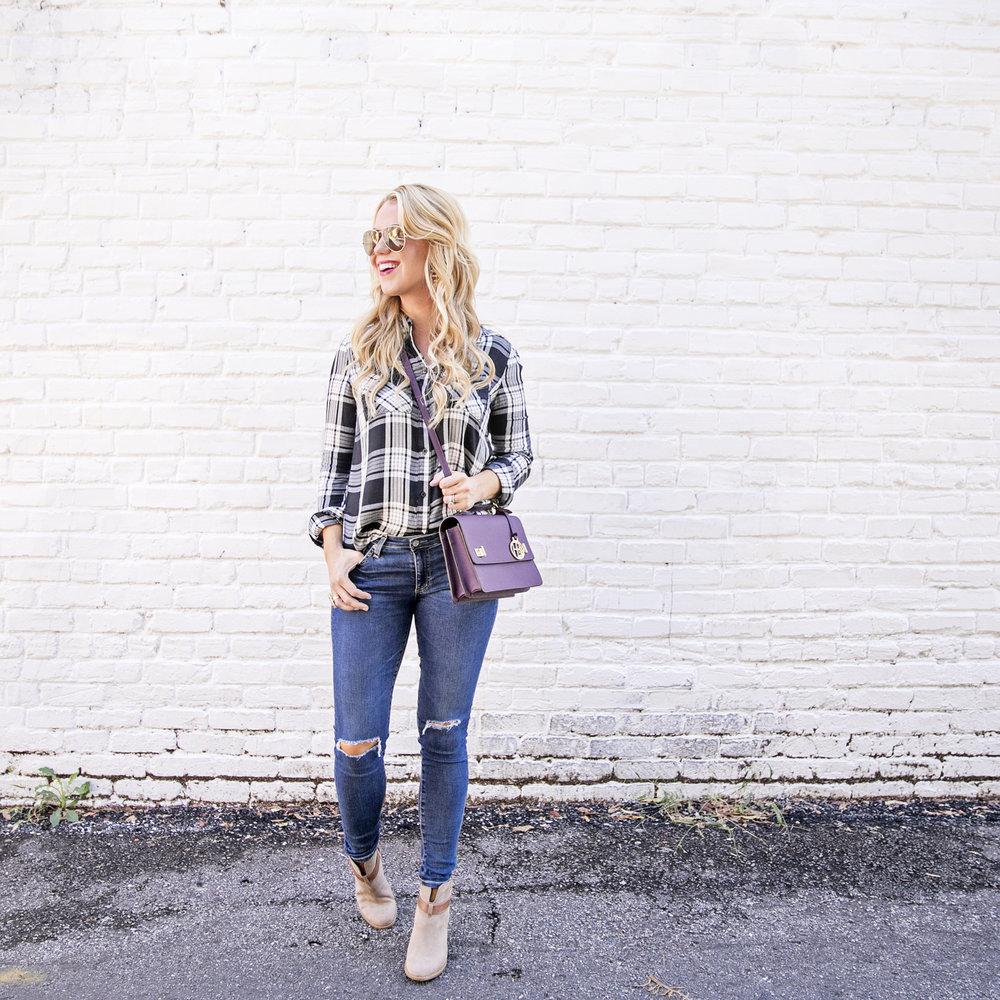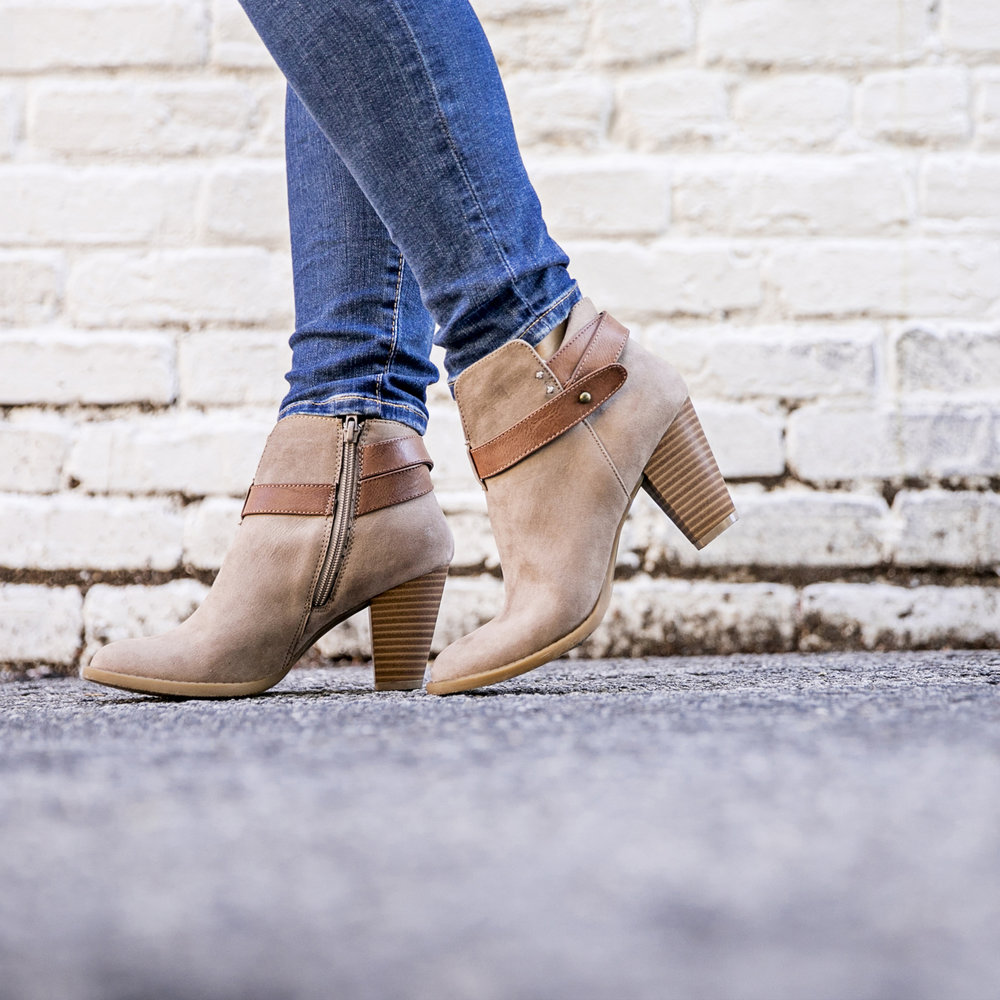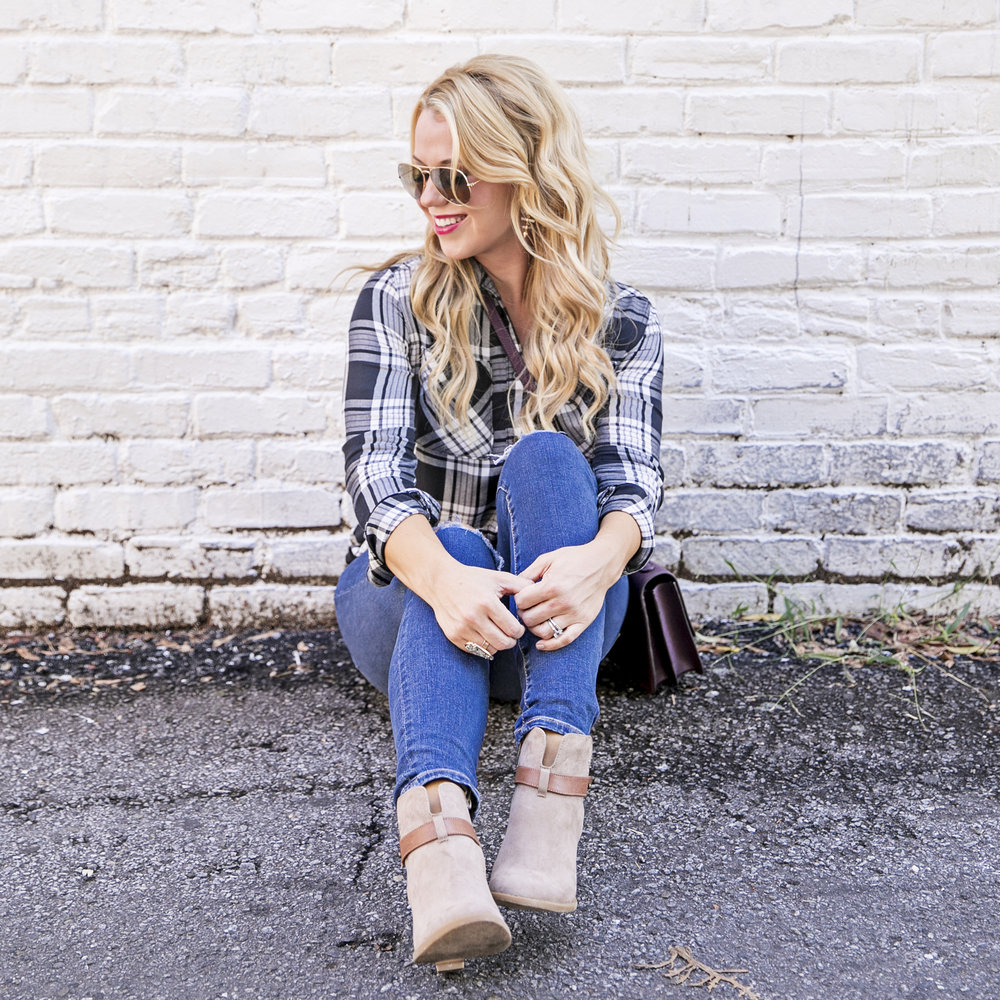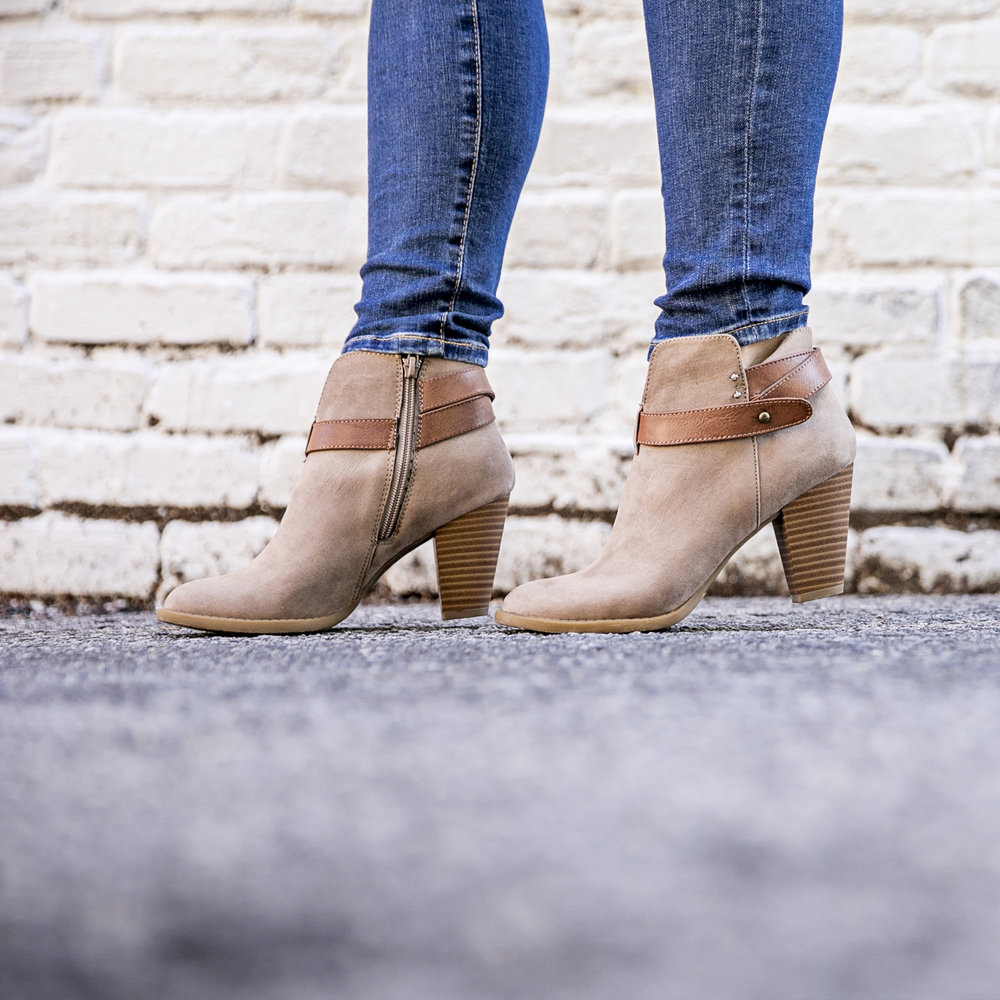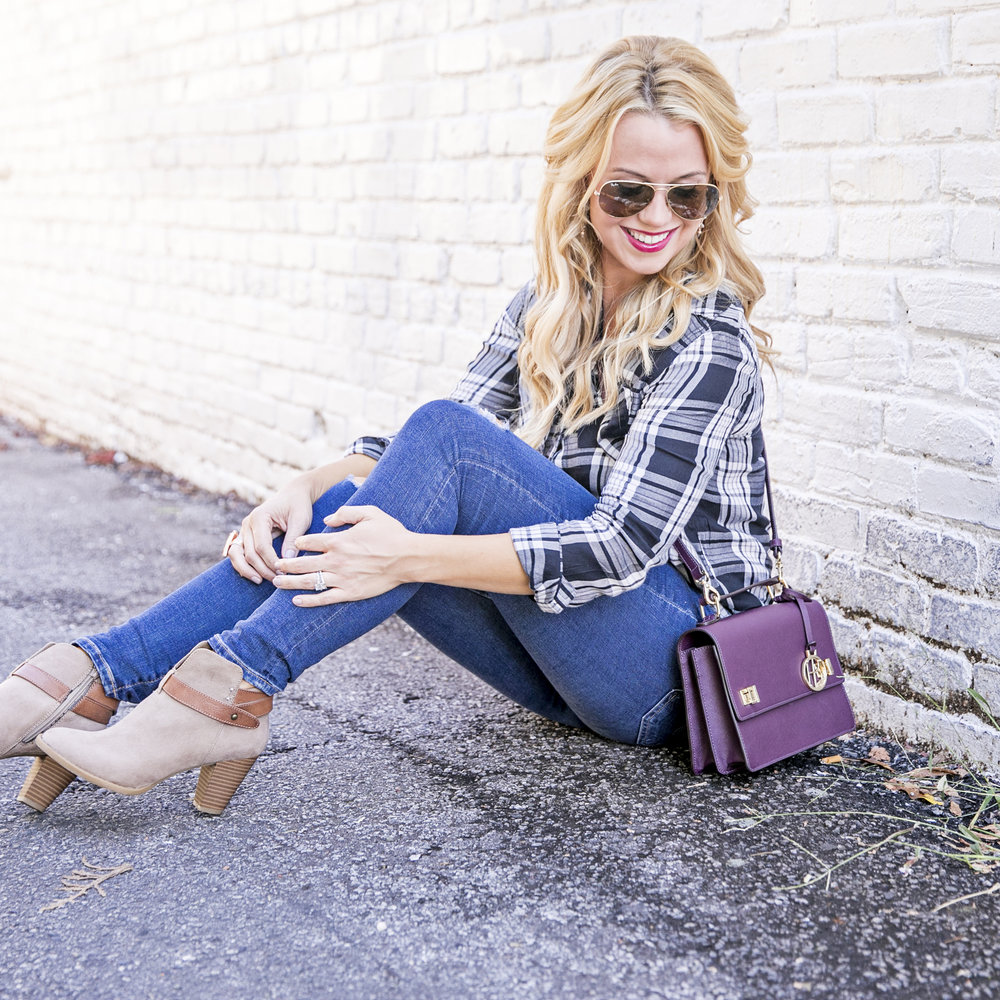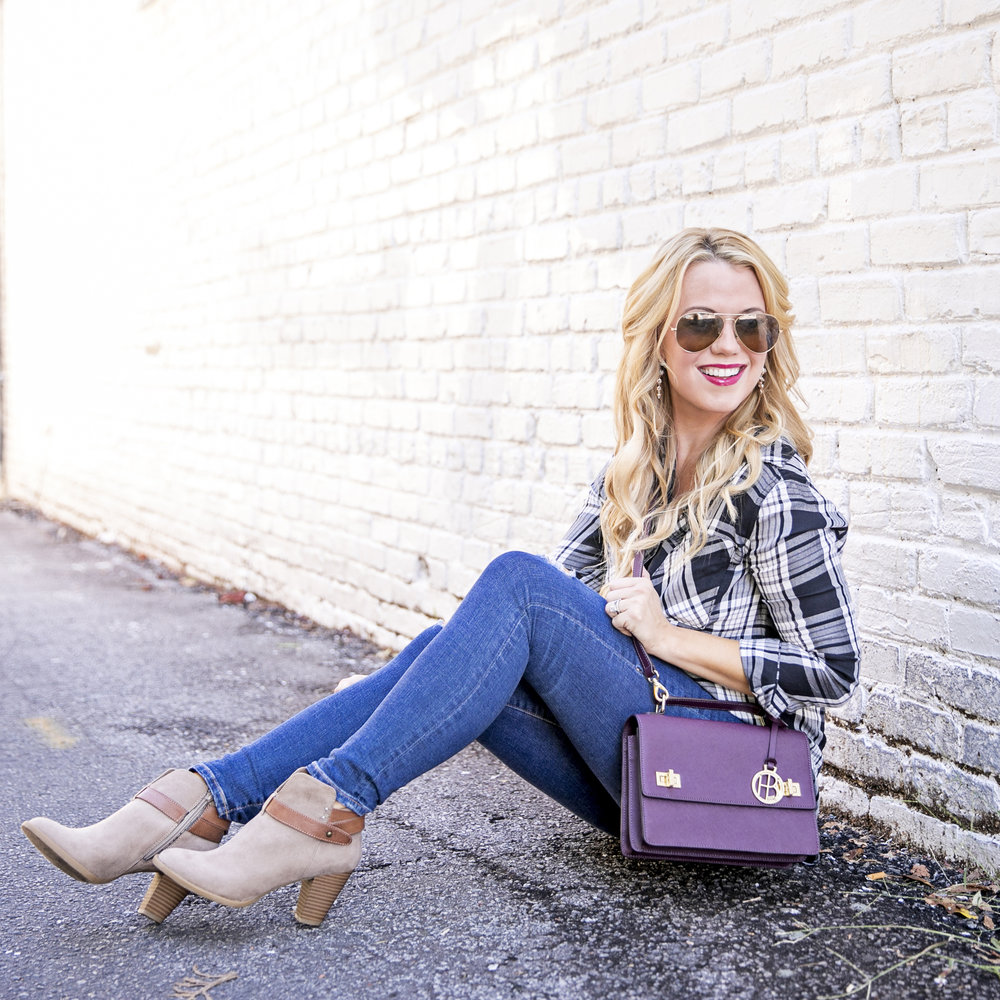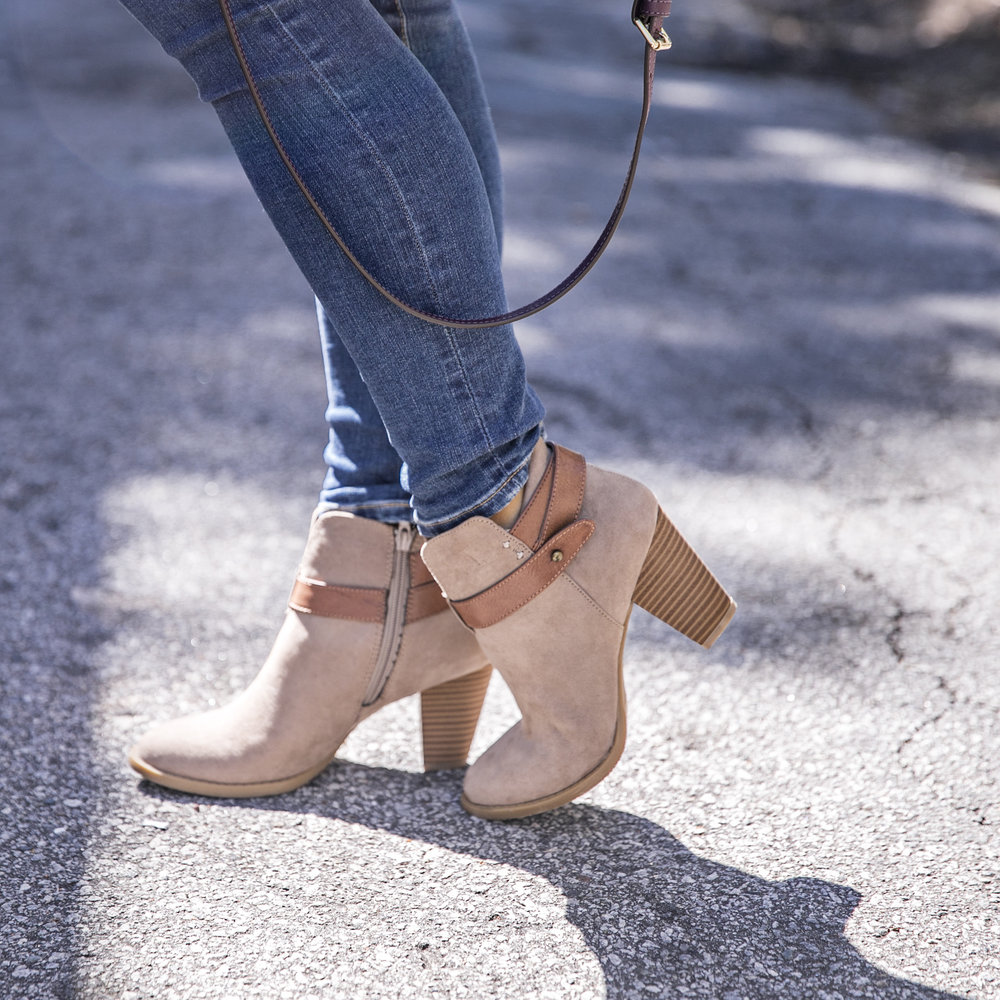 outfit details :: shirt | jeans | booties | bag | sunglasses | earrings | ring
For the second look, I styled a pair of Coconuts fringed booties with a dress. It's no secret that I love fringe, and I love the look of an open-toed wedge bootie to wear early-Fall and then again in early-Spring! This bootie is also very comfortable and has the ability to dress up for evening and add flair to any look!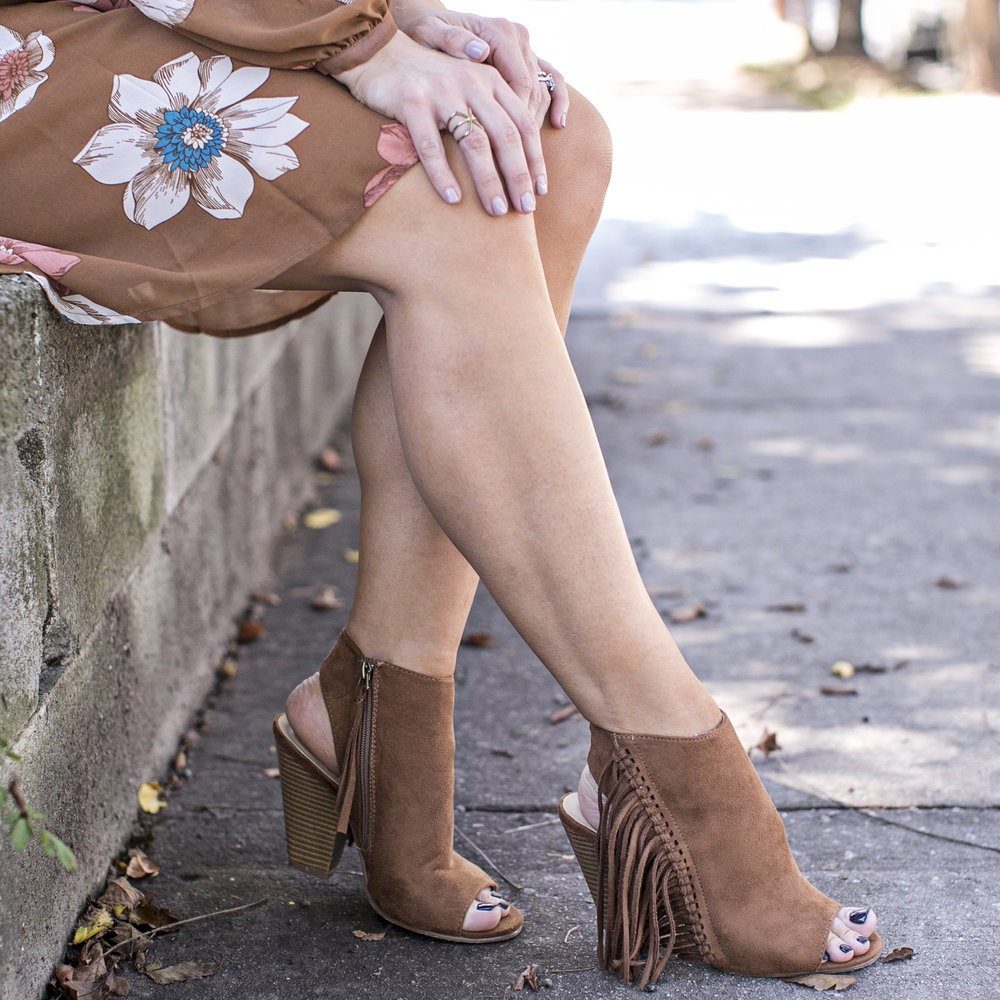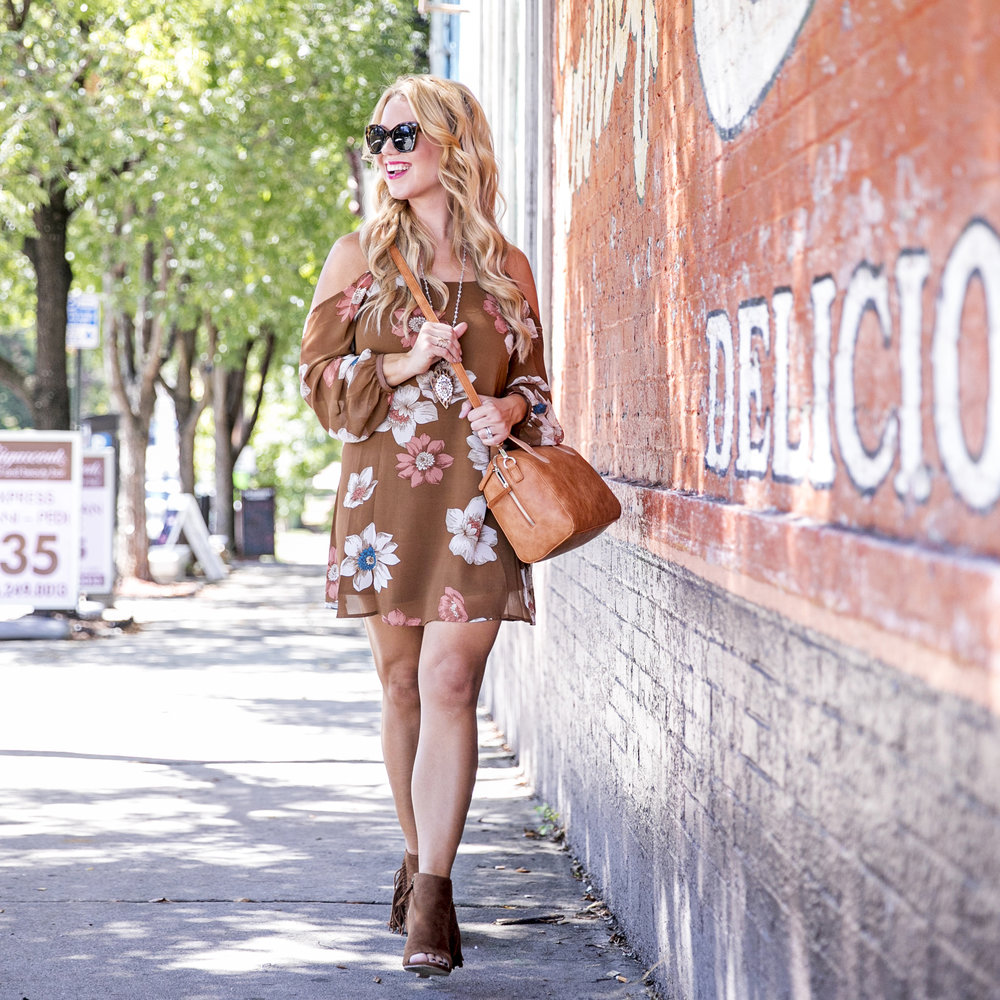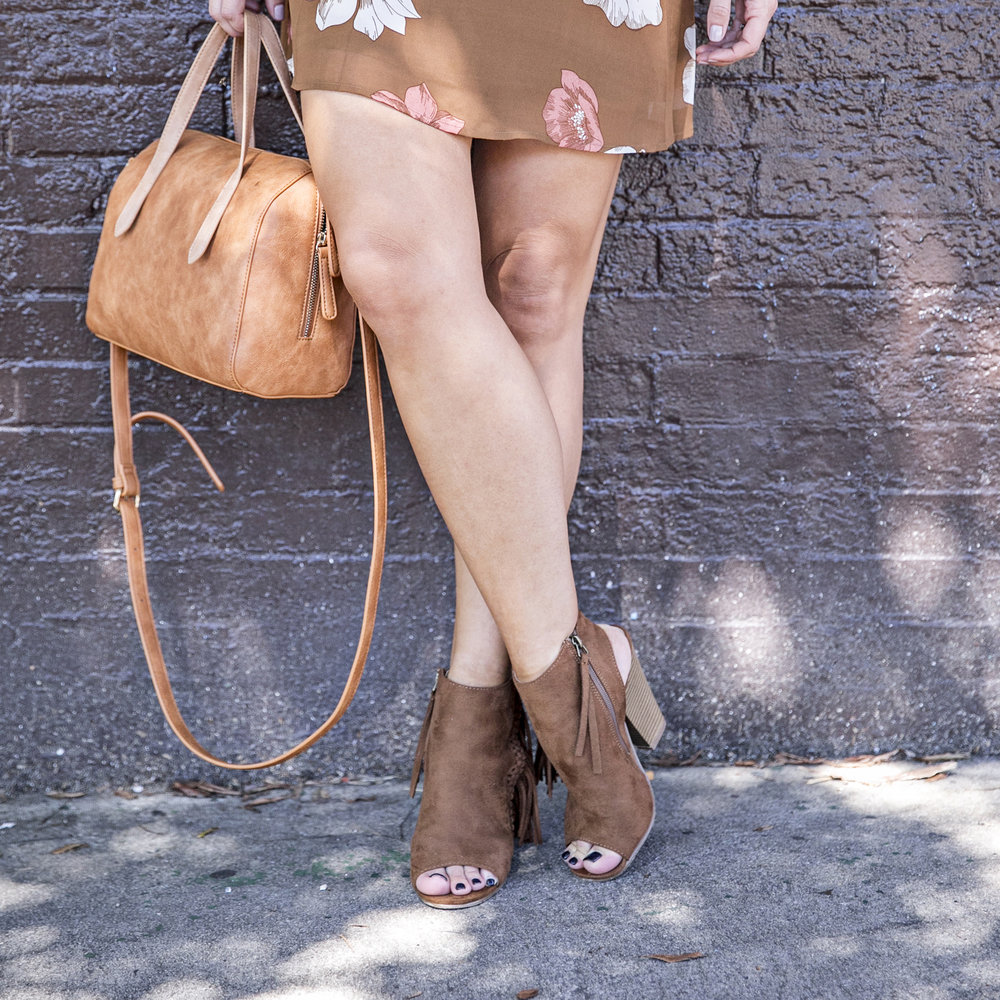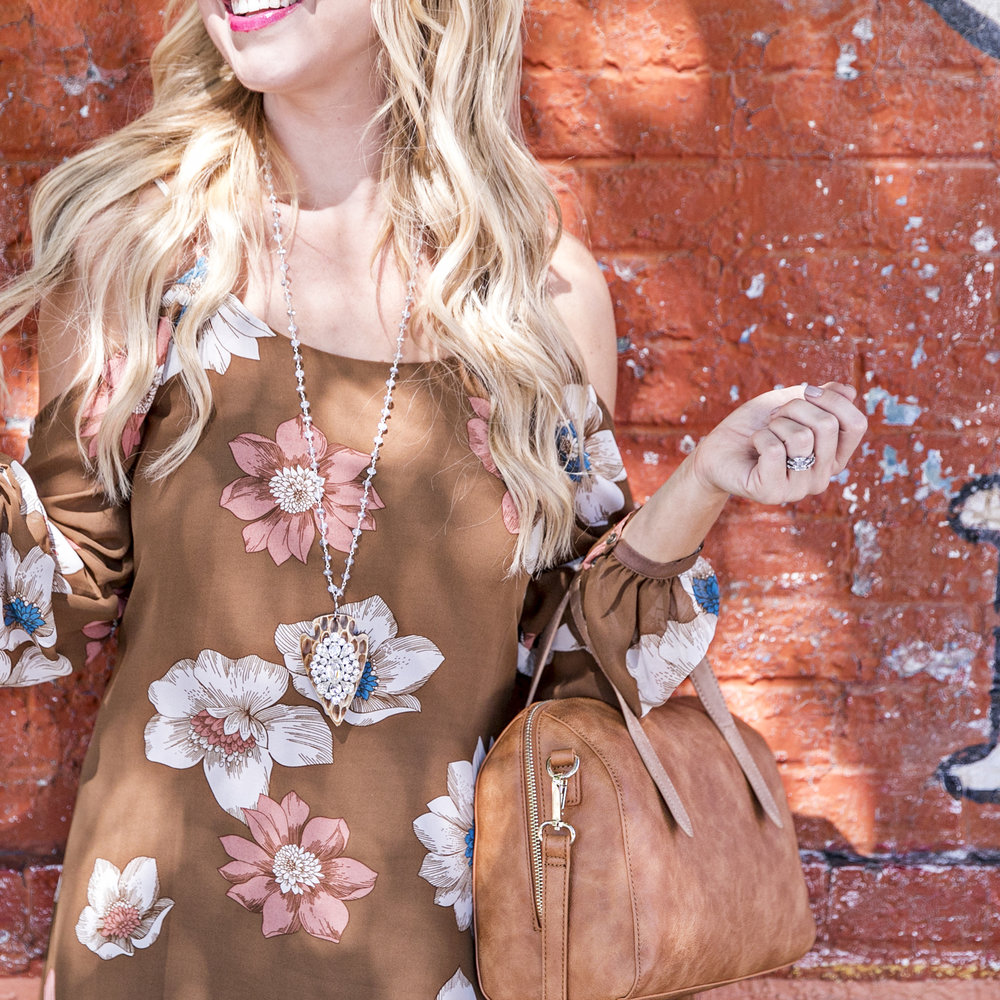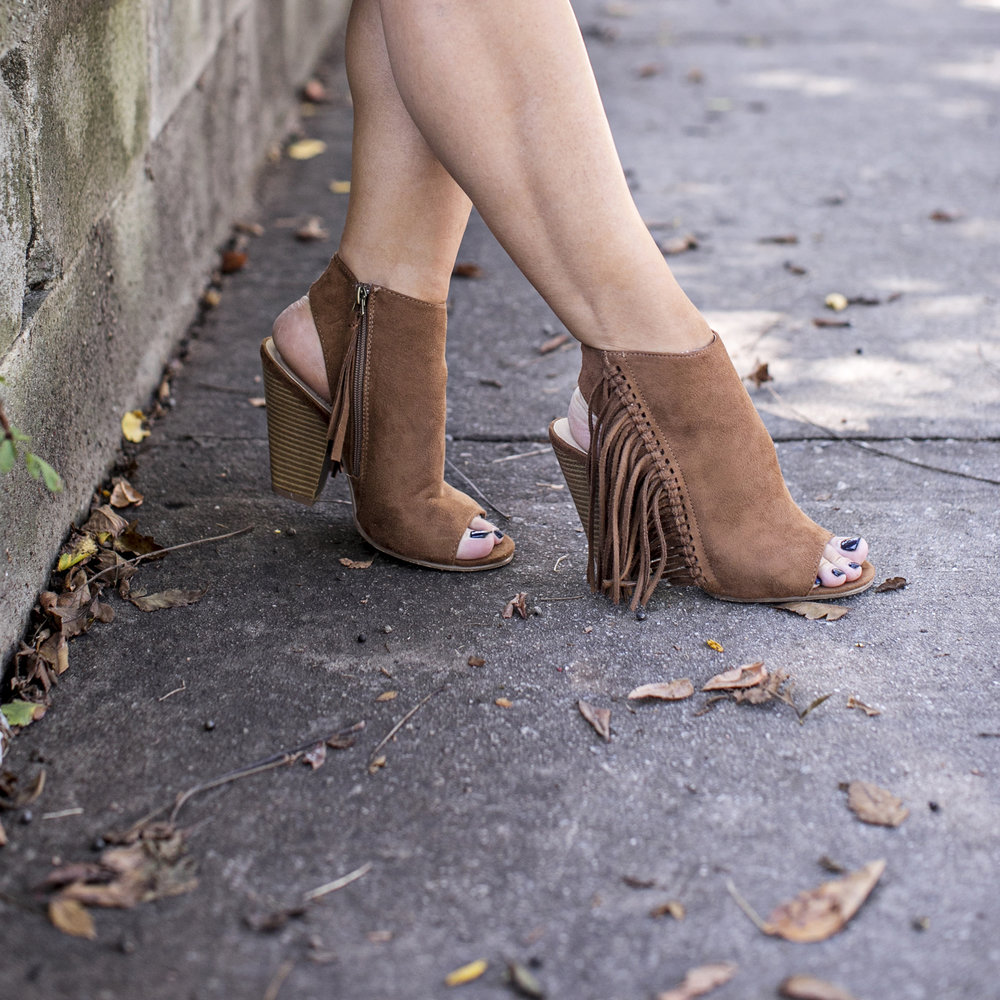 outfit details :: dress | booties | necklace | bag | sunglasses
I get a lot of questions about what kind of socks I wear under my boots and booties. No-show socks are my go-tos for wear with boots, as well as sneakers. Shoe Carnival also carries a great variety of socks, and this style by Keds is perfect.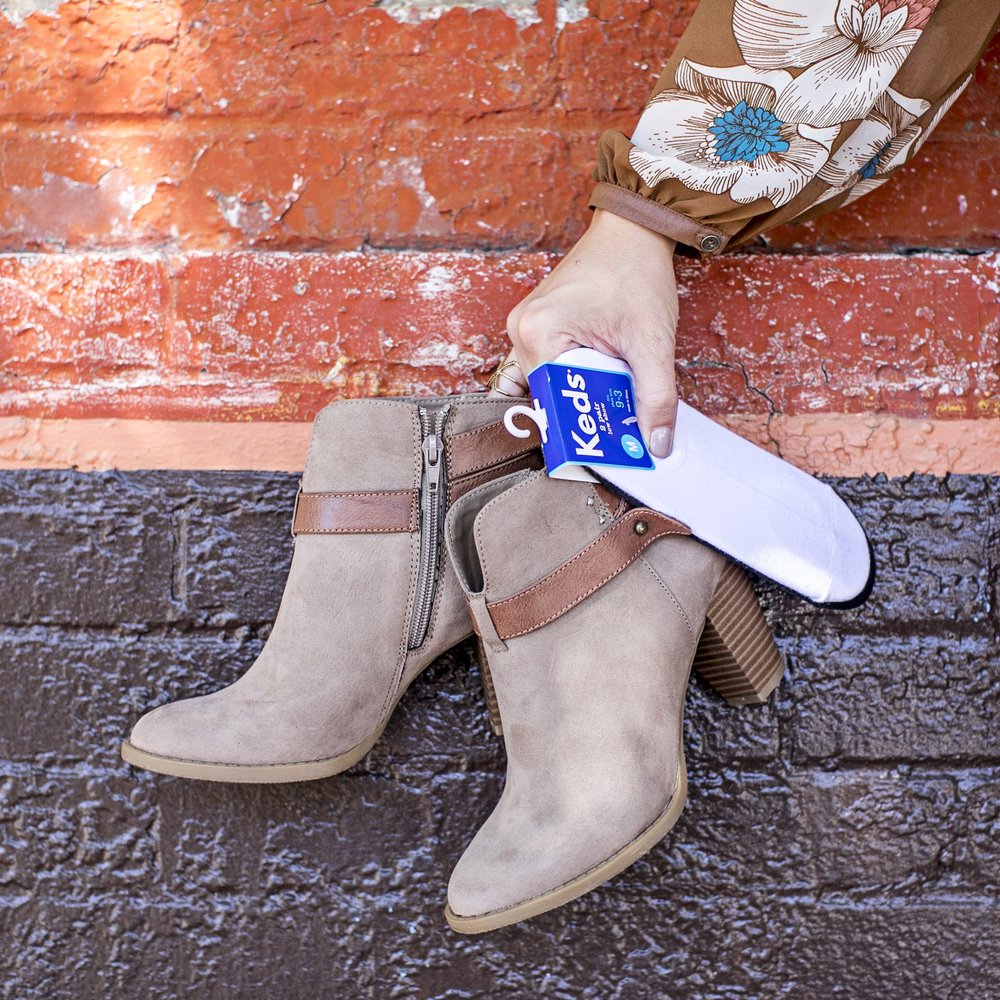 Have you heard the Marilyn Monroe quote saying "Give a girl the right shoes and she can conquer the world."? I love that quote and whole-heartedly agree that the right pair of Fall booties can drastically impact a wardrobe, making old pieces come to life again and giving the ability to change up the look of so many outfits.
I encourage you to will stop by your local Shoe Carnival or shop online for all the styles boots and booties you need for Fall. I know you will love the selection, and the affordable prices!
Stylishly yours,

All photography by Heidi Geldhauser.