Welcome to the very first edition of  our new blog series, "Ask Edit!"  We are SO excited about this series, mainly because, (let's be honest) we all have moments where we're like, "can I REALLY wear this top with those leggings?" (Not unless that top covers your booty, girlfriend.)
Or moments where we wonder, "are overalls actually a trend?"  (Um, not so much.  Unless you're a farmer. Or under the age of 5.)
Or even moments where we're all, "why DO we wear pink on Wednesdays?"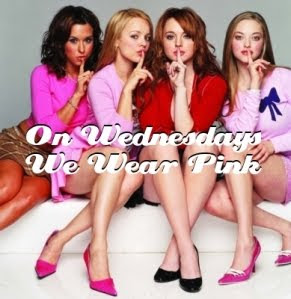 So, without further rambling (let's hope), here are a couple of our favorite questions from this week:
Question 1: "What are the boundaries with black and brown being worn together?"
Listen.  Almost every single client asks me this question.  And I definitely have an opinion, which is this:  I love and adore wearing black and brown together.  Secretly, under my people-pleasing exterior, I'm a rule-breaker at heart.  And this look is all "Rules?  Ha! What's up NOW, rules?!"
I also happen to think it's a pretty sophisticated look.  The only disclaimer I would add is to be sure you pair black with a lighter brown shade, like camel or cognac.  A dark, chocolate brown + black = no bueno.  Here's an example of black and brown done right: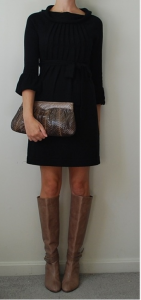 The brown is just light enough to make an interesting contrast with the black.  What do you think?
Question 2:  "Where can I find stylish maternity clothes?"
Awesome question.  Maternity clothes are challenging, mainly because you want to feel all cute and "hey, everyone look at my adorable baby bump!"  But in reality, you feel all "I am a giant heifer, and let me now go eat everything in sight, since it clearly doesn't matter at this point."
No?  Just me?
Ahem.
But, alas, there ARE some fabulous options for pregnant fashionistas these days.  H&M has a fab maternity line, if you're on a budget.  Ditto for Target.  I also think sizing up in regular tops at places like Forever 21 is a perfect way to stay on-trend while pregnant.  The loose, jersey knits are usually great for this, and can be fabulous transition pieces after you have your little one.
I'm also obsessed (in a way that is totally normal, and not at all weird) with Rosie Pope Maternity.  Not only are her designs super cute, I am convinced after watching Pregnant in Heels, that we would be besties if we met in real life.
(Again, in a completely normal and non-stalkerish way, of course.)
Fillyboo Maternity is fun for those who are into a more bohemian look.  They're based in Australia, but they do ship internationally.  This sassy top makes me want to be pregnant right now:
Finally, I'm a fan of Due Maternity, for stylish and fairly affordable designs.  They have a great (if expensive) denim selection as well.
"Ask Edit" will be a weekly series, and as long as you guys are asking questions, we'll be here answering!  Leave your questions as comments on this post, or Facebook/Tweet us with your fashion dilemmas! Don't forget to #editbylauren!
Until next time,